Walter Leslie Beach was one of Park's earliest builders. He was born to George and Calien (Calein) Beach in Litchfield, Minnesota on September 10, 1885. Calein's father, Ole Halvorson Ness, was one of the first settlers in the Litchfield area, very near where the "first blood" of the Dakota Uprising was shed.
Elizabeth Emma Theilmann was born on April 7, 1885, the oldest of seven children of George Theilman. Her grandfather, Christian Theilmann was the founder of Theilmann, Minnesota near Wabasha. He also was one of the founders of a beekeepers organization in the 1800's.
Walter and Elizabeth were married on September 11, 1905 and lived in Excelsior, home of her parents. Their first three children were born in Excelsior.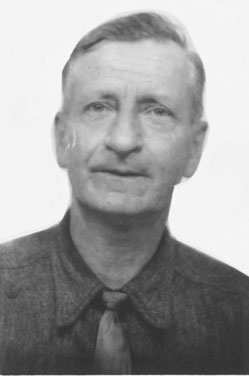 Daughter Betty says that her father built the first house in Brookside in 1907, overlooking Meadowbrook Golf Club and Minnehaha Creek, and even has a picture of it.
In 1923 he built the house at 4163 Brookside Ave. He and his family lived in a tent on the property (with a chicken coop and outhouse) while it was being built. It was finished just as Betty was being born (fortunately at the U of M Hospital). That house was torn down in about 2003.
Walter served as a constable in 1915, an elected position.
An unfortunate incident occurred in 1939. Joe Billman bought the site of the old Union Church Parsonage for use as a funeral home. (The address was 3954 Wooddale.) There was quite a dust-up during the renovation and expansion of the house for Billman, when the Union came down on Walter for working on a Union job on a Sunday. After he was fired, he went home and got his Winchester 73-32.20 caliber rifle, returned to the scene and let a shot fly. He failed to down any fellow construction workers and was hauled off to jail. (Odds are his aim was fine and he wanted to scare the guy.) Beach had to pay his attorney Judge Bergen with a priceless set of guns that Walter inherited from his father, George Homer Beach, who was a gunsmith among other things. The guilty rifle was confiscated by Chief Andy Nelson and was "borrowed" by the policemen and firemen over the years, every time hunting season came along. Daughter Betty Beach eventually found out about it and took it home, but after a year she sold it to a local collector who has it to this day. Not all of his guns were sacrificed – his grandchildren have at least two of them.
The incident was very embarrassing to his family – "it was the end of our living in our home on Brookside." In the fall of 1940 they moved into a basement home on Zarthan while he fixed up a former chicken coop at 6311 Excelsior Blvd. The incident precipitated Walter and Elizabeth's divorce in 1943-44: "The shame of it all about killed my poor sweet mother." Elizabeth stayed on at 6311 until she sold it in 1949. That house went down to build an office building at 6309 Excelsior in 1950 (city says 1961). Elizabeth was a cook at Brookside School starting in 1928. She later cooked for the High School until she died on September 13, 1950.
Walter and Elizabeth had four children: Georgia Adell "Jud" Beach (born 1906), Leslie Walter Beach (born 1908), Lucille Beach (born 1911), and Elizabeth Calien "Betty" Beach (born 1923). Leslie Beach also became a builder.
Walter died in April 27, 1946 at age 60 after being hit by a car walking across Highway 7 near Lake Street. At the time of his death he lived at 3961 Brunswick Ave.