Darchei Noam, an Orthodox Jewish congregation that first formed in 2005, broke ground for a new synagogue  on June 24, 2012.  The congregation had been meeting at St. George's Episcopal Church.  See the story on the Patch and the Sun-Sailor.

From the Sun-Sailor:  Congregation Darchei Noam breaks ground on its new synagogue at Minnetonka Boulevard and Joppa Avenue Sunday, June 24, 2012. The modern Orthodox Jewish congregation currently meets at St. George's Episcopal Church. Pictured left to right are Jan Burke, Brett Fine and Nisso Khabie of Darchei Noam's building committee, Rabbi Joseph Ozarowski, congregation president Judy Shapiro, architect Jay Isenberg, Stephen Silberfarb of the Minneapolis Jewish Federation and builder Jack Holmes. (Submitted photo courtesy Max Donath)
 
The new building was designed and built by Vanman Architects and Builders, with Isenberg and Associates the Architect.  The dedication of the new building was Sunday, August 11.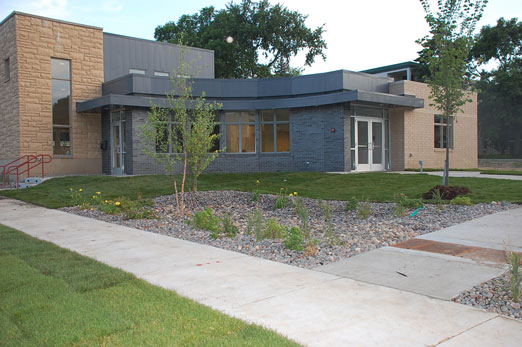 The Congregation's web site is http://darcheinoammn.org/default.htm
Article in the April 2014 St. Louis Park Magazine by Julie Pfitzinger:
 
Moving into a new home is an exciting step for all families; Congregation Darchei Noam, now marking the first year in their new synagogue on Joppa Avenue, is very much a growing and thriving family.

In 2005, approximately 30 families split off from the larger Kenesseth Israel congregation in St. Louis Park to establish their modern Orthodox congregation. Darchei Noam has since expanded to 65 families. According to synagogue president Robert Karasov, in the early years congregation members met in each other's homes, eventually leasing preschool space from nearby St. George's Episcopal Church. However, it became clear that Darchei Noam needed a permanent home.

A capital campaign was launched in 2011 on the heels of the recession, with the congregation ultimately raising $1.2 million to design and construct the 5,000-square-foot building. "It was a very democratic campaign," says Karasov, fundraising co-chairman for that campaign. "In most capital campaigns, there is one very large lead gift to get it started, but our biggest gift was a little more than $100,000. The participation of our entire congregation was very satisfying."

Rabbi Joseph Ozarowski, or Rabbi O, as he is known to the congregation, is the posek (Hebrew word for "decider of Jewish laws") at Darchei Noam. For the past six years, he has traveled here about once a month from his Chicago home, where he works as a board-certified chaplain with the Jewish Healing Network of Chicago.

At Darchei Noam, Ozarowski's weekends are busy with everything from leading Shabbat services to teaching classes for adults and children, as well as counseling sessions and meetings. "I always leave here tired but happy," he says with a smile.

While other men in the congregation routinely lead services, including the daily minyan, focused on prayer and readings from the Torah, congregation member Wendy Khabie says Ozarowski's role is unique and valued.

"The rabbi is not just here to talk about the law. We look to him as our leader, someone who anchors us down," she says.

Darchei Noam is also committed to caring for those in need; they regularly collect food for St. Louis Park Emergency Program (STEP) and items for St. Stephen's Shelter in Minneapolis. "It's a very important part of our mission to take care of others," Ozarowski says. "We don't see ourselves as an insular community." They also maintain a strong connection to Israel; many of the congregation's young people (including four of Karasov's children) travel there for a year after high school.

Darchei Noam, meaning "pathway to kindness" in Hebrew, has a large and airy sanctuary, which can be enlarged courtesy of a sliding door at one end of the room, opening to a windowed room where the congregation frequently gathers for Kiddush (a prayer blessing over wine and a light meal at the conclusion of Saturday services, often featuring challah bread, cake and fresh vegetables). Behind an elegant velvet curtain in the sanctuary, there are two Torah scrolls encased in beautiful coverings created by congregation members.

As a modern Orthodox congregation, the men and women sit on separate sides of the sanctuary, divided by a mechitza. At Darchei Noam, the thin curtain runs down the middle of the sanctuary, but it's positioned so the women are able to easily see the rabbi or cantor on the bimah (a raised platform).

In addition to the sanctuary, there is a library/resource center that Karasov says will soon be enhanced by the donation of computers to translate Hebrew texts. There are two classrooms for youth and adult programming, and a kosher kitchen. The common thread among these rooms is the presence of a mezuzah, placed on the right side of each doorway; the mezuzahs are small cases, all different in design, which contain blessings from the Torah. "Our message is we are a really warm, welcoming, intellectually stimulating and nonjudgmental congregation," Karasov says.

"It's a place where people can grow at their own pace, where the services are vibrant and the community is caring," Ozarowski adds. "If I lived here, this would be my congregation of choice."