Lyle W. Hanks moved to St. Louis Park in 1955 and was elected to the St. Louis Park City Council in 1971.  In December 1982 he became Mayor pro-tem when Phyllis McQuaid was elected to the State Senate.  He was named Interim Mayor on Jan. 18, 1983.  He was elected Mayor in November 1983 and served until January 2, 1996.  As Mayor, he served as Co-Chairman of the St Louis Park Centennial Celebration in 1986.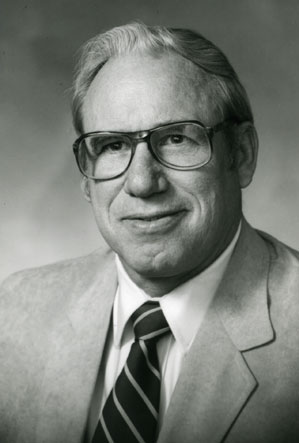 From his obituary in the StarTribune:
Born in Elk River, Minnesota on Aug 28, 1930, Lyle was raised on the family farm. Lyle graduated from Elk River High School in 1948 and Hamline University in 1952. He earned a Master's degree in Education Administration from the University of Minnesota, taught and coached at Slayton, Minnesota for 3 years, and proudly spent 37 years in St Louis Park as a teacher, coach and administrator. For his dedication to athletics and academics, Lyle was inducted into the Elk River, St Louis Park and Hamline University Halls of Fame!

 

Lyle was active in the Masons as a member of Paul Revere Lodge, Phoenix Daylight Lodge, Minneapolis Valley and Templar Lodge of Scottish Rite and Zuhrah Shrine. He served as Master of Paul Revere Lodge, Venerable Master of the Scottish Rite of Minneapolis and was coronetted a 33 degree mason. He served on the Minneapolis Mason Home Board for 12 years and chairman of the board for 4 years. Lyle served as a board member of The Association of Metropolitan Municipalities; Board member and 1st Ambassador of the Minnesota League of Cities; Chairman of the Southwest Cable Commission; & Board member of the Hamline Piper Athletic Association.
Hanks taught at Central Jr. High from 1955 to 1980.  He taught 8th and 9th Grade math, and was assistant coach for the football, baseball, and basketball teams.  When Central closed he moved to the High School, where his official title was Administrative Aide, mainly in charge of discipline.  He retired in 1990. 
Although he battled fibrosis of the lungs for three years, he was dedicated to St. Louis Park to the end, attending both the Park's 125th Anniversary Celebration in October 2011 and the All-Class Reunion in August 2012. 
Mr. Hanks died on November 2, 2012, just days after driving to his winter home in Vero Beach, Florida.   
In a tribute to his influence, articles about the passing of Mr. Hanks were published in the StarTribune and Sun-Sailor.