Engineer Don McCourtney started this company in or before 1961 at 3389-91 Brownlow Ave.   They were "custom molders of thermo plastics and thermo set for the industry, miniature and sub-miniature plastic parts of close tolerance."  McCourtney Plastics was what is known as a job shop. They did not make anything specifically for themselves but tooled up and made other companies' products.
In 1964 McCourtney built a new factory at 7309 W. 27th Street (a/k/a 2700 Louisiana Ave.)  Here is a sketch of the new building:

A 1971 description says:
Leader in the custom plastic-molding field, McCourtney Plastics has an extensive mold-design staff and two toolrooms to assure total product control regardless of complexity.  an ever-increasing list of satisfied customers from the domestic, military, and aerospace fields attests to the firm's versatility.

 

McCourtney Plastics keeps its skilled craftsmen abreast of new methods, procedures, and material applications in order to meet the continuing demand for more intricate plastic products.  The assures customers of receiving an effective and economical system for maintaining the exacting products they require. 
Don's son Patrick died the year before Don sold the business, which he had been running with his other son Jerry.  Jerry continued with the company for a few years after the sale under an employment contract.  McCourtney is still listed at the 27th Street address. 
Al Hartman tells us that Don McCourtney's church sponsored Vietnamese immigrants and the company employed many of them.
Please contact us with any additions or corrections to this information.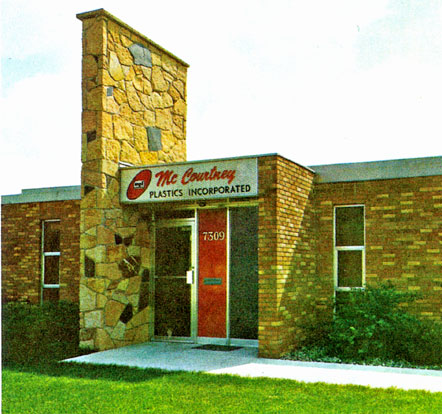 1971