This building was built in 1931.  It appears that there were three storefronts:  two on Minnetonka Blvd. and one on Ottawa.  On the second floor there were offices – Dr. Harold O. Westerdahl occupied one from at least 1933-37.  There was also at least one apartment.  The businesses seem to overlap.  Here's what we can piece together from ads.  Please contact us with any additions and corrections.
4801 MINNETONKA BLVD.
Smith Pharmacy:  1933, beer on tap in 1934!
---
Tim's Pharmacy – H.F. Timmons, R. Pgh:  1939-45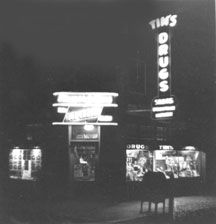 Ad in March 1941 Park High Echo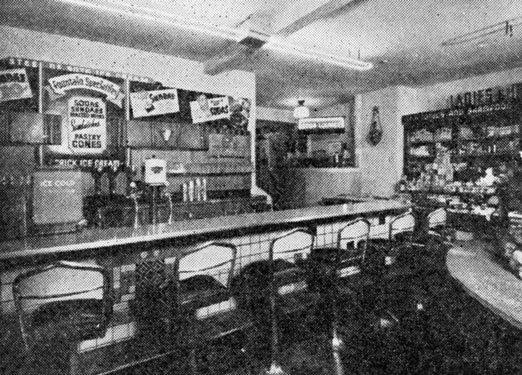 Tim's inside and outside from 1942 directory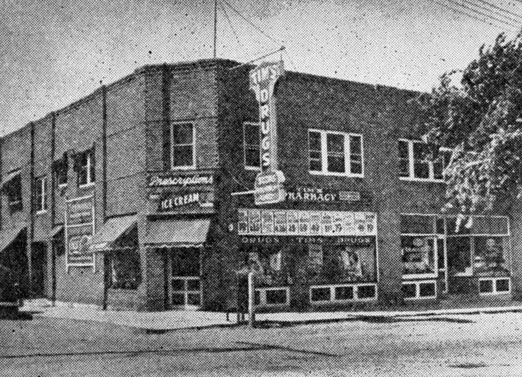 ---
Ahler's Pharmacy:  1945-47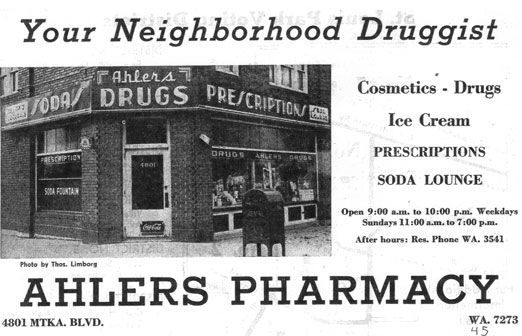 1945 Directory ad
  
---
Booth Pharmacy:  1949-51
---
 Shink Pharmacy – M&R Drug Inc.- Mel Shink:  1955-67.  The Shinks lived above the store.
  
---
4805 MINNETONKA BLVD.
 Moldestad's Grocery:  1933-58 ("30 years in the Park" in 1958)
In 1951 it was Moldestad's Fairway Self-Service Store, "Where Customers Make the Choice," self service being a fairly new concept.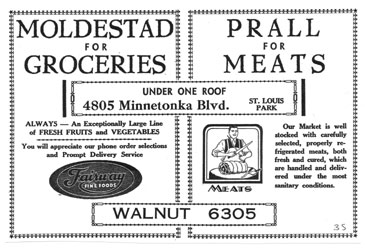 1935 Directory ad
---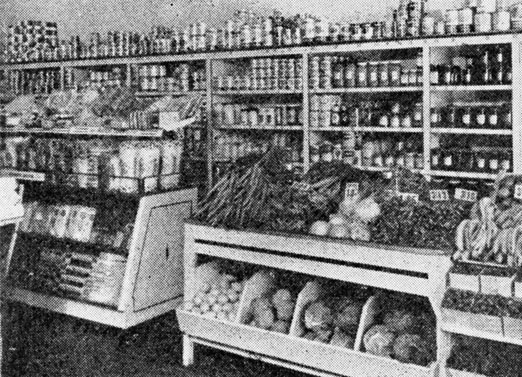 1942 directory ad
---
 E.J. Merrill's Meat Market:  1931-42  (inside Moldestad's)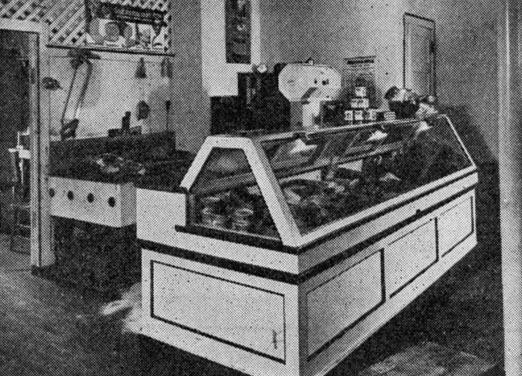 1942
---
 Prall's Market:  1933-35.  Meat department at Moldestad's
Curt's Meats:  1952
 
---
Good Life MN Spa:  2011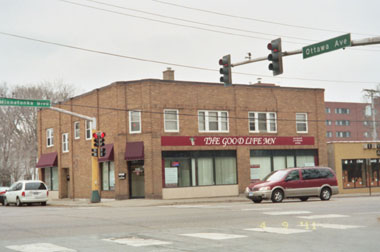 2011