Park National Bank was established on June 22, 1963, with eight employees. A.D. Darling was the president. Paul Smith remembers:  "Andrew 'Smiling Jack' Darling was in the auto business besides banking. He also collected classic cars and drove them to work each day, parking the car of the day prominently for customers to see."
The bank was first located at 1520 Lilac Drive. (It was formerly a steel company office.) An ad shows that the building incorporated a giant clock as part of its drive-up window. Lilac Drive run parallel and east of Highway 100 and we think that area is now part of Highway 100.
At the time the bank opened it held the only federal bank charter in St. Louis Park, making it a member of the Federal Reserve system and the FDIC.  It had an initial capitalization of $600,000.  Only one cashier, Inez Johnson, was named. The bank boasted that it was open 53 and a half hours per week, hours tailored to fit suburbia.
In 1964 the bank moved to a new building at Highways 100 and 12 – 5219 Wayzata Blvd., east of the Ambassador Hotel. In 1964 the bank added a "ladies department," headed by Inez Johnson, to "help the distaff side with troublesome budget snarls as well as home improvement loans."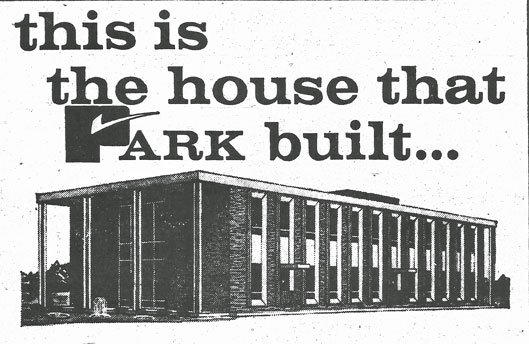 1964 ad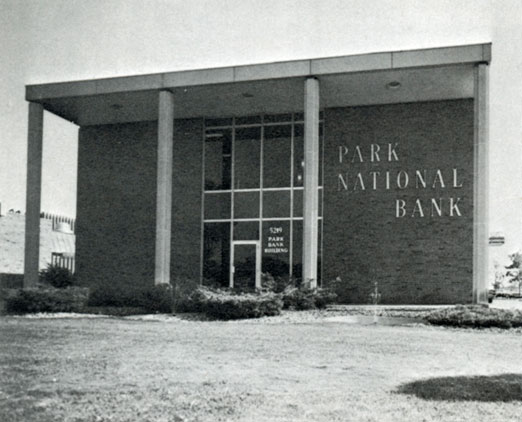 1971
---
The bank building was removed to make way for an expanded Highway 100/394 interchange.  From at least 1988 the bank was located at 5353 Wayzata Blvd.

Park National Bank, 2000   Photo by Emory Anderson
It was acquired by Associated Bank, probably in 2000.