Percy Ross was a nationally-known millionaire who was famous for giving away money. But before he made his millions, he lived in St. Louis Park for 20 years.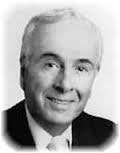 Percy Nathan Ross was born on November 22, 1916, in Michigan's Upper Peninsula, the son of poor immigrants from Latvia and Russia. He graduated in 1934 from Calumet High School.  In 1936 he moved to Duluth to work in the metal and fur industries. In 1946 he came to Minnesota and started the Northwest Fur Auction Co. There was no St. Louis Park directory in 1946, but we know he lived in the Park by 1947. Ross, his wife Laurian, and sons Steven and Larry lived at 4045 Vernon Ave., which at that time was right on Highway 100. He lived there until 1967, two years before he made his fortune. His office for many years was in the Miracle Mile Shopping Center, above the Snyder Drug Store.
In 1951 a vendor gave him a bad check for $25,000, and Ross went broke. Nobody would loan him any money, so he went to local gangster Kid Cann, who loaned him $500. He started Ross and Ross Auctioneers, which auctioned heavy construction equipment. In 1956 his office was at 5407 Excelsior Blvd. in Miracle Mile. An undated news article announced that a $150,000 building shaped like an inverted pyramid was being built for Ross and Ross Auctioneers, designed by Benjamin Gingold and Associates. It is unclear if/where this building was built.
Ross and Ross needed space to run its auctions. In July 1953 he was granted permission to conduct an auction at Highway 100 and 36th Street, on the site of the Village's Veterans Housing, which had just been phased out. In July 1956 an auction of machinery and equipment was held north of 2360 Highway 100, on land owned by Pockrandt Lumber.
Competition and lawsuits shut down the auction business, so in 1959 he bought a company called Poly-Tech, based in Bloomington. The company made polyethylene plastic bags. At first the business faltered and he filed for bankruptcy, but then it boomed, with help from his family. By 1969 it was such a success that it was bought out for $8 million.
After dividing the $8 million among his family, he set on a course of making successful investments and amassing a considerable fortune. At first he spent it on lavish parties, but soon turned to giving away (mostly small amounts of) money. One way was to distribute silver dollars, often throwing them from a float in a parade.
One highly publicized event was on December 24, 1977, where he gave 1,050 bicycles to poor kids in Minneapolis (he wanted to be known as the "Jewish Santa Claus"). The event also featured Mel Jass, Carmen the Nurse, and Darth Vader.
At the 1978 Aquatennial's Torchlight Parade, Ross threw $16,500 worth of silver dollars into the crowd as he rode down the parade route.  (Albinson)
After these stunts, people began writing to him, asking for money. To handle it, in 1983 he began a newspaper column called "Thanks a Million," where he would respond to certain letters.
In 1987 he wrote a book called (The Secret of Getting What you Want by Knowing How to) Ask For the Moon – and Get It!
In 1989 he hosted a Friday radio show, also called "Thanks a Million," syndicated to 400 stations and broadcast locally on WWTC.  Radio historian Jeff Lonto called it "a shameless exercise in poor taste hosted by Edina-based philanthropist/charlatan Percy Ross, who gave money to the listener who called in with the best sob story."  Lonto notes that in the winter of 1989 Ross was profiled on ABC's "20-20" news program with footage of him doing his show in front of a microphone with WWTC on it, but by the time the show aired the station had dropped Ross's program.
Percy Ross claimed to have given away as much as $30 million. His last column was published on September 19, 1999. He died on November 10, 2001 at his home in Edina. Click Here for his obituary in the StarTribune.  He is buried at the Adath-Yeshurun Cemetery in Edina.  His wife had passed away 10 months earlier.
There is a collection of papers and newspaper clippings about Ross at the Minnesota Historical Society.