This restaurant, with the address 5201 Excelsior Blvd., was located in the Miracle Mile Shopping Center.
 BECKY'S CAFETERIA, MINNEAPOLIS
Becky's Cafeteria started in 1924 and was named for the Beck Sisters.  It became a successful restaurant at 1934 Hennepin Ave. in Downtown Minneapolis, owned by Park resident Emma Beck. In 1949 it was purchased by engineer Clayton Sonmore, a deeply religious man who stocked the restaurant with Bibles and decorated it with antiques. Minnesota Eats Out quotes a Barbara Flanagan article from the Minneapolis Star in 1966 where she says that actors from the Guthrie Theater hung out at Becky's:  "Those New Yorkers love that prune-whip and homemade meatloaf atmosphere."  Becky's Downtown closed in 1984.
---
BECKY'S CAFETERIA, ST. LOUIS PARK
Sonmore leased the store previously occupied by the W.T. Grant Store at Miracle Mile and opened St. Louis Park's Becky's Cafeteria on May 15, 1965. It was advertised as "recommended by Duncan Hines." Sonmore and his partners had taken out a $250,000 Small Business Loan at Citizen's Bank, but business was having a rough time and they were unable to keep up the payments.
---
SWISS CHALET BUFFET
In 1970 Donald Quinn, who owned Mr. Q's Restaurant across Excelsior Blvd., assumed the loan and became the managing partner.  Equal shares of the business were owned by Quinn, his son Gary, Hope Anderson Gronseth (Quinn's wife's cousin), and Nome Anderson (Hope's mother).  At that time the name was changed from Becky's to the Swiss Chalet Buffet.  In 1970 there was a controversy about its pay toilets, which were fairly common back then.
Patrons came in to a fountain (filled with coins). There were fish tanks in the walls along the food line and between the booths.  One former employee described:
On certain days of the year, like Mother's Day, we had people lined up down the block to get in. There was a main dining room with ramps up to the tables (top left picture). Then there were two other dining rooms, one in the middle to the left and one in the front left side. There were two small conference rooms right by the end of the food line.
Donald Quinn and Hope Gronseth managed the restaurant until 1974, when they leased it to Marvin Flodeen.  The basement was leased out to neighbor Fred G. Anderson for storage.  Donald Quinn died in 1975 – the SBA loan had been paid off a month before.  In 1979 the managers of Miracle Mile bought out the lease because they wanted a more revenue-producing business, and the Swiss Chalet Buffet was no more.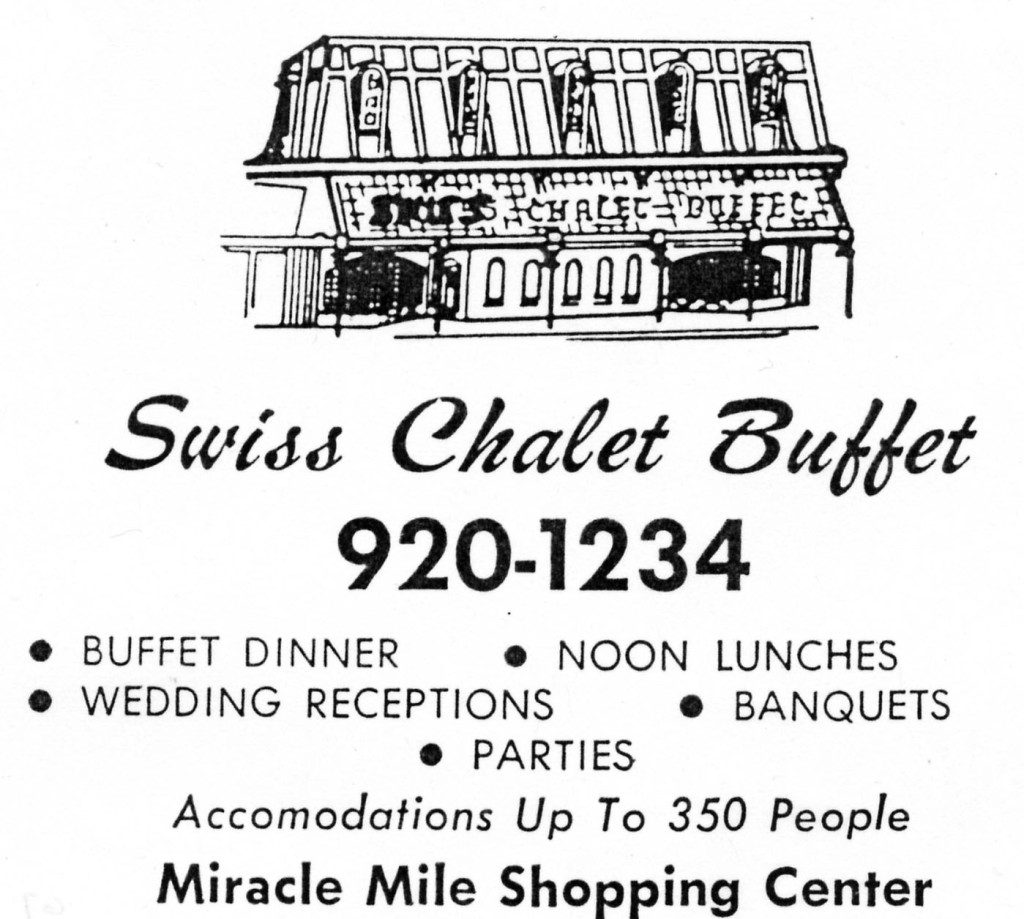 ---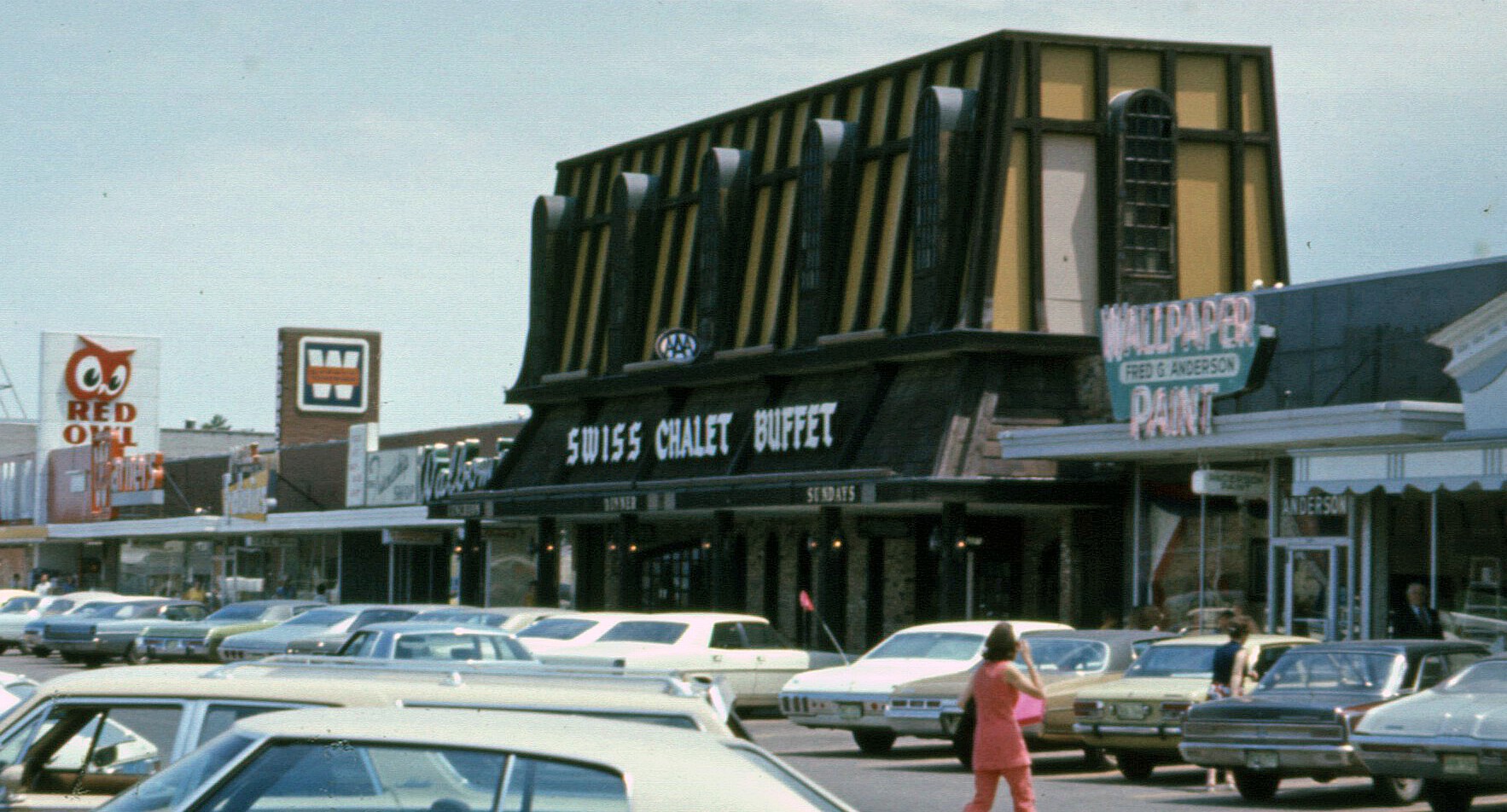 ---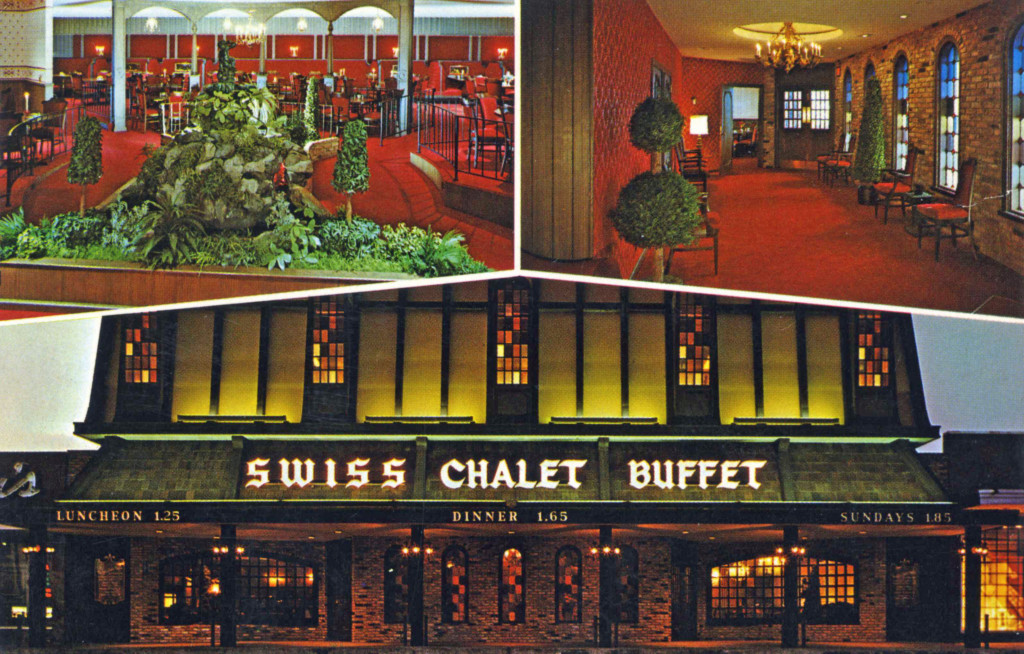 ---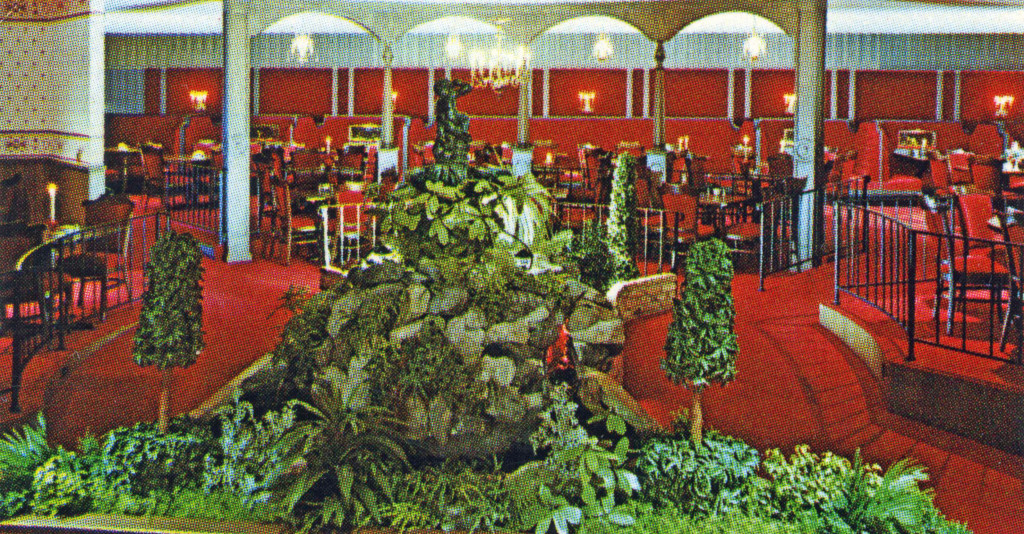 ---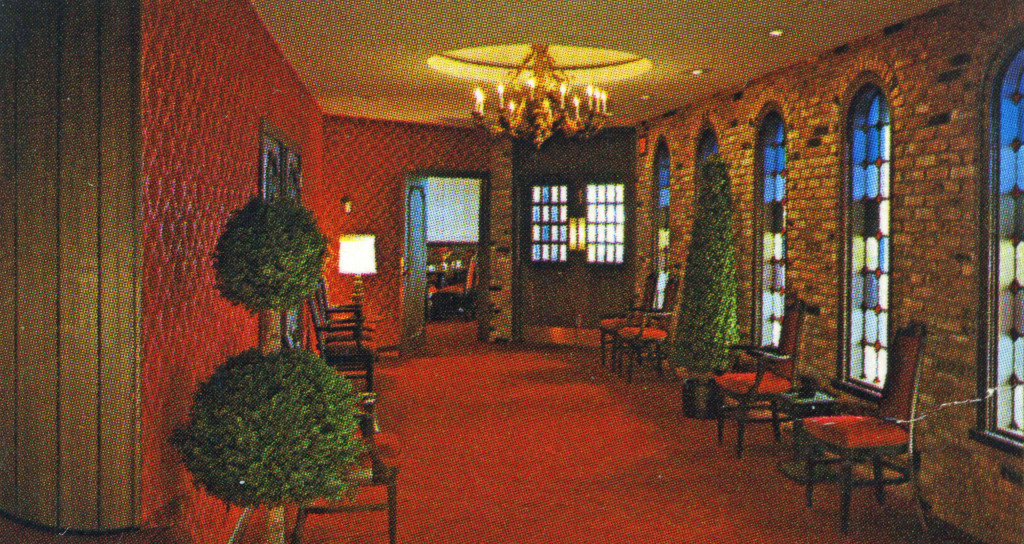 ---