Morris Tunick was born on March 15, 1975, in Russia.  His wife Sophia was born in about 1879, also in Russia.  Morris came to the US in 1904 and Sophia in 1905 with daughter Dora.  They came to St. Louis Park in 1907.  They were dairy farmers, as they were in the old country.  Sophia milked the cows and Morris sold it in Minneapolis.  Their farm, which they rented, was approximately where Highways 100 and 394 intersect.  Morris's grandson Milton Broude was kind enough to share these family photos.  Below is Morris with his milk cart, no doubt somewhere in Minneapolis.
Their children were:
Dora Tunick Remes, born @ 1905

Lillian aka Lilly Tunick Steinberg, born July 4, 1907

Eva aka Evelyn Tunick Broude, born 1909

Francis, born 1916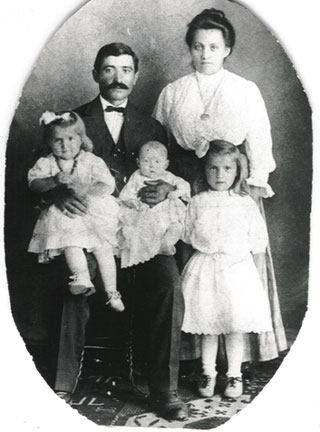 Above:  Family portrait, 1909:   Morris and Sophie with Lily, Evelyn, and Dora
Tunick kids:  Francis, Lillian, and Eva
By 1917 the family had moved to North Minneapolis; Morris' World War I Draft Registration card dated 1918 listed his address as 909 Humboldt Ave., and later they lived at 1524 – 8th Ave. No. Morris was listed in the Census as a cattle dealer.