Fred Vogt & Co. Heating and Air Conditioning (and Plumbing) had its start in 1946 by Fred G. Vogt, a Park resident.
By 1950 the company was located in the Park, at 6530 Lake Street (the London Square Building). 
In 1962 the company moved to a new building at 3260 Gorham.  A description from a 1971 business brochure says "Our experience will help with your problem.  We specialize in ventilating, heating, and air conditioning.  Our  new plant has the finest combination of equipment, personnel, working conditions, and assembly-line movement of materials to provide you with superior products at reasonable prices.  Photo below is from that 1971 brochure.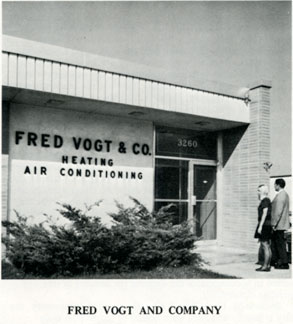 In 1998, Don Bell was President
 
For about one year, from 2011-2012, the business moved to 3529 Raleigh. 
The company is no longer in business.