Like the rest of the buildings in this area, this one was built in 1949.  Companies include:
1950:  Arrowhead Co., Inc.
---
1954-56:  Twin City Biscuit Co. (home of Mama's cookies)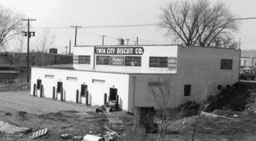 ---
1966:  Admiral Conditioners
1967:  B. Robert Lewis, Veterinarian
1971:  A directory gives 7013 Walker as the address of Lowell, Inc., manufacturer of precision parts.  David Lilja was president (25 employees).
---
REYNOLDS WELDING SUPPLY
In about 1973 it was purchased by J.W. Reynolds, and operated as Reynolds Welding Supply until 2010.
---
On December 28, 2010, it was purchased by the city's Economic Development Authority, which is hoping to find a developer that will clean up its environmental contaminants.