Bennigan's Irish Restaurant was built here in 1982.
 On January 15, 2004, a bar fight at Bennigan's in St. Louis Park ended in the death of Roger Y. Hamilton. Hamilton, 49, died at the scene of a blow to the head. Cousins Charles J. Dessalliers, 22, of Massachusetts and Phillip J. Desalliers, 24, of Plymouth were charged with second-degree murder, second-degree manslaughter and fifth-degree assault. The three had been playing pool when Phillip allegedly thought the victim was flirting with his girlfriend. In a jury trial in December 2004 Charles was found not guilt on the grounds that he was acting in defense of his cousin. Charges against Phillip were dismissed in June 2005. Hamilton's children sued Bennigan's for serving drinks to the cousins when they were obviously intoxicated.
Norman  E. Brinker started the Bennigan's chain, with some restaurants owned by the corporation and some by franchisees.  On July 29, 2008, the corporate stores were abruptly closed, with little or no warning to employees.  Some franchises struggled along, but the brand was basically dead, and the company went into Chapter 7 bankruptcy.  That October, the company was bought out from its debts by a private equity firm.  The company was restructured in 2010, and new stores are being built.
Our Bennigan's, as well as the former Shelly's Woodroast next door, were demolished on December 20, 2016, to make way for a Lincoln dealership.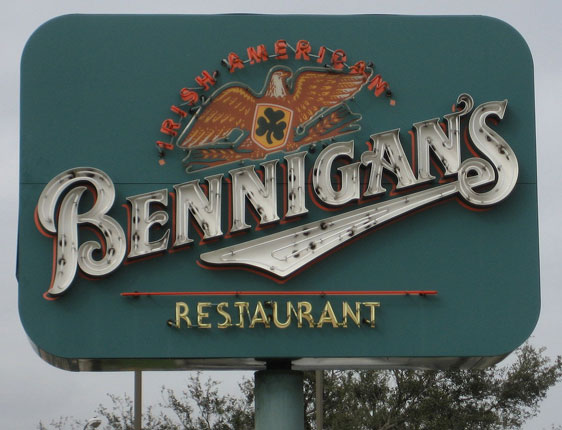 Save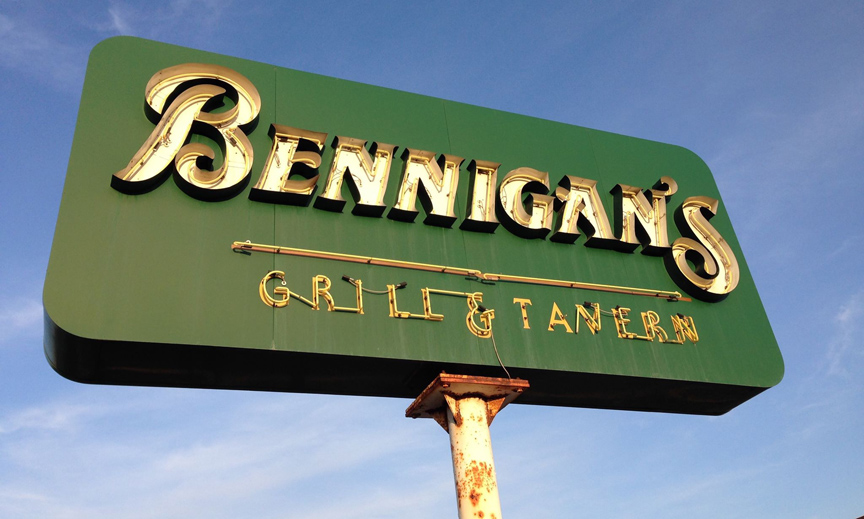 Save
Save
Save
Save