Thanks to Mark Toretsky for his research on this controversial corner.  Also see his chart showing the tenants through the years. 
A Dispatch article dated July 31, 1952 tells us that there was a tar mixing plant in the northwest corner of Cedar Lake Road and Louisiana.  Citizens were complaining about the black smoke and order that was making local children ill.  The plant was operated by the Alexander Construction Co. and its product used for the resurfacing of Highway 100.
In May 1953, the Dispatch reported that Pure Oil was granted a permit to build a service station at 7200 CLR at a cost of $21,500.
A Grand Opening of Swede's Pure Oil took place on November 20 and 21, 1954, two months after the eastern end of Westwood Shopping Center opened.  Swede Carlson gave away 30 turkeys, roses for the first 500 ladies, and 25 free chassis lubrications, and Santa was on hand with candy for the kids.  It was Swede's until at least June 1956.  The photo below from a November 1955 ad shows Earl Mikkelson, Swede Carlson, and Daro Arenkiel.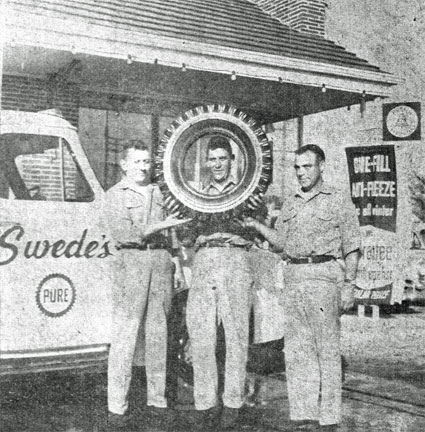 In November 1957, Earl's Pure Oil moved from 5800 Excelsior Blvd. to 7200 Cedar Lake Road.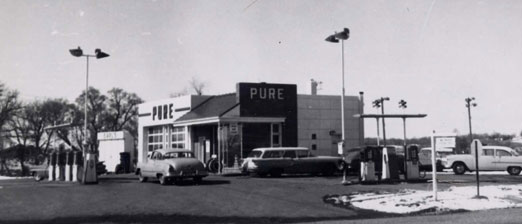 The photo below is of Louisiana Ave. looking north, circa 1965.  7200 Cedar Lake Road is a Pure Oil Station (on left).

The photo below taken in 1968 shows that it may have been a new or certainly considerably changed building from the one in 1960.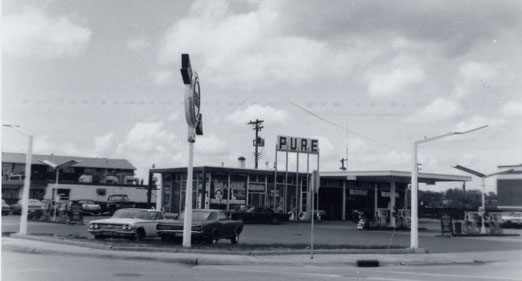 It became Westwood Union 76 in 1969/70 until 1997.  Michael and Mary DuPont bought the station in 1973.

In 1997 it became St. Louis Park Citgo.
In 1999, owners Michael and Mary Dupont tore down the building and rebuilt it.  The building next door at 7240/7244 Cedar Lake Road was torn down at this point and combined with 7200.  The cost of the project was about $5 million.  A grand opening of the redeveloped Westwood Citgo Convenience Plaza was reported in the June 21, 2000 Sun-Sailor.  The complex included a Cousins Subs and a Pizza Hut.  Shane Fields was the general manager at the Grand Opening on June 26.
On September 6, 2000, owner Michael DuPont, abruptly closed the Citgo Convenience Plaza, leaving 45 employees out of work.  Passers by were concerned about perishables still in the store a month later.
In 2001, Croix Oil purchased the station from DuPont, and on August 4, Dave and Jeanne Liebert purchased it from Croix Oil.  The Lieberts had operated the Amoco station at I-394 and Louisiana Ave. for 12 years.  When they took control, it took days to dispose of expired groceries, including 300 cases of pop.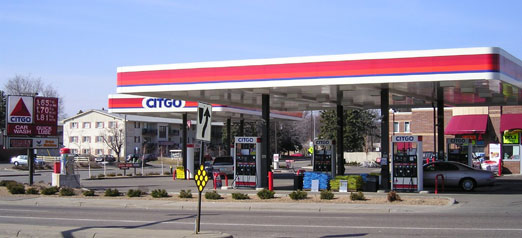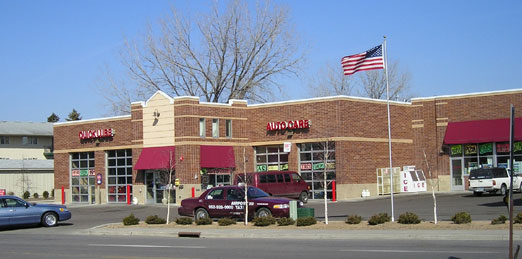 The station operated as St. Louis Park Automotive from 2004 to 2005.
In March 2005, the station closed again when the Liberts became embroiled in a two-year divorce action.  The photo below, taken in May 2007, doesn't indicate what kind of gas is for sale.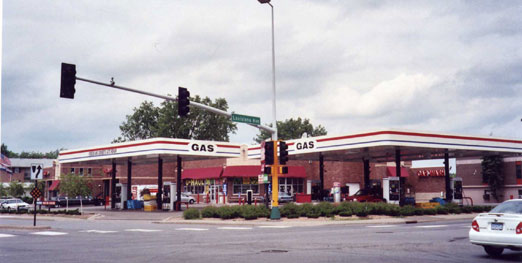 In 2008, despite complaints from neighbors that the area needed a gas station and that Snyders was just across the street, the station was again torn down.
Walgreen's drug store opened in July 2008.
Save
Save
Save