This site, located 2 blocks east of Methodist Hospital, was the location of Jimmy's Driving Tees in 1934.
There is no indication of other activity until 1952 or 1953 when Mark Z. Jones built a Conoco station (Continental Oil Co.) for $16,000. It hadn't been easy: after the Village Council approved the permit, 60+ protesters registered complaints, so the Council rescinded the permit in September 1952. Upon further deliberation, the Council reinstated the permit in November 1952. The Village required steel tile facing on outer walls and planting to screen the adjacent residence.
In January 1956 it was Johnson's Conoco.
In 1959 it was the Sunnyside "66" Service Station.
From 1960 to 1965 it was Sunnyside Conoco Service (run by Bill Ten Eyck, 1960-62).
From 1965 to1970 it was Bob's Sunnyside Service (Bob O'Donnell).
In 1971 it was Jack's Sunnyside Conoco (Jack G. Hewitt).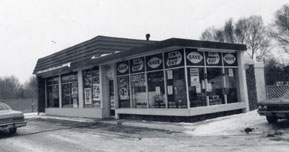 1974
In 1976, the names Squire, Bill Le Mieur, and R. McCally were associated with the station, which was now known as Fas Gas.
The station was demolished in 1982, and the current building – the Excelsior Boulevard Professional Building – was built in 1985.