According to tax records, this building is in two pieces:  the property that is in Hopkins is 151 feet wide, and was built in 1953.  The part that is in St. Louis Park is only 49 feet wide, and was built in 1961.
In 1956 it was occupied by Lederle Labs – there was a fire there that July.
From 1956 to 1971 it was owned by American Cynamid, distributor of pharmaceuticals, agricultural products, pigments, plastic compounds, household products, industrial chemicals, and laminated plastics.  In 1964-71, P.J. Will was the Distribution Center Manager. Home office for the company was in Wayne, New Jersey.  In 1964 there were 29 employees; in '71 there were 26.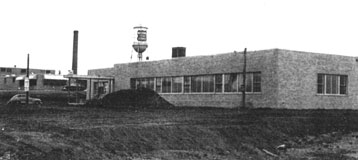 In about 2000 it was the home of the Paper Warehouse. 

2000
 Click Here for an aerial photo taken in 1962.  7630 is smaller building by the water tower, between two much larger buildings.  Unclear which building the water tower was attached to.