HISTORY OF LILAC WAY

The 30,000 square foot Lilac Way was the first shopping center in the State. Unlike Miracle Mile, which was built across the street 10 years later, Lilac Way was not so much a strip mall but a series of buildings anchored by the bowling alley, and was much smaller that Miracle Mile's 154,000 square feet. The Lilac Way/King's Inn complex was owned by Nick Phillips and Frank Theros. The partners split at some point and the shopping center belonged solely to Phillips – and then to his wife Elly when he died – and the King's Inn stayed in the Theros family.
The first section, Lilac Lanes Recreation Center, was built on the site of the Baston Farm in 1941.
Permission was granted to extend it eastward in 1945, on the site of Nate Shepard's asparagus patch. Much of Shepard's land had already been taken for the construction of Highway 100.
The National Tea/SuperValu store (5420) was originally the western-most store until about 1958, when 2-3 additional small shops were added to the west end, including the barber shop and dry cleaners.
---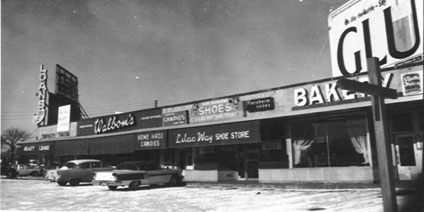 ---
In January 1964 there was a disastrous fire that destroyed the Lilac Lanes Cafe.  It was rebuilt as the King's Inn.
In the mid 1970s there was increasing talk about designating an Excelsior Blvd. redevelopment district, which threatened the continuing existence of Lilac Way. In August 1976, for the first time there was organized a Lilac Way Merchants' Association, headed up by Leaning Post owner Phil Eder and relative newcomer Norm Kirchner of the Lilac Way Shoe Store. The Association spent $1,000 of their own money to extend the old west motif of the Leaning Post throughout the complex. (The King's Inn did not participate.) Efforts to remove the huge Coca-Cola sign from the roof were stymied by the amount of money that Coke was paying Mrs. Phillips.
Despite these efforts, the old shopping center was ripe for redevelopment. Construction of the 36th St. overpass wreaked havoc on traffic in the area, and the businesses never recovered. The complex was demolished in September 1988. (Demolition was delayed in the fall of 1987 when soil borings revealed high levels of trichloroethylene.)
The land lay vacant for awhile before Park Commons came into being in the mid 1990s.
---

---
BUSINESSES OF LILAC WAY
---
Bakery: 1941 – 64. From 1941 to 1949, Melbert E. Lenander ran the first bakery in Lilac Way at 5324. In 1945, he published a notice in the paper that due to a shortage of sugar and shortening, the store would be closed on Thursdays. The address then was listed as 5332. In December 1947 he moved to 5308. In 1954 he moved to Miracle Mile, where he sold the business to Michael and Barbara McCollor in 1957. Mr. Lenander died young. In June 1960 the bakery was listed as Bobbie's Bake Shop, owned by Robert Byers, but on October 10, 1960 it was again the Lilac Way Bakery, run by Earl Riedeman, who moved to Miracle Mile in 1964.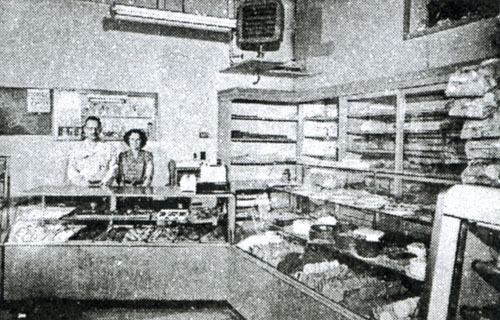 ---
Barber Shop:  5424.  The Echo announced in December 1957 that the Lilac Way Barbershop had just opened "across from Lilac Lanes."  Barbers were Ralph Nelson and Jim Cordell.  In September 1958 the Lilac Lanes Barber Shop was advertised with Mel and Jim.  Also known as Mel's Barber Shop, opened long before 1963.  Owned by Mel Craft.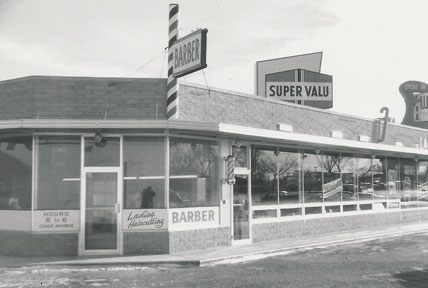 ---
Bonanza Steak House/Sirloin Pit: 5420. 1966-69. May have gone out of business when their application for a liquor license was denied in July 1969.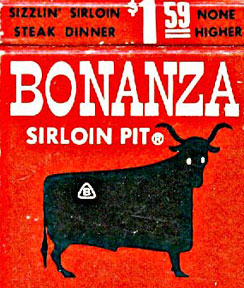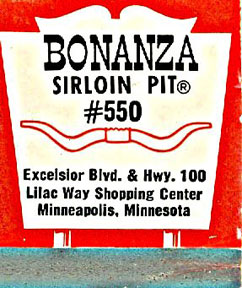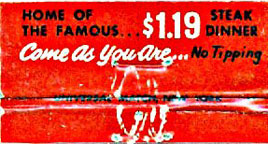 ---
Burgundy Bull: 5420. 1969- This restaurant was run by Tom Hastings and specialized in carry-out. Their chicken was marinated in dry vermouth, beef in burgundy wine, and ham in tawny port. Perhaps this was to get around the lack of a liquor license?
---
C&C House of Realty: 5400. 1964 – 66
---
CB Bargain Center:  1977
---
Cinderella Health Studio: 5304-1/2. 1958-60. Services included a steam bath, Swedish massage, and a spot reducing machine that looked like a human clothes wringer. Sign on the window says "Ladies Exclusively."   Building became Genuine Parts ("Men Exclusively?")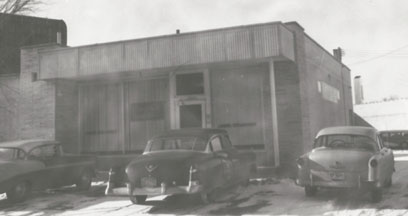 ---
Coast to Coast Hardware: 1950 – 61. This store was originally located in a separate building in front of the Mobil gas station (5430). Its Grand Opening was held on October 27-28, 1950. The store featured 1500 square feet and 11 departments, selling auto accessories, hardware, and housewares. It was owned by Nick Phillips and run by Mr. and Mrs. Melvin Cooper. On November 24, 1952, it was purchased by Sam Broude. Another name associated with the store in the 1950s was C. Ed. Christy, who ran it from 1954 to 1956.
In December 1956 this building was moved and Coast to Coast moved to 5400.  The Coast to Coast Headquarters and Distribution Center was located at 7500 Excelsior Blvd. from October 1956 to 1976, when it moved operations to South Dakota and corporate headquarters to Minnetonka.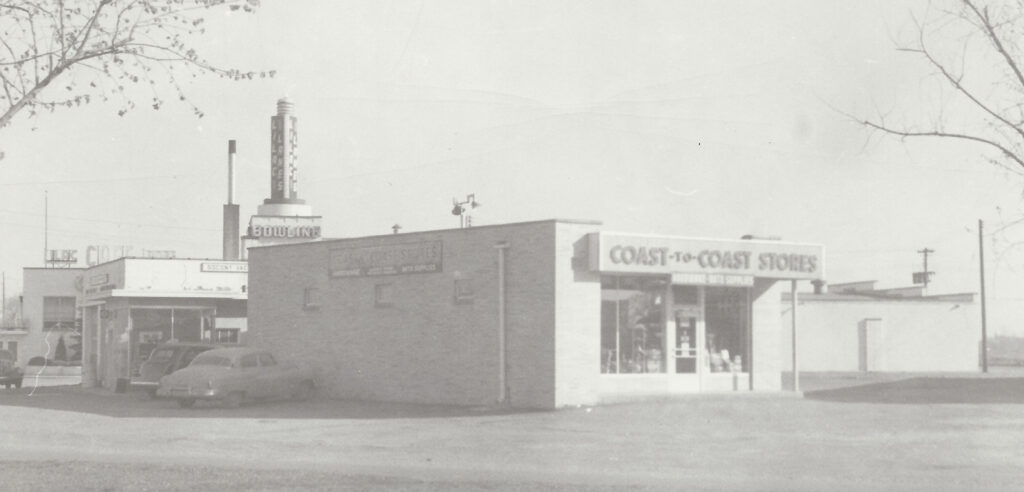 ---
The building sat in front of the Mobil Gas Station.  In 1956 the Coast to Coast building was moved behind the drug store and the gas station was demolished.
---
Communications Center:  @ 1974

---
Davis Loan Co.: 5332. 1952 – 1972. A.D. (Dave) Davis and A.L. (Al) Groos opened up shop on November 20, 1952. They advertised as the first home-owned loan company in the Park, licensed under the Minnesota Small Loans Act. They were authorized to provide loans from $25 to $300.  See photo from 1960 above under Beauty Parlors.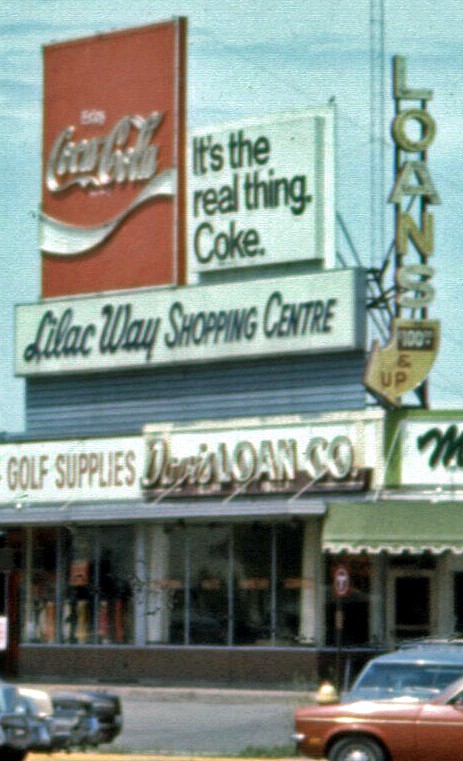 ---
Dairy Bar: 5320. Horton's Dairy Store/Milk House, 1941-42. Re-opened October 16, 1942 (Feb. 6, 1942?) by Fred Wolfe and Son as the Dutch Mill Dairy Bar – Wolfe had 50 such stores. From 1943 to 46 it was the Lilac Way Dairy Bar ("poultry – farm killed – drawn immediately"). It had fountain service, lunches, and a complete line of dairy products.  In August 1946 it was run by Evelyn H. Lawyer, who moved it from the Minnesota Dutch Dairy Bar at 6570 (6508?) Walker. The store re-opened as Dairy Lane with a 22 stool lunch counter on June 28, 1947 under the management of Mr. and Mrs. Phillip R. Zorn. On the menu were barbeque ribs.  In 1950 it was operated by Eggerts..
---
Dry Cleaner: 5434 (5320?). Lilac Way Dry Cleaners opened on December 1, 1947. The next year it was Pilgrim Cleaners. Pilgrim Cleaners started in 1940 as "Johnny on the Spot" Cleaners, serving the entire upper Midwest. In the early 1950s they came to Minneapolis and suburbs and changed their name to Pilgrim Cleaners. From 1957-66 the store was run by White Way Cleaners (Richard F. Condon). The store was again called Lilac Way Cleaners in the '70s – Mr. LaVallee was the owner in May 1970.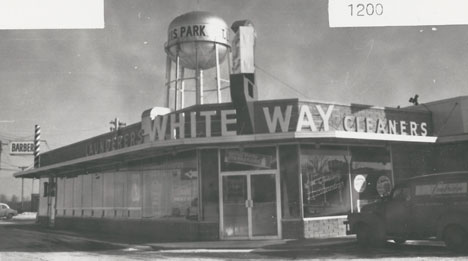 ---
The Fitness Store: 1988
---
Genuine Parts Co./Genuine Auto Parts:  5430 (5304-1/2). 1960-72. Mike J. Storm, manager in '71 – 5 employees. Had been at 4814 Excelsior from 1956 to 1960.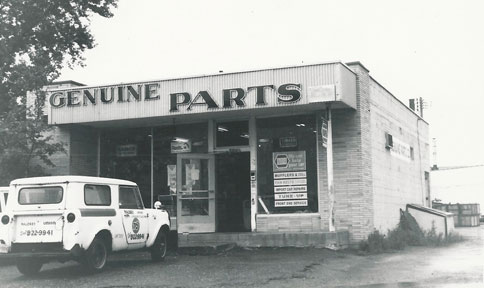 ---
Hallock Co. Inc.  – Components and Systems for Automatic Control:  1974-1977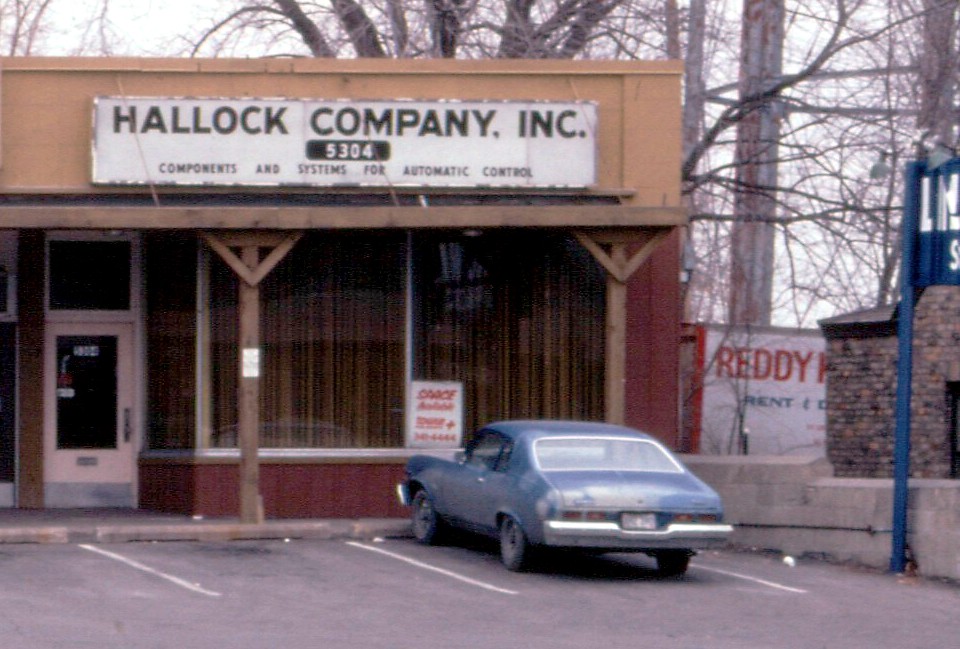 ---
H&R Block: 5304. 1981-84. Possibly at 5316 in 1970.
---
Hickory Corral/Hickory Wheel Bar-B-Q: 5420. 1970-1972. This property had changed owners several times before Phil Eder bought his partners out. Eder made the transition to Koogan's Leaning Post in 1972, perhaps because the Hickory Wheel could not get a liquor license.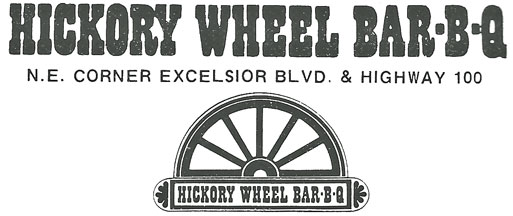 ---

Hughes Furniture: 5324. Leo Hughes, 1960 – 69. The store had been at 4532 Excelsior in 1958. (That building later burned down as the Pizza House.) It went out of business in July 1969.
---
Instant Printing  1977
---
Julie Ann Candies was the first of a string of candy shops. Julie Ann was owned by Peter Brown.
---
Kings Inn Restaurant was the former Lilac Lanes Café, renovated and renamed in 1964. It featured the first and longest salad bar, boasting 76 items. Their motto was "Food Fit for Their Majesties – Our Customers." Owners were George and Bob Theros, son of Lilac Way founder Frank Theros. The address, often given just as Highway 100 and Excelsior, was actually 3901 Wooddale.  At one point there was a members-only room called "King of Clubs."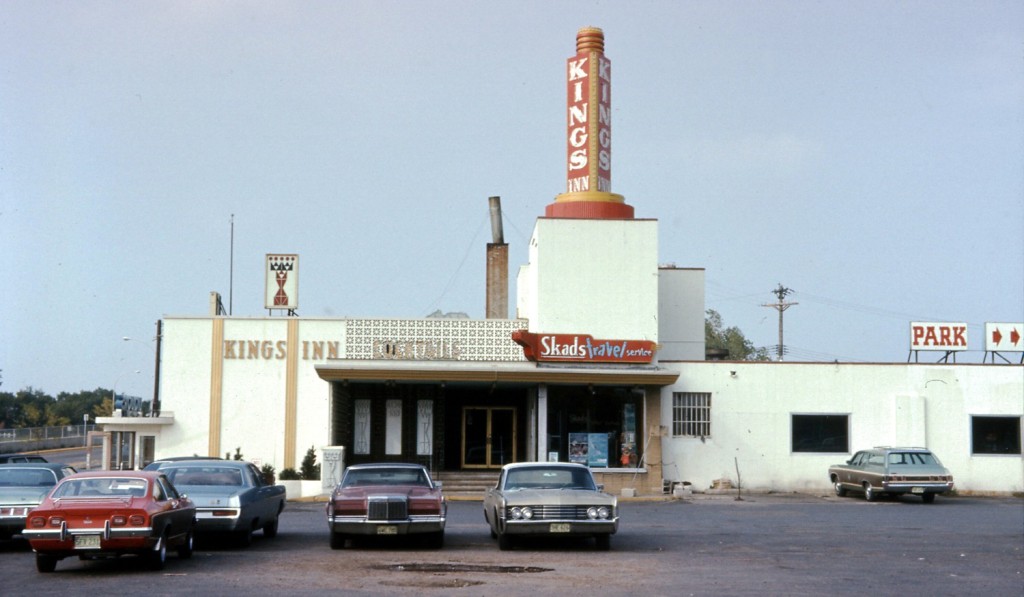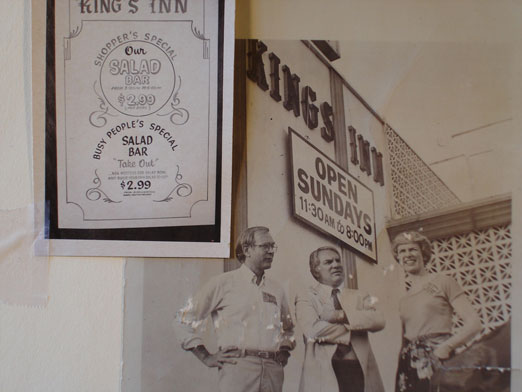 ---
(Koogan's) Leaning Post: 5420 (-30-34). 1972-87. Phillip L. Eder, Northern Franchises. There are many fond memories of this place, which was sometimes viewed as a "meet/meat market."  Two frequent bands were the Gangbusters and the Frank Wagamon Quartet.  Alex Wilson was a memorable bartender.  There were some fights, though, and bar closed its doors on October 24, 1987.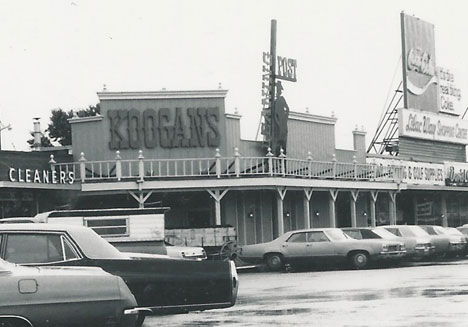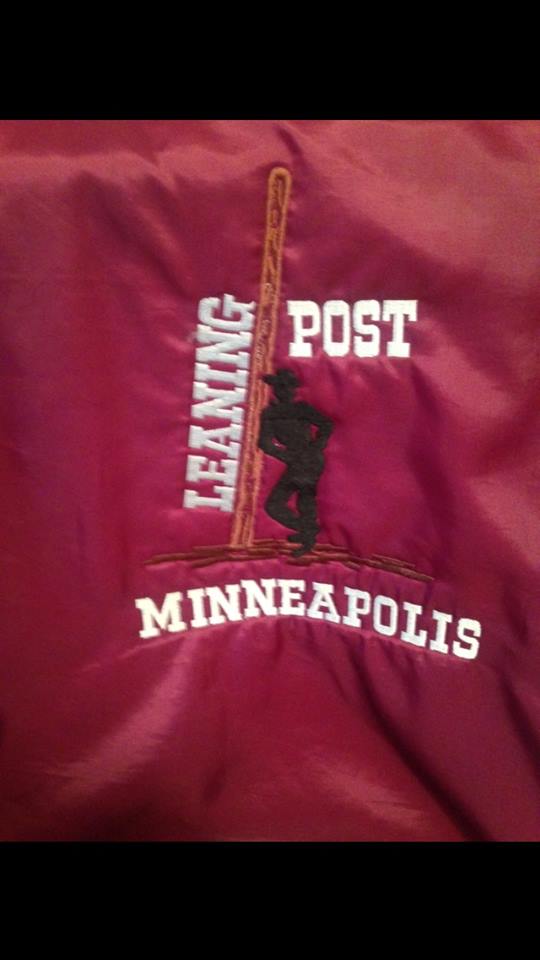 ---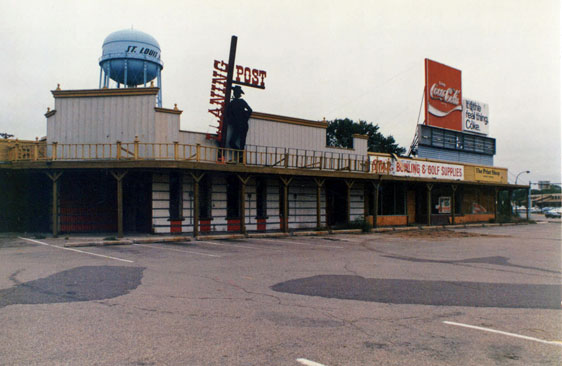 ---
Larson's 5 & 10: 5400-5404. 1940-42 – Irving A., Florence Larson. A Ben Franklin Store.
---
(Lee's) Lilac Lanes Cafe and Cocktail Lounge: 1942-45. On September 5, 1942, the restaurant opened under the management of "your genial host Connie Rallis." The menu included frogs' legs. It was under new management once again in January 1943. [Closed January 1943 – stayed closed when bowling alley reopened.] Walter Claasen of St. Paul and Rudy Engelhart of St. Louis Park took over in 1945-46. In 1946 the manager was Al Borreson. The menu in 1947 included:
Omelette with Chicken Livers and Fresh Mushrooms
Butter Fried Calf's Liver, Breakfast Bacon, Bermuda Onion Rings
Fried Jumbo Green Shrimp
Grilled Filet Mignon, Bordelaise Sauce
Broiled Choice T-Bone Stead from our Rotary Grill
Other treats included Navy bean soup, Crabmeat Cocktail, Glazed Parsnips, Prune Whip Pie, and Orange cake with boiled icing.  Children got a choice of calf's liver or chopped sirloin.

---
The Lilac Way Cocktail lounge had its Grand Opening on April 17-19, 1952 – Nick Phillips received a liquor license in January despite opposition from three churches. In 1953 he petitioned to have the license transferred to Lilac Lanes Enterprises. The June 1963 Twin Citian described a modern cocktail lounge and piano bar, with entertainment and music for dancing nightly.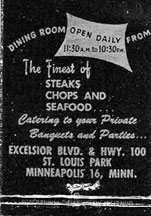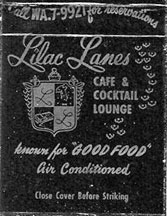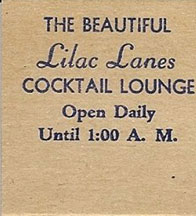 In January 1964 the restaurant burned down, was renovated and renamed King's Inn.
---
Lilac Lanes Recreation Center, with a 20-lane bowling alley, opened on December 22, 1941.  In January 1943 it was under new management but must have closed shortly afterwards; a report says that it closed for a year and a half and  reopened on September 1, 1944.  In 1942 the bowling alley was managed by golf pro Jimmy Lentz. In 1949 All Borreson was the Alley Manager.
Avid bowler Bob Wilson lived a block away from Lilac Lanes, and in 1956 he became a pinsetter, a strenuous and sometimes dangerous job.  He remembers that there was a dorm in the second story of the building for the pinsetters, who were generally down-and-out men from Skid Row in Minneapolis.  They were paid 10 cents a game out of the 40 cents the customer paid. Automatic pinsetters were installed the next year.   Lilac Lanes ("bowling alley" was a term frowned upon in the industry) was the site of the annual Aquatennial Bowling Tournament.  Bob reports, "The lanes of those days were made of maple and pine, and thus, had to be refinished at least every two years.  This required shutting down for about two weeks – it then took forever for the sawdust and smell of the lacquer to disappear.  Today the lanes are synthetic and require no such attention.   (They are also easier to get high scores on.)"  There was also a two car garage behind the building where workmen refinished the pins, which were made of maple.  Lilac Lanes burned down in 1978.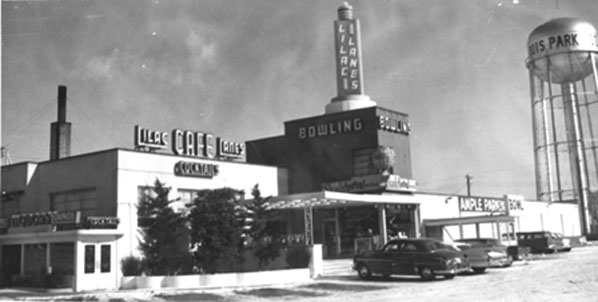 ---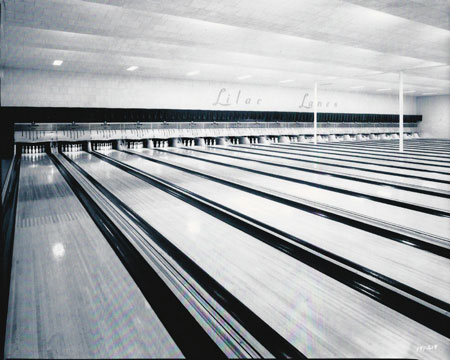 ---
Lilac Way Beauty Salon: 5328. In 1941 there was an ad for the "New Pompadour Beany – all colors and sizes."  Was this a hat or a hairstyle?   In 1942 the salon featured the "Commando Bob" for $7.45.
---
Lilac Way Candies.  In April 1948 Julie Ann Candies was sold to Ted Georgas to become (Georgas) Lilac Way Candies, 1948-1965.  Follow the link to learn much more about Georgas and see some great photos!
In 1965 the store was called Dave's Lilac Way Candies.
---
Lilac Way Fashion Salon:  5328.  1964-70.  In August 1969 it opened a new wig store and advertised that the beauty salon would reopen soon.
---
Lilac Way Shoe Store: 5312. December 1, 1947 – 1976.    Follow the link for the history and photos of this iconic St. Louis Park business.    
---
Maxim's Beauty Salon.  In December 1970, three Maxim's Beauty Salons opened, formerly Fashion Beauty. Maxim's had been in business for 45 years, but this location was gone by 1975.
---
Minnesota Radio and Electronics: 1958.
---
Mobil Gas Station:  This never seemed to have an address but was in the Lilac Way parking lot in front of the bowling alley, as you can just see on the left in this photo from 1951.  In 1943-46 it was Daly's [Daly and Sons] Mobil Service.  In 1952 it was owned by Cort Scarborough, and in 1954 it was owned by Warren Ford.  The station was demolished in late 1956 to make room for more parking.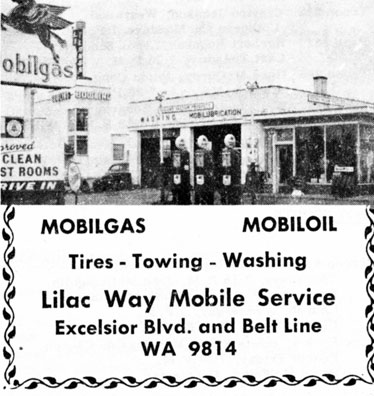 ---
National Tea Store: 5420. 1942-53. In 1953 the store moved to a building at 4951 Excelsior at Quentin built by Morten Arneson where it operated for a decade. A matchbook advertised "National Food Department Stores," with "Branch Offices" in Chicago, Indianapolis, Minneapolis, and Milwaukee.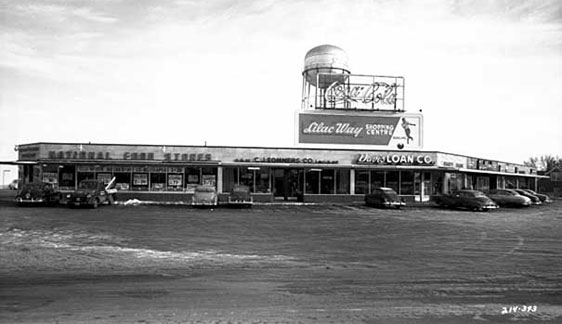 ---
Northland Photo: 5312. early 1970s – 1981. With Posters by Vicki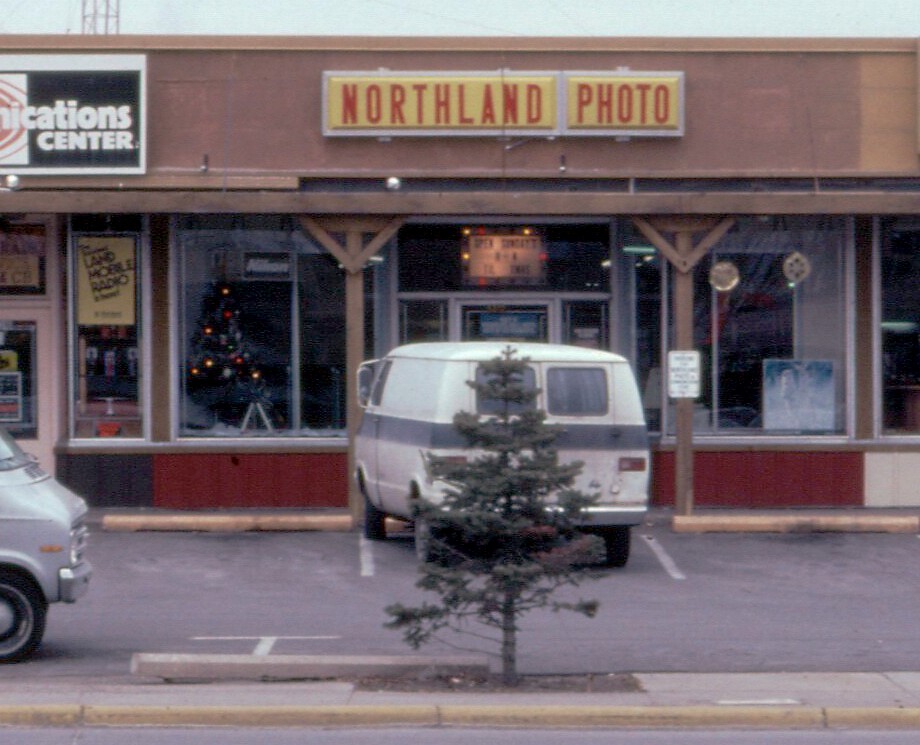 ---
O'Hair International Wigs and Boutique – 1971
---
Park Communications Center:  5316.  1980:  Personal and Business Communication – pagers – land mobile – GMR/FM.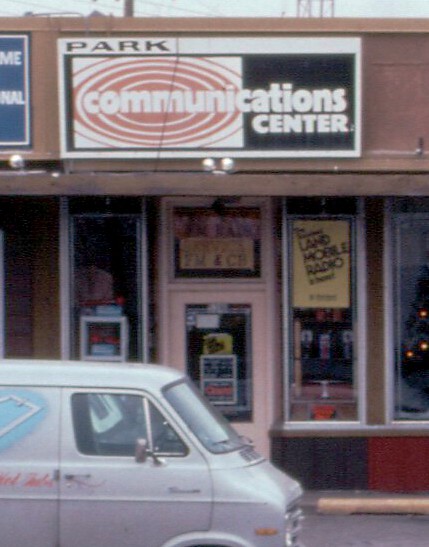 ---
Park View Cameras and Flowers: 5308. 1967-1968. Had been in Miracle Mile, 64-65. By 1968 it was just cameras.
---
Paul Hein Beauty Lounge.  In April 1947, Hein advertised the "radio" permanent wave, whatever that was. In 1951 Hein also had a shop at 411 Kresge Building, presumably downtown Minneapolis.  "Dancing Hair" was all the rage in 1962.  He moved to Miracle Mile in 1964.    It boasted five Operators and two stylists.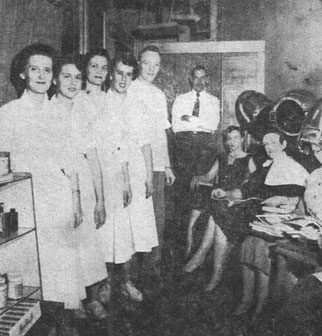 ---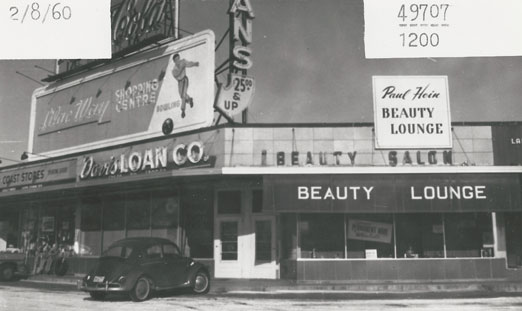 ---
Phil's Cafe:  This ashtray says that it was at Excelsior and Hwy 100, and Phil Eder owned Lilac Way, but we're not sure where this was.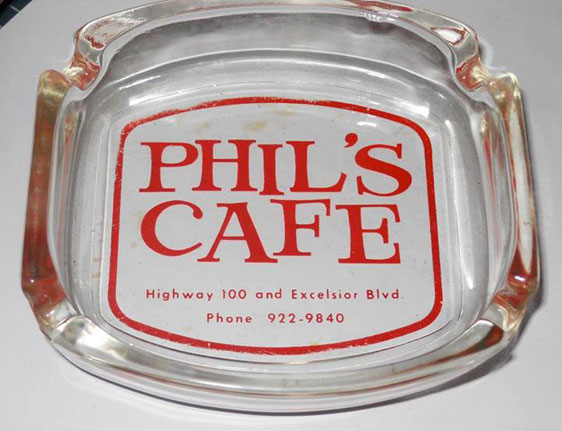 ---
Poor Junior Bargain House: 5324.   Opened October 1972. China, wood, stainless gifts.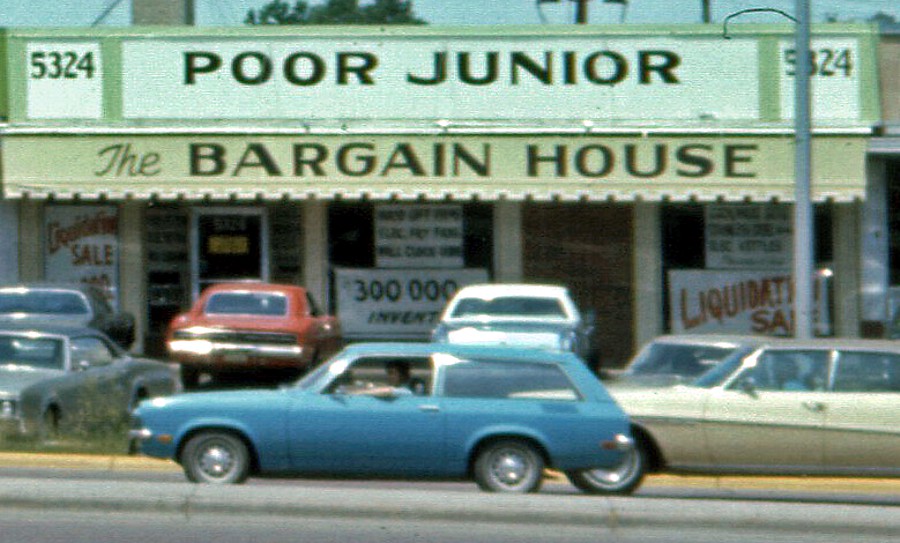 ---
Print Shop:  One of the last businesses to operate before the center was closed and demolished.
---
Radio Shack:  5312.  1987.  Boom Boxes, Stereos, Speakers, Telephones.
---
Roy's Haberdashery:  A December 1947 ad in the Echo said "Watch For!  Roy's Haberdashery" but not sure if it actually came.
---
Ruby's Fine Foods: 5420. August 1959 – 1963.  Owned by Morton Silverman.  An ad in March 1963 says that they lost their lease.
---
Samday Foto: 5316. 1981
---
Savitt Brothers Paint: 5304. 1949 – 70, Burt Savitt, prop.
---
Schmitt Music Co.: 5308. July 8, 1965 – 1966 Owned by Robert A. Schmitt, this premiere music store began in 1896. In 1928, the Paul A. Schmitt Co. was located at 729 Nicollet Ave. An ad from 1971 lists six locations, including Southdale. The list does not include St. Louis Park. In the 1960s, members of the Schmitt family lived in St. Louis Park.
---
Sherman Pharmacy: 5304. April 1948-57. Fred Sherman, proprietor.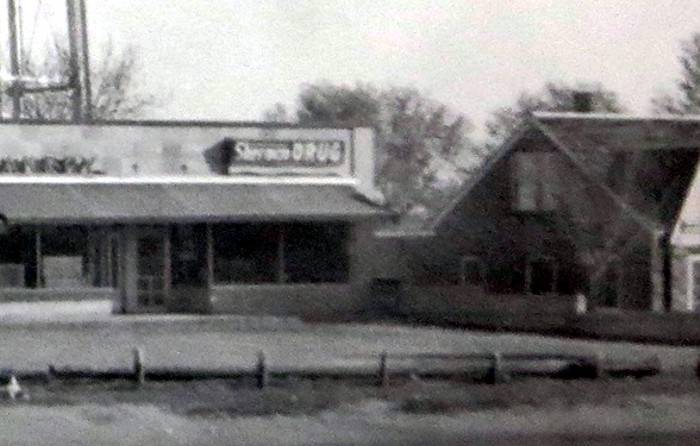 ---
Skads Travel Service – Follow the link to learn about the first suburban travel agency.
---
C.J. Sommers Co. 5400. 1943-70. This was a Dime Store Supply Co., with merchandise ranging from 5 cents to $1.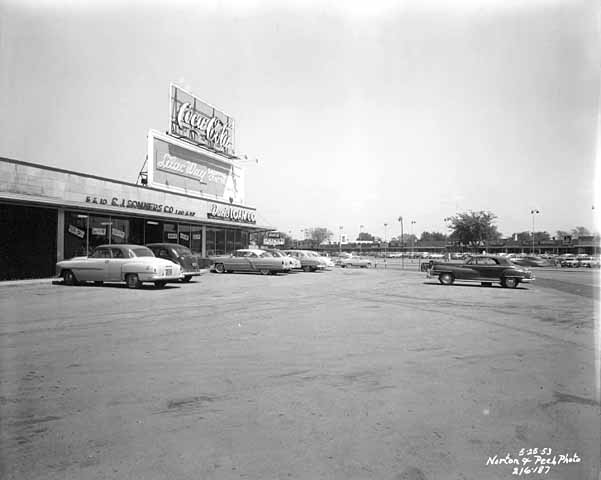 ---
Star Bowling and Golf: 5400. 1962 – 1988.  Started off as Star Bowling, owned by DuWayne Breault and Jim Sjostrom.  Became Star Bowling and Golf with partner Bill Sandvig.  There was another store at 9811 Nicollet in Bloomington.  The St. Louis Park store later moved to 36th St.




---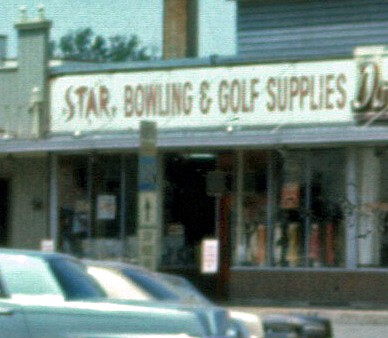 ---
SuperValu: 5420. 1953-54. The roots of this Hopkins-based grocery retailer go back to the B.S. Bull, Newell & Harrison Co. Minneapolis wholesale grocery firms. In 1942, the Super Valu name was introduced. Entrepreneurs Winston and Newell formed a voluntary group of stores with an extensive program of services to retailers and stressed nationally advertised brand names. The company's name was officially changed to Super Valu Stores, Inc. The Lilac Way store opened on July 9, 1953. The store advertised its exclusive "rolling cold" facilities, which meant that meat was refrigerated during all stages of preparation. Other features included air conditioning, magic carpet doors, relaxing music, Witt's Bakery, Spee-Dee checkout counters, a Kiddie Korral with TV (introduced by Red Owl across the street in 1951), and Gold Bond Stamps. The store manager was Ivan Hagen, and Chet Janson was the meat manager. In December 1956, new owner-manager Burton J. "Bud" Amlaw purchased the store from the late Harry Botten.
---
Tonnings Apparel Shop: 5324. 1942 – 47. Became Walboms.
---
Walbom's Apparel: Roy and Irene Walbom opened a women's and men's apparel shop in 1947. They added a children's section, opening on November 17, 1950. In 1962, the shop was run by Irene Burkhardt. In 1963, the store was moved to Miracle Mile.   See 1958 photo above under Lilac Way Shoe Store.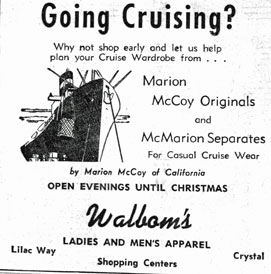 ---
Wellington Hall Ltd. Interior Design Center.: 5324. 1969-71. Manufacturers of fine furniture. May 1970 manager Vern Lawrens. 1971 new director Thomas Alan Earle.
---
Katherine White Home Interior Shop: 5332. At the grand opening on November 1-2, 1950, the first 600 ladies were presented with imported bone china demi-tasse cups and saucers.
---
Wine Art: 5308. Opened December 1969 – 1977.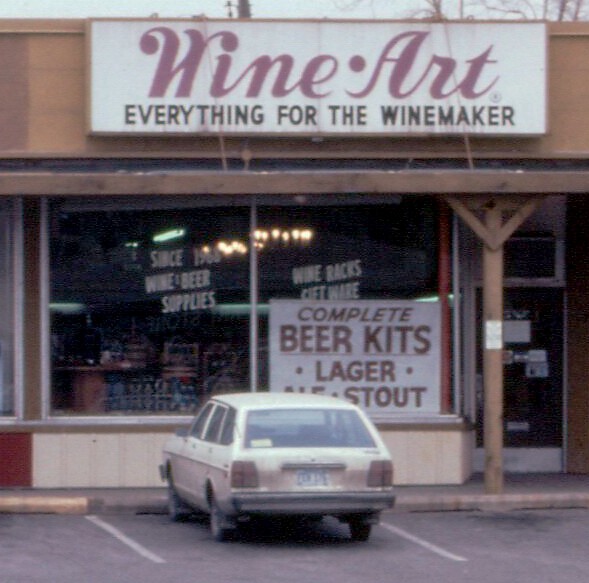 ---
LILAC WAY STOREFRONTS
This is a rough reconciliation of the addresses of the various businesses that leased at Lilac Way. It is not all-inclusive, and is prone to error, as easily seen by overlapping businesses. Any and all corrections are welcome.
5304
1948: Pilgrim Cleaners
1949: Glueck Brewing Co.
1949-57: C. Sherman Pharmacy
1949-70: Savitt Bros.
1957: Alvin Ray
1957-1975: Lilac Way Cleaners
1981-84: H&R Block
5308
1946: C.R. Martin – 5308-12
1947-64: Bakery
1965-66: Schmitt
1967-68: Parkview
1969-84: Wine-Art
5312
1947-72: Lilac Way Shoes
1978-81: Northland Photo
1982: Radio Shack/Elder Jones, Inc. (5312-16)
5316
1941-65: Candy
1970: H&R Block
1970: Warren Hallock
1970: Vanguard Distribution Co. of Minnesota
1975-80: Amateur Audiotronics/Park Communication Center/CB Radio
1981: Samday Foto
1981: Wegner Enterprises
5320
1941-49: Dairy Bar
1965:  Lund's
5324
1941-47: Bakery
1947-63: Walbom's
1964-69: Hughes
1969-71: Wellington Hall International Design Center
1972: Poor Junior
1974: Beautician's Supply
1979-84: Fitness Shop
5328
1941-47: Beauty
1947-64: Paul Hein
1964-70: Fashion
1971-75: Maxim's
1976-85: Print Shop – Howard Olson
5332
1945: Lenander's Lilac Way Bakery
1950: White
1952-72: Davis Loans
1973-77: Davidson Finance
1980: Avco Financial
5400
1940-42: Larson's
1956-60: Coast to Coast
1948-70: Sommers (rear)
1964-66: C&C Realtors
1962-80: Star Bowling
5420
1942-52: National Tea
1953-54: Super Valu
1959-60: Ruby's Fine Foods
1965:  Dante's
1966-67: Bonanza
1970-72: Hickory Corral/Wheel BBQ
1972-88: Koogan's
5430 – Separate building. Originally 3917A Vernon.
1950-56:  Coast to Coast
1956:  Moved behind Sherman Drug, facing east.  Address changed to 5430 Excelsior.
1958-60:  Cinderella Health Studio  (Allen/Alvin Roy Slenderizing Co.)
1972:  Genuine Parts
5434 – addition on eastern end, built @ 1958. Two storefronts with the same address.
1962-66: White Way Cleaners
1957-1975: Lilac Way Cleaners
1964-66: Barber
---

---