Prince of Peace  Church held its first services in the Oak Hill School lunch room on April 4, 1948. It was to meet there for two and a half years. The church was officially organized on March 20, 1949, as the Church of the Good Shepherd, English Evangelical Lutheran. Its purpose was to serve the west side of the Village. 72 adults and 43 children were listed on the charter rolls. Rev. George L. Lundquist was the first Pastor. The first site and education building, located on Highway 7 west of Texas Ave., were purchased on July 8, 1949.
On July 9, 1950, the congregation changed its name to Prince of Peace Evangelical Lutheran Church. The changed was necessitated by the presence of two other churches with Good Shepherd in the name within a five mile radius.
The first church building, a remodeled house that had belonged to Lawrence Seiverson, was dedicated on December 31, 1950. By 1954 the church had outgrown its building and the fifth anniversary service was held at Park Knoll School.
The new church was built and dedicated on November 20, 1955. At one time the stained glass window was thought to be the tallest glass work of its time.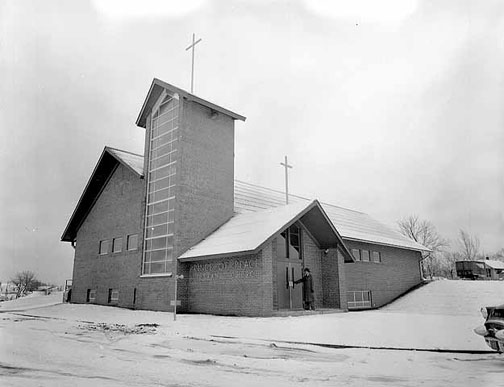 Prince of Peace Church, 1955 – Minnesota Historical Society
In December 1959 property at 3750 Texas Ave. was purchased for church offices.
Membership continued to grow until, in 1961, the church had 926 members and a Sunday School enrollment of 502.
The so-called Parish Center Addition was dedicated on December 13, 1964.
The original old house was demolished.
In April 1970 the property at 3750 Texas was opened as THE HOUSE, a youth center.
The church's web site is http://popslp.org/

1996 Photo courtesy Emory Anderson