Earl Ames, Jr. has deep roots in St. Louis Park. His mother, Myrtle Borne, was born in the Park and grew up in Oak Hill at Quebec and Lake Street.  His father, Earl Ames, Sr., was born in Iowa and came to the Park after World War I. Earl Sr. and Myrtle met while he was taking courses at Dunwoody during World War I and they married in 1918.  In 1920, Earl Sr. was listed in the Census as a machinist at a sash and door company.  He went on to put in over twenty years at the Creosote plant, and also worked at Rodgers Hydraulic, and important early business.
Earl, Sr. and Myrtle lived at 3537 Texas, built in 1927.  Earl Jr. describes it as a shack with no basement. A basement was eventually dug with a team of horses. Plumbing was installed in 1940. The surrounding area was a cornfield and truck farm that John Skogman eventually sold for a lot of money. Earl Jr. remembers hunting pheasants on the land that would become Knollwood.
In 1935, Earl Jr.'s sister Evelyn, age 15, suffered a ruptured appendix.  In those days there was nothing that could be done, and she died before the doctor could get there.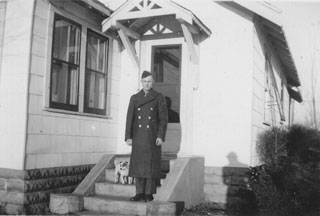 Earl, Jr. at the house on 35th Street
After high school, Earl Jr. worked at Wilson Packing and Rubber, which later became Minnesota Rubber. He and his wife Anna May built a house next to Earl's parents, at 3533 in 1950. They lived there until 1988. 
After the service, Earl Jr. worked for American Motors Sales Corp. His fraternal organizations are the Lions Club (30 plus years); Odd Fellows (once the Nobel Grand); and the American Legion (60 plus years).
Earl Jr. and Anna May had two children, Lance and Cheryl.