Fred G. Anderson Wallpaper and Paint was started by Fred Gotte Anderson in 1948. Anderson was born in Sweden on June 26, 1907 and came to the US in 1926, perhaps as a result of his father's death in an explosion. His wife's name was Edith. He was named "Swedish Immigrant of the Year" at Svenskarnas Dag.
Fred's first store was at 50th and Washburn in Minneapolis in 1948 with Arthur Vanderhoeve as manager. In September 1953 he opened a store in the new Miracle Mile. The Miracle Mile store, which was managed by Mel Aker and initially had three employees, was first located at 5007 Excelsior Blvd., but by 1964 had moved to a larger store at 5217 Excelsior. The manager there in 1964-56 was Harold Norby.  In 1964 he also had stores at 3000 W. 50th St. in Minneapolis and at the Southtown Shopping Center in Bloomington.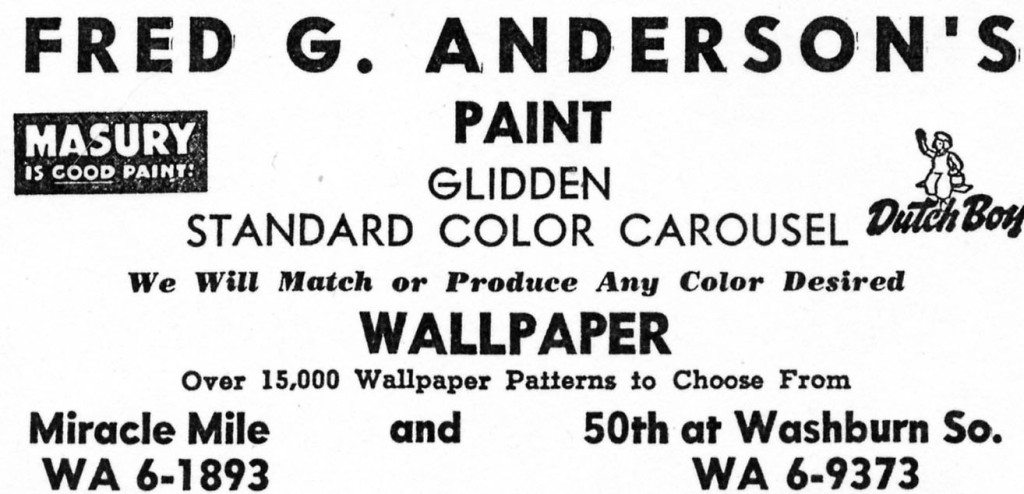 The phrase "Nobody knows more about paint than a Swede painter" was used through the mid 1970s. When FGA was bought out or incorporated with another company, the phrase was frowned upon by administration and was replaced with the phrase "Hug a Swede" until the early 1980s.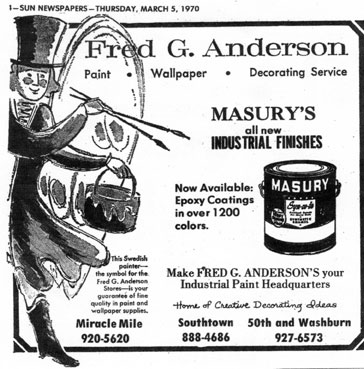 In October 1979, ground was broken for a 72,000 square foot building at 5825 Excelsior, on the site of the Canfield-Dietrick (later Johnson Cashway and Har-Ned) lumber yard. The new building served as corporate headquarters, distribution center, and showroom. The company distributed wall coverings to architects, retailers, contractors, and interior designers throughout a seven-state region. At the time, there were four Fred G. Anderson stores in the Twin Cities: besides the one at Miracle Mile, there were stores at Southtown, Roseville, and the original store at 50th and Washburn. Anderson was listed as founder and chairman of the board; Harold Norby was president.
The grand opening of the new building was held on October 13-18, 1980. Prizes of wallpaper and paint enticed shoppers.  Clinics were offered on how to hang wallpaper and how to remove stains.
In 1984 Anderson had stores in Minneapolis, St. Paul, St. Louis Park, and the Southtown Shopping Center. It also ran a wallcovering distributorship that served 2,500 dealers throughout an 8-state area.
The Fred G. Anderson Company closed forever on February 3, 1995 at 17:03, according to Kurt Schleicher, who worked for them for 37+ years.