Tracing the history of Louis Berkowitz is difficult because each Census taker seems to have spelled his name differently.  The 1900 Census shows that he was born in February 1863 in Romania and came to America in 1896.  At that time he was living in Hopkins, where he owned a grocery store.  This is borne out by Minneapolis directories from 1899 to 1901 that list Louis as the owner of a confectionary, restaurant, and grocery store in Hopkins.  Mary Raabe at the Hopkins Historical Society found the photo below of Louis from 1905, with the caption "Three men posed outside Knute Nelson's Wagon and Blacksmith Shop, located @920-924 Excelsior Avenue W., @1905. Pictured are: Nelson, Knute/Berkowitz, Louis/Souba, Frederick. The blurry outline of a dog can be seen walking through foreground of photo, center."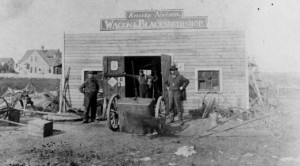 Courtesy Hopkins Historical Society
Also listed in the 1900 Census were Louie's wife Maria (aka Marie), born in May 1872 in Romania and who came to the US in 1887-88.  Their children were listed as daughter Dora, born in Minnesota in July 1891, and son Ben, born in Minnesota in January 1896.
The 1910 Census finds the family living on Excelsior Ave. in West Minneapolis (Hopkins), occupation Grocer.  They were still living in Hopkins in 1915 when daughter Dora married Maurice Silberman (see below).
Ben graduated from Hopkins High School and attended the University of Minnesota.  He can be found in the 1917 and 1918 Gopher yearbooks, apparently studying to be a pharmacist.
The 1920 census lists Louis and Marie living on Salem Ave. in St. Louis Park (no street address given).  At that point his store was still in Hopkins:  706 Mainstreet, to be exact, in 1921.
A 1921 Minneapolis phone directory lists Ben as being a bookkeeper at the National Elevator Co. and living in St. Louis Park.
The 1930 Census lists the family on Salem Ave. with no street address.  Louis is again the proprietor of a grocery store, but we don't know where.  It could have been at the Hopkins address, at the site of the current City Hall (as one person remembered), or at his eventual location at the corner of Minnetonka Blvd. and Salem Ave.  In 1930, son Ben is listed as age 35 and a widower, "soliciting" in "radio broadcasting."  Ben and his first wife apparently had son Sanford, who was born in Colorado in about 1925.  In 1930, Sanford was living with his sister's family, the Silvermans (see below).
In the 1933 St. Louis Park directory, Louis and Marie are listed at 3107 Salem, an address that no longer exists today, but would have been at that corner.  (In 1953 that location became a gas station).  The grocery store does not appear in any St. Louis Park directories.  In 1935 Louis and Marie were listed at 5125 W. Lake Street, which again would be on the corner.  In 1937-39, Marie is listed alone at 3013 Salem, occupation storekeeper.  That address would be the house next door, which was built in 1912 and is still there.
In the 1940 Census, Marie was living with son Ben at the 3013 Salem address.  Ben's occupation was a salesman for Stewart Chemical Company.  Ben's wife Sara was born in about 1904 in Minnesota.  The two children listed were son Sanford and daughter Joyce, born in Minnesota @ 1933.  An article in the February 18, 1941 Echo noted that Sanford's knife collection, including bayonets, dueling knives, and items from the Civil War, Spanish-American War, and World War I were displayed in the Park High Trophy case.  Sanford graduated in  1942 and was killed in World War II.
Marie lived with Ben's family on Salem through 1947.  In 1949 the family had moved to 2655 Inglewood, but Marie was also still shown at the Salem address.  Unfortunately, we run out of directories and Census data.  They are not listed in the next directory we have, 1956.