The following information comes from the ITT Thermotech News, November 1970. 
 In the late forties, Bob Booker started the Booker Co., which made plastic fish baits.  He was joined by Vick Wallestad and for awhile they operated as Juno Tool Co.  This company was sold in 1951.
BOOKER AND WALLESTAD
 In 1952 they formed the Booker & Wallestad Co., manufacturing custom molded parts.  They leased space in the rear of Rainbow Plastic's building at 6030 Wayzata Blvd. in Golden Valley and used a single car garage for grinding and storing material.  The company did thermoplastic and thermosetting molding, manufacturing bobbins, hearing aids, and components for fishing equipment.  Booker and Wallestad manufactured Bakelite items. Bakelite was a precursor to the more modern plastic items and its manufacture was a bit more labor intensive.
In 1954, the company built a plant at 3326 Gorham Ave. in St. Louis Park.  In the '50s, B&W developed their specialization in intricate and delicate component parts.   In 1970, Manager Chuck Eitel said "B&W today produces parts that are used in applications from nuts and bolts to pieces that have round-trips to the moon."
Al Hartman:  A few years later, Wallestad had retired but the company, still named the same, was moved to Florida for lower labor costs. In Florida, the employee pool just was not as knowledgeable about the technology, they had problems with the parts being good and the company folded by 1980."
---
THERMOTECH
 When the new technology of injection-molding of plastics came in in the '60s, Gene Booker and his son Gene Jr. started up Thermotech Plastics. Thermotech was a non-union shop and dealt with the more modern, less labor intensive processes.  Thermotech was located in an addition to the building.
In 1969 Thermotech had two wholly-owned subsdidiaries, Rainbow Plastic Products, Inc. and Cosum Corporation, both located at 6030 Wayzata Blvd. in Golden Valley.
 It says that in 1969 the company moved to new facilities in Hopkins, but the photo below is from 1970, and the company is still listed at this address (70 employees) in the Sun in 1971.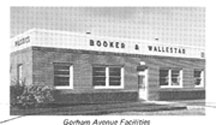 3326 Gorham Ave., 1970
In 1970, ITT acquired Thermotech, including its subsidiaries, and these corporations became ITT's Thermotech Division. The Thermotech subsidiaries in part engaged in the manufacture of plastic products.
 1972 the Company advised the Union that it contemplated closing both the Rainbow and Cosum facilities and transferring their functions to a new plant in Lakeville, Minnesota, some 40 miles away. The Rainbow and Cosum plants were closed in November 1973, and their operations transferred and consolidated in a new facility at Lakeville.
---
COSOM CORPORATION
The following information comes from the Thermotech News, December 1969. 
Cosom was started in 1949 with the manufacture of the Pee-Gee-Bee practice golf ball.  By 1969 the company was located at 6030 Wayzata Blvd. in Golden Valley and had three departments:
Recreation:  Safe-T-Play Sporting Goods are official in size but light weight and can be used indoorss or outdoors.  They are used extensively in physical education and park recreation.  The "well-known Flow Troll Live Bait Bucket" was also manufactured by this department.  The newsletter stated that a Flow Troll was on display at the Smithsonian Institution.  Safe-T-Play was located at 6030 Wayzata Blvd. in Golden Valley.
Marine Accessories:  no boats, but everything a boat and motor owner needs, from the patented One-Man Boat Loader, 30 different Boarding Ladders, to Shear Pins of every size.  In 1969 the Marine department moved to the Booker & Wallestad Building at Gorham in St. Louis Park.
Fiberglass:  Products included the sleds which reached the North Pole (Plaisted 1968 Expedition).  In 1969 the Fiberglass department was located at 5610 W. 36th Street in St. Louis Park.
---
COSOM AND RAINBOW PLASTICS
Al Hartman:  "Cosom and Rainbow Plastics were owned by two guys, one named Erickson. Cosom would come up with ideas for products and job them out. Rainbow Plastics would make the products for Cosom and other companies. It is hard to tell who else might have owned pieces of the companies but there was a Tony Norris, an engineer, who did do work both for Cosom and Gene Booker's companies.  I remember Erickson owned a '32 Plymouth that he would have employees manufacture internal parts for."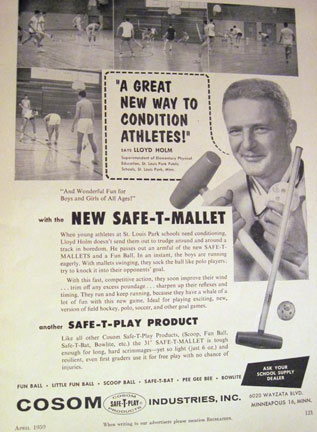 Here's Park coach Lloyd Holm endorsing the new Safe-T-Mallet, made by Cosom