Good Grief! Believe it or not, Charlie Brown – not the cartoon but his namesake – once lived in St. Louis Park. It was on 36th Street between Highway 100 and Wooddale, where the houses were once demolished for offices, and now the offices are being demolished for condos. It was a thriving neighborhood in the 1940's and '50's, though, and Mattie Brown and her family made many memories there.
Charlie Frances Brown (not Charles) was born on February 23, 1926 in Minneapolis. His father, Harry Joseph Brown, was a fairly well-known vaudeville performer who had worked with Mae West and Edward Everett Horton, among others. Mattie Emma Laughnan was born in Deer Park, Wisconsin on August 15, 1890, and had begun her teaching career at age 16. They married in 1922, and Harry Jr. was their firstborn. Three years after Charlie was born in 1926, came his sister Catherine.
Charlie's parents ran Brown's Grocery at 3253 Girard Ave. So., and the family lived in the basement for a time. Harry Sr. died suddenly in 1937, and Mattie and her extended family continued to run the store.
In 1946, the family moved to a house at 5710 W. 36th Street in St. Louis Park. This house is no longer there – like the other houses on 36th Street it had been demolished by 1960. Mattie bought the house – which had no indoor plumbing, central heat, or telephone – for about $1,800. It was a big day when a bathroom was finally installed – the kids all piled on the outhouse and tipped it over. It was a big house – six bedrooms – and Catherine and Charlie enjoyed redecorating it by tearing off the porch and installing columns, and building a patio, fishpond, and fireplace in the back yard. They had a famous Tom Sawyer fence painting party which made the Minneapolis papers. Catherine kept a kennel in the back, raising collies on the 2+ acre property.
Charlie graduated from DeLaSalle High School in 1944, and moved with the family to St. Louis Park in 1946. Catherine graduated from St. Margaret's Academy in 1947. Harry, Jr. was in the service in 1946, but came home, married, and moved into an upper floor apartment of the big house for a year or so.
Sometime between about 1950 and 1956, the family moved to 3971 Princeton, also in St. Louis Park. Mattie lived there until she died in December 1967.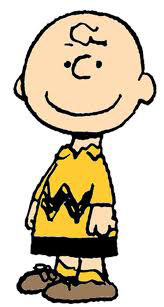 Charlie Brown met Charles Schulz when they were both instructors at Art Instruction Schools (then called Art Instruction, Inc.) in Minneapolis. Schulz was a budding cartoonist, and for whatever the reason, asked Charlie Brown if he could use his name. Brown said yes, although his head was not round, he did not own a zig zag shirt, and was not wont to say "Good Grief!" The first cartoon featuring Charlie Brown (and not very nicely) went to press on October 2, 1950. Other Minneapolis folks who leant their names to the strip were Frieda Rich and Linus Maurer. Brown insists there was no Pig Pen.
After two years directing a young people's journal at Notre Dame, Charlie returned to Minneapolis and spent 20 years as director of the Hennepin County Juvenile and Detention Center. He never married, and in his lifetime he battled alcoholism and manic depression. "Peppermint Patty" remembers him as being the life of the party.
Charlie Brown died on December 5, 1983 at age 57 after a seven-year battle with prostate cancer. At the end of his life he was living in Minnetonka. His brother and sister survived him.
In 1985, Charlie's autobiography, Me And Charlie Brown: A Book of Good Griefs, was published by his friend, Virgil Burns. The book was meant to be the first of a trilogy. Unfortunately, the book does not make mention of Charlie's years in St. Louis Park.