Herbert Carleton was born on January 1, 1869 in Hartford, Conn. He graduated from Carleton College in Northfield, Minnesota, in 1891 and spent three years at Hartford Theological Seminary. He taught in a small town in Kentucky for one year, was principal of a school in New Ulm for several years, and taught in Delano for several years before coming to St. Louis Park. From 1901-04 he served as Park's Superintendent of Schools (the same thing as the principal of the high school).  At that time the entire school system was located at Lincoln School.
In 1904 he started his real estate business. A letter to the editor that he sent to the St. Louis Park Herald in 1915 tells of his faith in the future of the village:
Not many residents of this village have realized what a great future is ahead for us. Mr. T.B. Walker understands, but does not own all the best lots. Do you want to unanimously concede to him a monopoly of thrift and foresight or will some of you concede enough good in him to embolden you to follow is example?
When you are so near Minneapolis one can see it grow, when lots lie about your home so cheap, which are so located as to be in the railroad center of a territory bound to develop enormously, how can you content yourself with any other investments? Buy some of them and let their rental income keep your garage maintained forty years hence.
Carleton took his own advice and had several rental properties. He didn't drive, and could be seen walking down the street with his wheelbarrow, looking like Uncle Sam, tending to his houses. One of them was purportedly the Dewey House, which was wrecked in the tornado in 1925 but rescued, later moved, and is occupied today.  One memoir recalls that he walked to the Hennepin County Courthouse in Minneapolis to save the Village carfare when he was on official business.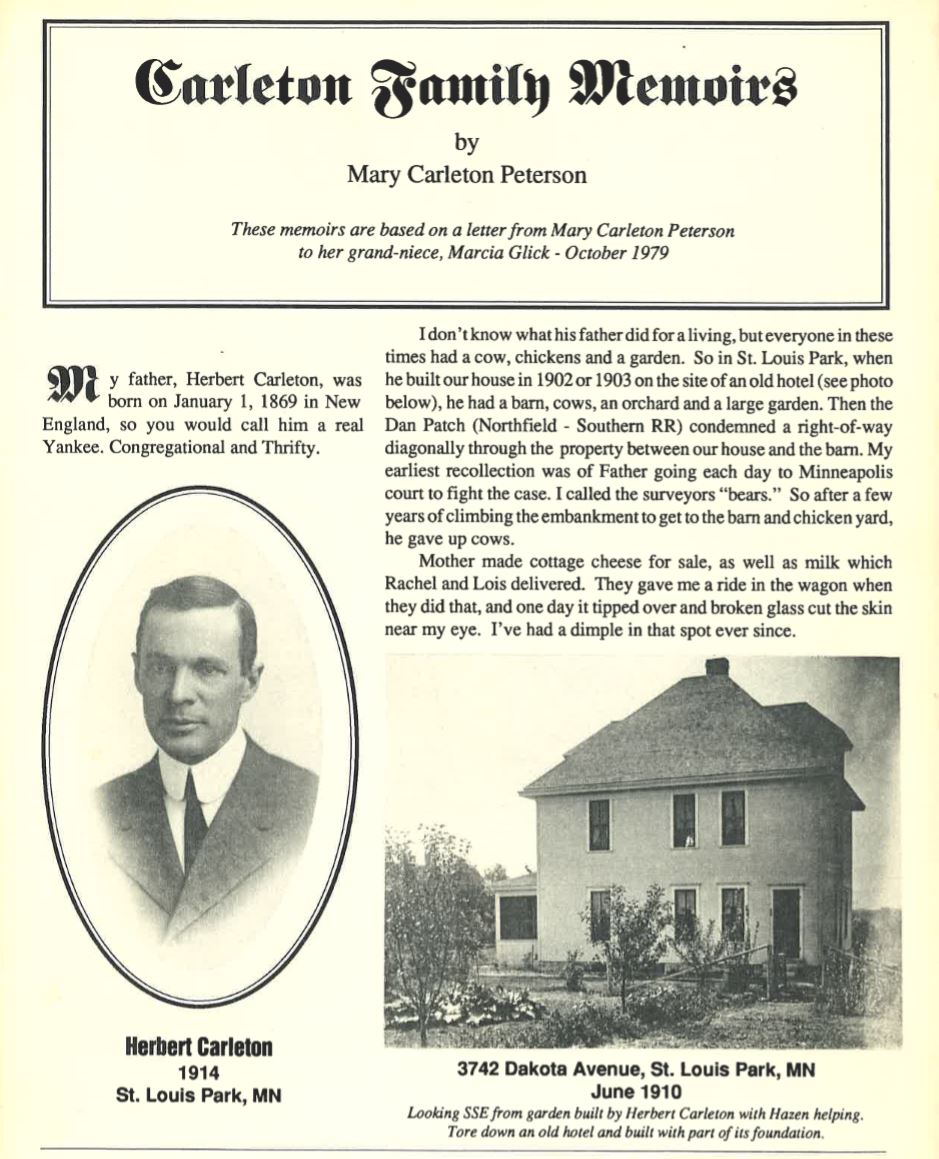 A 1933 ad shows that he dealt in insurance, real estate, rentals, and was a notary – all since 1904.
Carleton built his house at 3742 Dakota in 1904, and the house is there to this day.  In 1915 the Dan Patch Railroad was built literally right in his back yard – his granddaughter says they called the railroad "The Bear."  Previously the land behind his house, all the way to present-day Sam's Club, had been pasture for his cows.    3742 Dakota in 1910. Photos courtesy Marcia Glick.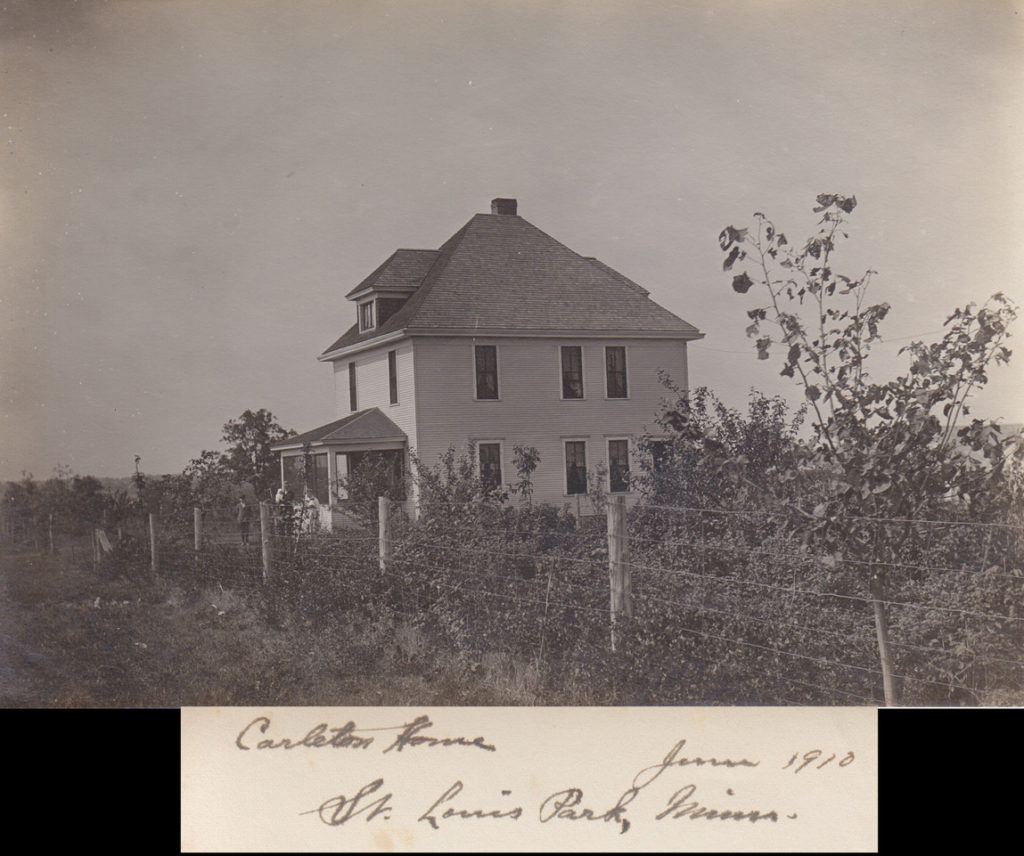 Carleton House 1910. Photos courtesy Marcia Glick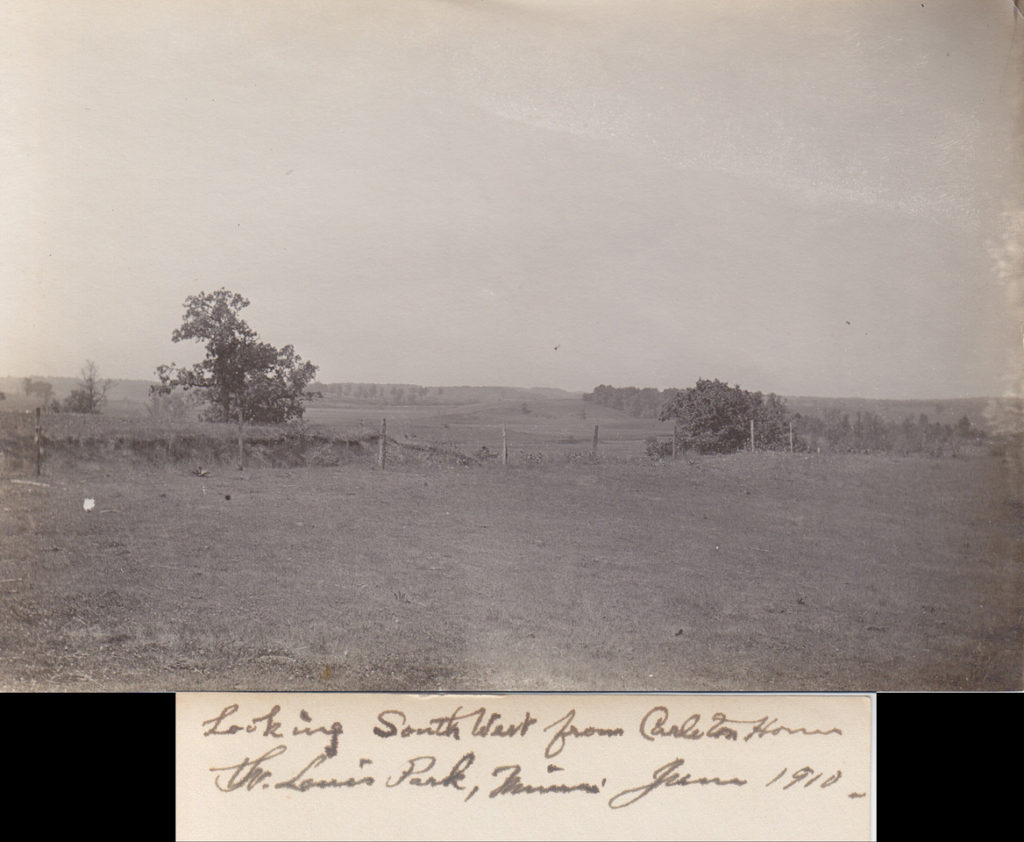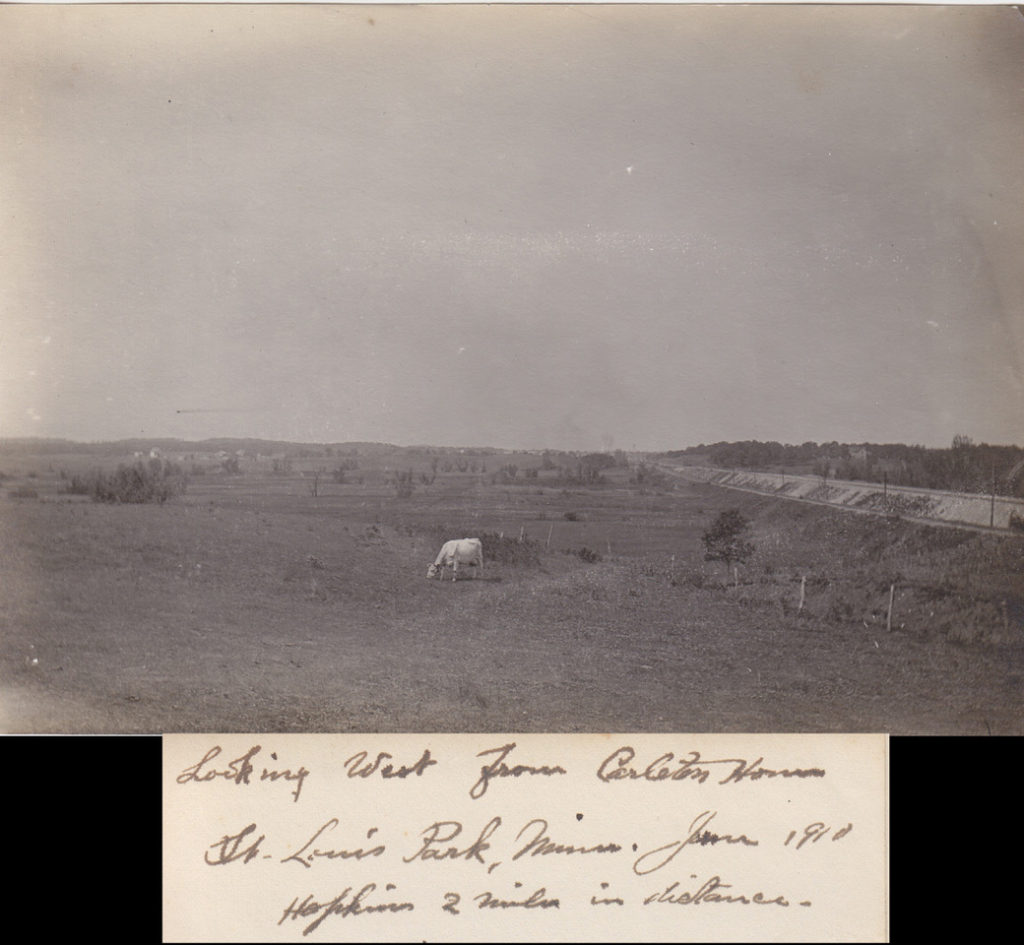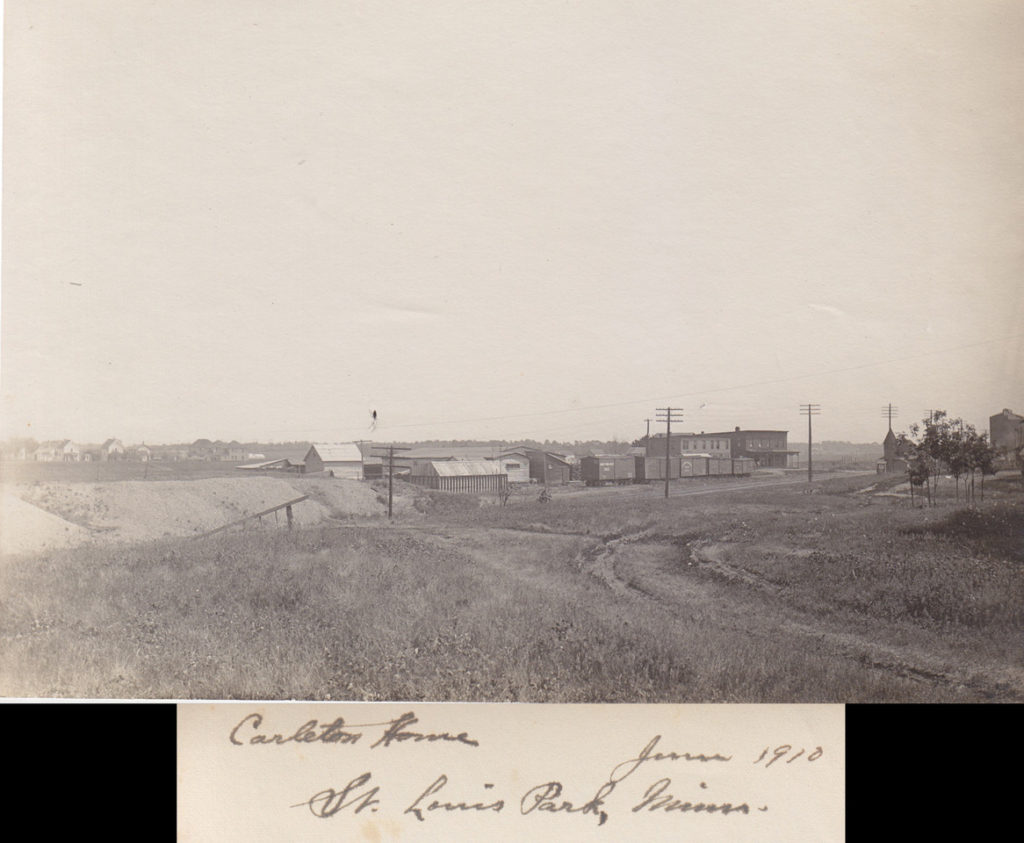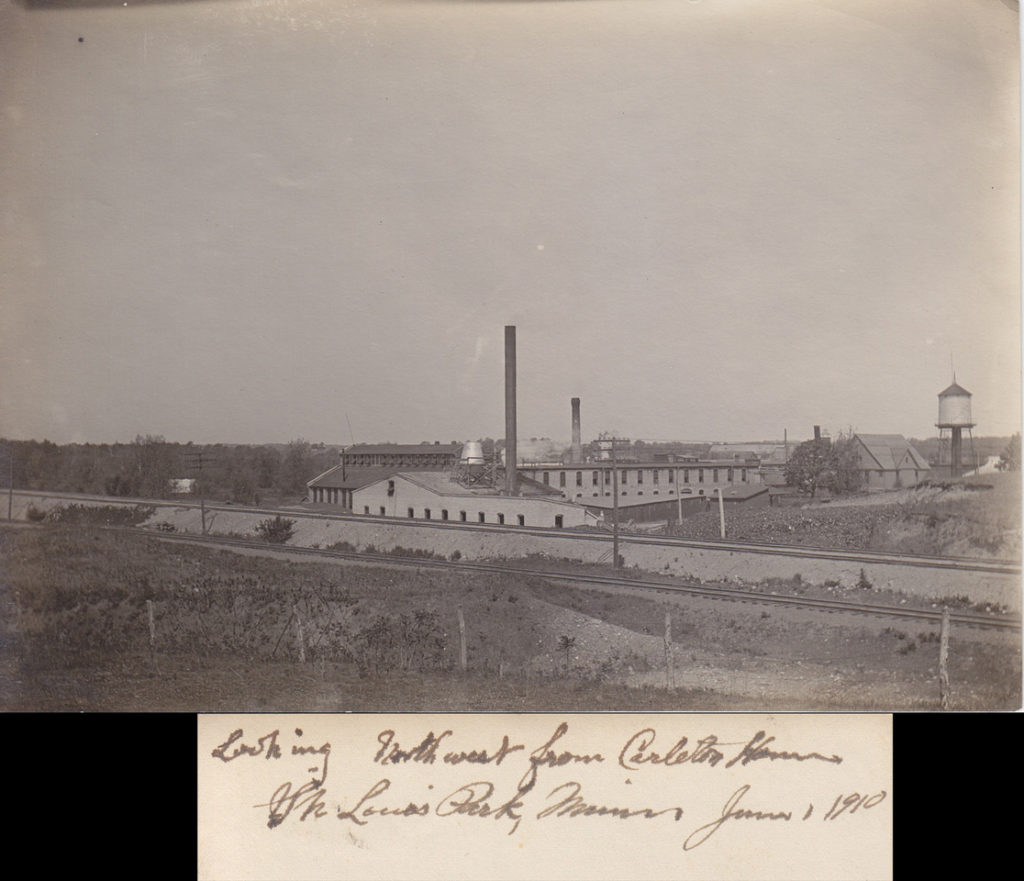 ---
POLITICAL LIFE
Carleton served as Village Recorder from 1931 to 1933.  He ran again in 1934 and 1936, but came in second and third, respectively.  He always spoke his mind, as is in evidence in the Village Council meeting minutes of December 12, 1934 where he is accused of lying and slandering C.C. Wolford.
Carleton's ad asking voters to re-elect him to the Recorder's office in 1934 alluded to some serious issues with regard to Village taxes.  He also said:
As to salary, when the village council has considered cutting my salary I retorted, "You can cut it to $1.00 a year and I will not resign."  All my salary besides costs of office and incidentals has gone for taxes.  I am now more than $1,200.00 delinquent in taxes.  If this village does not prosper better than it has been doing of late years, then my property may not be worth the taxes against it.  Therefore, please re-elect me Village Recorder.
The results of that particular race were closer than you'd think, with Carleton earning 770 votes to winner J. Warren Chapman's 840.
---
Herbert's wife Blanche Barney of Mankato was born on August 6, 1871, in Minnesota.  She died on December 5, 1942.
They had four children: Hazen, of Duluth; Dr. Rachel Sparks of Portland, Oregon; Mrs. V.E. Peterson; and Lois Carleton, the last two of the Park at the time of their father's death.
Herbert Carleton died on Monday, April 5, 1943.  Funeral services were at Union Congregational Church.  Pallbearers were prominent citizens Joseph Justad, Jake Werner, Joe Williams, George Whipple, Andrew Piedson, and Andrew Cairncroos.  Burial was in the family lot at Mankato, Minnesota.