Citizens State Bank was first located at 5001 Excelsior Blvd. It was incorporated on October 5, 1949, with capital stock of $150,000.  Incorporators were G.S. Evarts of Minneapolis, C.T. Holberg of Minneapolis, J.L. Rodgers of Morningside, W.B. Pratt of Edina, Arthur J. Eaton of St. Louis Park, Steve E. Anderson of South Dakota, and Allan R. Burrill.
The bank opened for business on January 16, 1950, with six employees. The Open House was held on January 20, 1950, and featured Corine Nehrman, "Miss Lucia of the Upper Midwest." Early stock holders included plumbers Frank and Tom Motzko, Gil Braun, and Phil Hlavac, operator of the Family Fruit Store at 4409 Excelsior Blvd.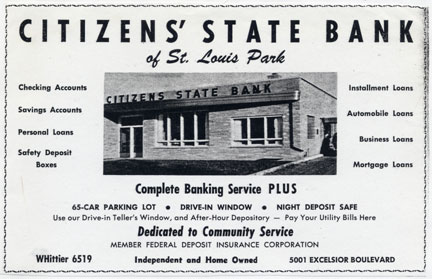 The bank's first President was G.S. Evarts, and Vice President was Clarence (C.T.) Holberg, who was known as Jinx. While Evarts had an extensive banking background, Holberg had been the successful owner and operator of the Acme Cleaning and Window Washing Company since 1918. Holberg continued to operate the business while an officer of the bank.
It was the first local bank since the initial failure of the St. Louis Park Bank in 1915, and was advertised as "independent and home owned." On the first day it had deposits of $20,000.
---
In June 1954 the bank had an ad in the Park High Echo announcing "Letter Drop – Available to Everyone – 'Round the clock' banking – You never leave your car – Our new letter drop service is the one and only of its kind in this area"  It turned out to be so popular that Excelsior Blvd. would be backed up for blocks.
---
In 1955 there were 25 employees. Allen Burrill was the President. Deposits totalled $5 million.
The bank was robbed of $9,600 on June 25, 1955. The lone armed bandit got clean away under a hail of bullets and was never caught.
Ironically, a (proposed?) giveaway was a paper pistol that made a snapping noise when squeezed.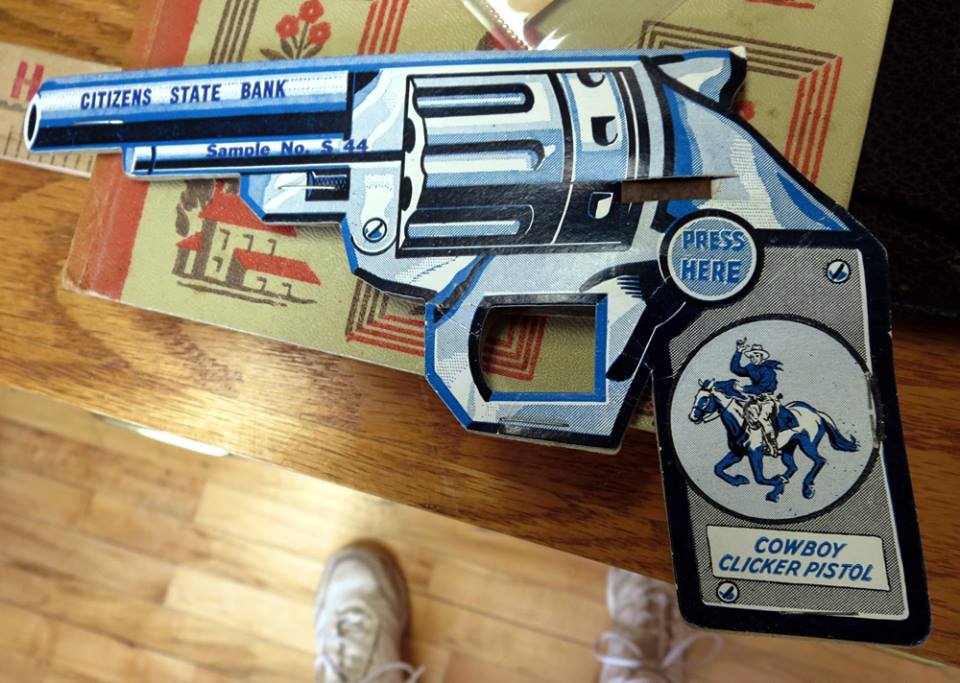 ---
C.T. Holberg became President in 1957. He was said to keep guns in the bank in case of holdups.
---
In 1960 the bank celebrated its 10th anniversary with 42 employees, 1,100 safe deposit boxes, and a capitalization of $450,000.
Also in 1960, if you joined the Silver Club you could receive a five piece setting of original Rogers silver plate silverware in the "Starlight Rose" pattern, made by the International Silver Company.  The first setting was free for opening an account for $25 or adding $25 to an existing account.  Additional settings could be purchased for $2.25 and another $25 added to your account.   (Dispatch, June 30, 1960)
---
The bank was robbed of $10,000 by a lone bandit in June 1963. The robber got away, despite the four shots from a deer rifle that came from Bank President Allan R. Burrill. The license number of the getaway car had been jotted down by an alert employee, but the car was found abandoned in Minneapolis.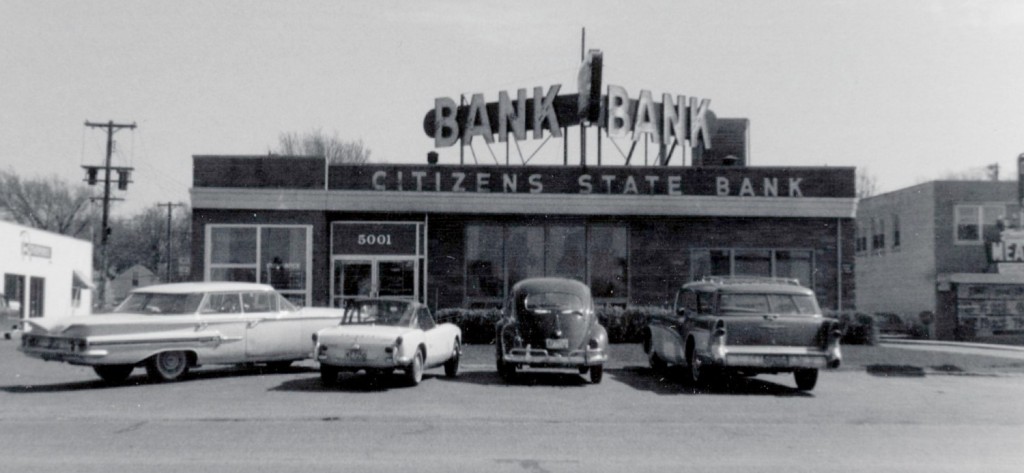 At the close of business in 1963 the bank had 43 full time employees and deposits of $11,588,614.  Loans totaled $5,690,151.  In 1963 the bank underwent a remodeling program, including replacing the first drive-up window to be used in the Minneapolis area.  Three new teller windows were added, bringing the total to 10.
The bank was moved to its second building across the street in August 1973. The new address was 5050 Excelsior Blvd. The site was in front of the Beltline Pay Dump, on the site of a Clark gas station.  The move across the street closed Excelsior Blvd., as the money, safe deposit boxes, etc. were moved by hand.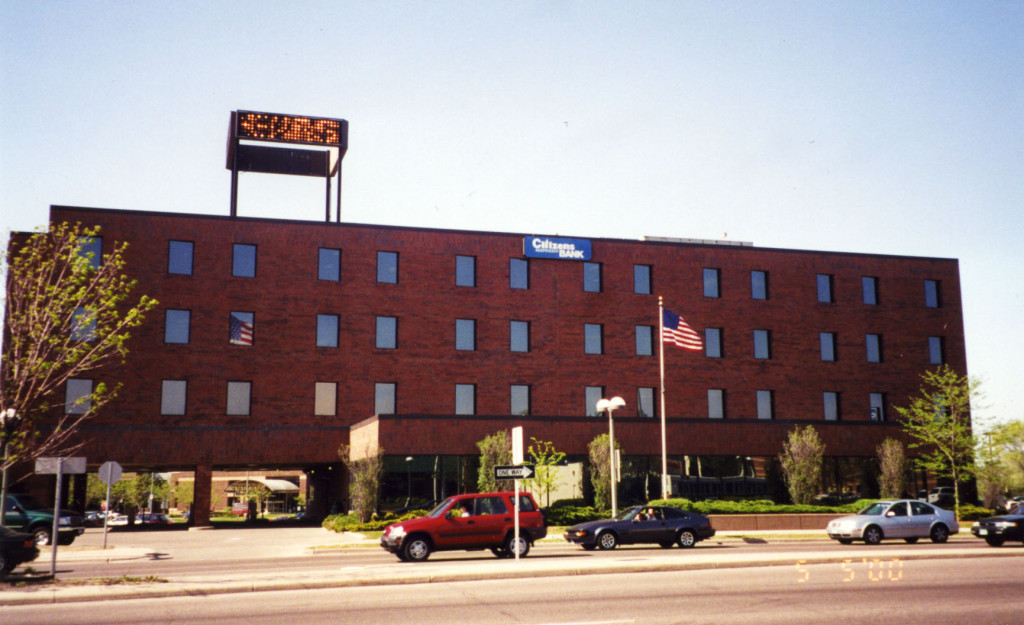 There are a couple of versions of how Jinx Holberg died.  One is that he died of a heart attack while cleaning the new bank one Saturday night the winter after the move.  A niece reports that Jinx Holberg died of an aneurysm while moving the bank at night and was never able to work in the new facility.  She asserts that he and his wife Bernadine spent the winter months in Hillsboro Beach, Florida, and the rest of the year they spent their Saturdays at their summer home on the St. Croix River, so he could not have been working on a Saturday in the winter.  The Social Security Death Index shows a C. Holberg, born on November 26, 1896, who died in December 1973.  More research is required.
In April 1975, Lawrence Hague from Stillwater bought the majority stock of the bank. Hague was not a banker but was taking courses to catch up. The President was David R. Christenson.  They had to sell the bank when interest rates climbed to 22 percent and they couldn't make the payments.
In 1979 the Lakes Building was built at 4201 Minnetonka Blvd., the former site of the Milk House. The branch opened in December 1979.  It closed in March 2005.
In 1980, the bank and all of its stock was purchased by Connie Bakken, ex-wife of Medtronic co-founder Earl Bakken.
In 1982, Guarantee State Bank of Robbinsdale became a branch of Citizens State Bank of St. Louis Park.
In 1989 the building was sold to Park Nicollet, with Citizens holding a 15 year lease.
In 1991, Citizens State Bank of St. Louis Park became Citizens Independent Bank.  Marion Brummer became executive vice president and chief financial officer (see below).
The Hopkins branch opened in 2000.
A branch opened in Plymouth in 2001.
On October 12, 2004, the bank moved to rented space at 5000 West 36th Street in a new building called the Wolf Lake Professional Center.  Some items in the bank were carried to the bank by employees in honor of the first manual move across Excelsior Blvd. in 1973.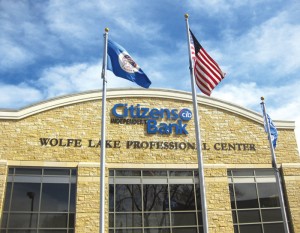 Also see Banks and Finance
---
 MARION BRUMMER
 On August 1, 2012, the bank's executive vice president and chief financial officer, Marion Brummer, retired after over 46 years at the bank.  The bank's newsletter gave this account of Ms. Brummer's career:
Marion's banking career began in 1958, when many of the daily banking tasks that computers now handle were done by hand.  She started in the proof and bookkeeping department of Northwestern National Bank, now Wells Fargo.  During her seven years at that bank, she prepared the bank's daily balance sheet and income statement and posted the general ledger – all by hand.

Marion joined CIB on May 1, 1966, as a teller and soon became the head teller.  In those days, without direct deposit or ATMs, tellers handled all deposits and withdrawals, money transfers and many other bank transactions.  Marion enjoyed being able to meet all of the bank's customers and maintained many of those relationships until her retirement.  In 1976 Marion was promoted to vice president and cashier.  She began her formal banking education, attending programs at colleges that specialized in marketing, real estate lending and commercial lending, as well as the Graduate School of Banking in Madison, Wisconsin. Marion became CIB's executive vice president and chief financial officer in 1991.