Much of the following information was provided by Terri Siderakos, the Keeper of the Flame of the Colonial Inn.
The Colonial Inn Restaurant was established in about 1924 at 4301 Excelsior Blvd. at Joppa, originally part of the Hanke farm. Village Council records show an F.P. Clark requesting a license to run the Colonial Inn in April 1924, and a Matt L. Marxen requesting a license in 1926.
Hennepin County Review 18 Oct 1928 p 2. "Excelsior Ave was a popular thoroughfare last Wednesday night when the Colonial Inn went up in smoke. Many have been the conjectures as to what was going to become of this landmark, because each day its chances of slipping into the sandpit seemed better, but fire was a quicker destroyer, much as we hated to see all that good lumber go to waste. It is not known how the fire caught but it did not take long to dispose of the big frame, and now the many travellors on the boulevard can't talk about that anymore. What will be the next favorite topic?"
In 1929 the owners of the four lots were Palma F. Anderson and E.J. and Florence Shaw. In 1932, Carl Bergstrom and Fred Howe requested a permit to run a restaurant. In 1933, James W. Roach and a Mr. Utecht requested a permit to sell pop. In 1933, Palma F. Anderson ran a restaurant on the site.
It was in 1933 that the Smiths took over the restaurant. L. Norwood and Clara W. Smith had lost all their money in 1932, and started over by opening a small upstairs cafeteria called the Dutch Inn on So. 6th Street in downtown Minneapolis. They served "businessmen's lunches" for 25 cents, featuring chicken pot pies that became one of her specialties. When they took over the Colonial Inn, Mrs. Smith remembered that it was surrounded by gravel pits. In 1935 they were able to buy it. For awhile they ran both places, but soon sold the Minneapolis restaurant and paid off the St. Louis Park property in two years.
---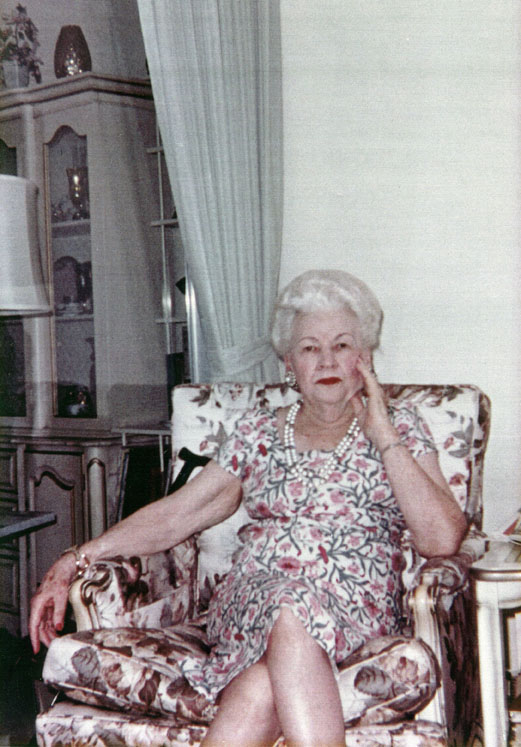 ---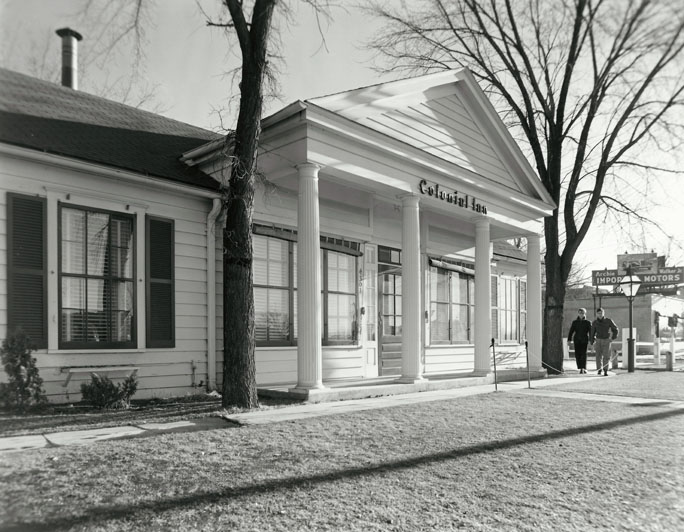 ---
The Smiths remodeled the Inn extensively, eventually adding classic pillars, window boxes, and an old fashioned parlor. Mrs. Smith turned it into an elegant, formal restaurant/tea room, decorated with priceless antiques. Every year, the Smiths would close down the Colonial Inn and go to Florida, or wherever their antiquing trips took them. A promotional flier describes:
Treasured antiques grace the interiors. The crystal chandelier in the Colonial dining room once looked down on gay occasions in a southern home. The amethyst chandelier in the Amethyst dining room forms the motif for the antique glass of the same shade which fills the shelves in the bay windows.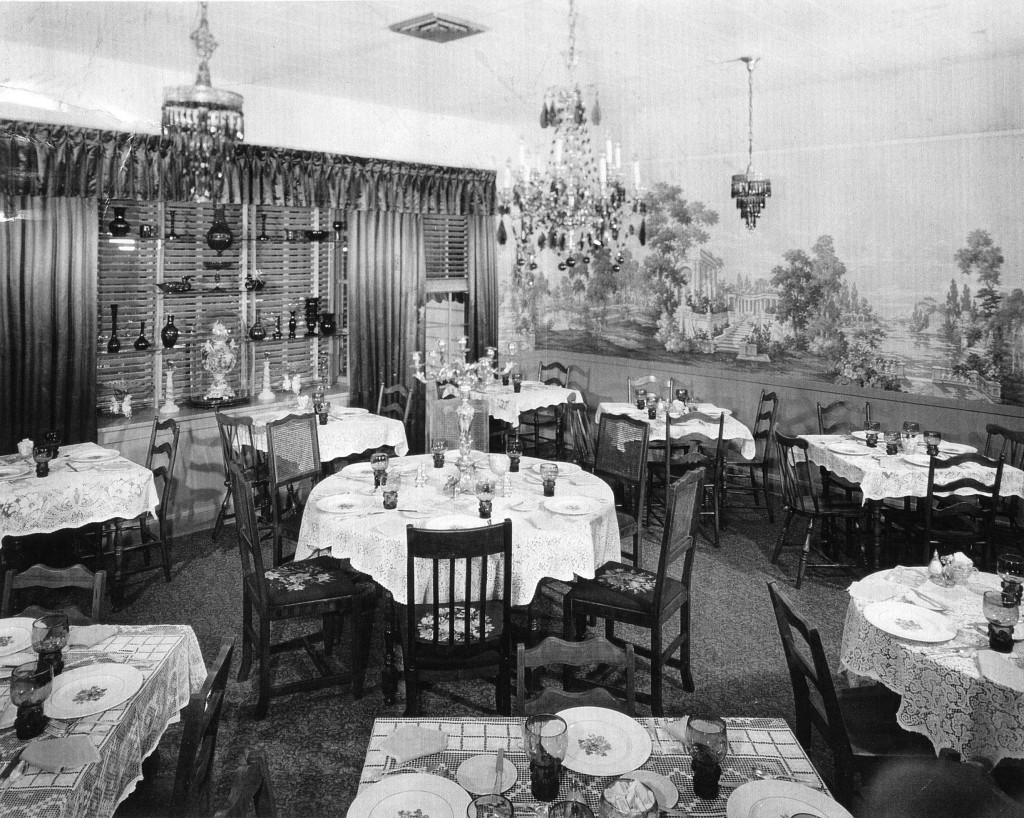 ---
In the 1940s, the restaurant was described by one young busboy as "a place where the family might go on rare occasions for a special anniversary dinner. Park High Juniors and Seniors would be seen there in formal attire for a dinner before the prom." Mrs. Smith was the hostess and chief cook, while her husband supervised the staff. In 1938, Sunday dinners were advertised for 65 cents.
In 1936 Mrs. Smith developed her own recipe for French salad dressing, and it was so popular that she found herself looking for empty ketchup bottles, etc. to put it in for customers. This led to an addition to the back of the building, where she started a side business manufacturing and selling salad dressing. In 1959 she had full time help managing the salad dressing business. Eventually this led to a larger operation, where manufacturing and distribution were handled separately. In December 1953, Mrs. Smith had also begun selling her baked goods at the Colonial Inn Bakery at Miracle Mile.
In 1959 Mrs. Smith sold all her properties except the salad dressing business, which was taken over by Russell and Geri Peel. The Smiths moved to Florida in 1962. Clara died on April 28, 1964 at the age of 79 in West Palm Beach, Florida. She is buried at Lakewood Cemetery. When Mrs. Smith passed away, her daughter saw that the salad dressing business continued, and the line expanded to different flavors. The business was purchased by investors in 1974.
Mrs. Smith was a devout Christian Scientist, and asked that when she passed away, memorials be directed to First Church of Christ Scientist, on Brookside Avenue. In fact, on June 7, 1951, the Christian Science Monitor published a half-page feature on Mrs. Smith and her business.

The building that was the Colonial Inn housed the Westerner Barbeque from 1959 to 1962. The new owners were David Rosen, Joseph A. Cremisino, and William E. Thompson. (Norman Gordon and Edith Schwartz are also listed as new owners in October 1960.) For the first time, it was open for the winter of 1959-60, opening for business on October 1, 1959. The colonial décor gave way to western decorations. In May of 1962 it was uprooted to make way for a gas station, and Mr. Howard Berge happened to see it from across the street. He decided that it would be perfect for a home, and a couple of months later he bought it and had it moved to a lot on the shore of Long Lake in Orono. Berge make extensive alterations, transforming it into a "rustic, Scandinavian-modern chalet," as described by the Minneapolis Tribune in 1963.
In April 2010, St. Louis Park Historical Society Trustee Jeanne Andersen and Member Terri Siderakos made a trip to Orono to see the original Colonial Inn building. Its current owner, Keith Vandenbranden, saw our web site and contacted Terri, who is the "keeper of the flame" of Colonial Inn history and we jumped at his invitation to see the building. Terri said the house was still recognizable as the restaurant, especially the ladies and men's rooms, which still had original pink and brown tile. Mr. Vandenbranden had also made contact with David Chatelaine, who shared pictures of the restaurant and one of the ornate Faberge-like eggs that he created as a hobby. The Colonial Inn was a mainstay in St. Louis Park history and it was good to see that the building is in good hands!
---
FAMILY HOMES
In 1933 the Smiths were listed in the Directory as living at 4382 Utica, now Mackey, although city records show that the current house was built in 1935.
From about 1938 the Smiths lived in a large stucco house at 4130 Excelsior Blvd. (also referred to as 3600 Excelsior), pictured below. When the Smiths moved to Florida in 1962 it was turned into an office building. In 1964 it was the home of the Electronics Development Co., which made "computer hearing aids."  Murray Risch was president, Hymen Goldberg was the director of research, and there were 15 employees.  It appears that the company moved to 4020 Lake St. in 1966.  During 1962-1972, Max Winegardner was the owner of the building.  It was demolished in 1972.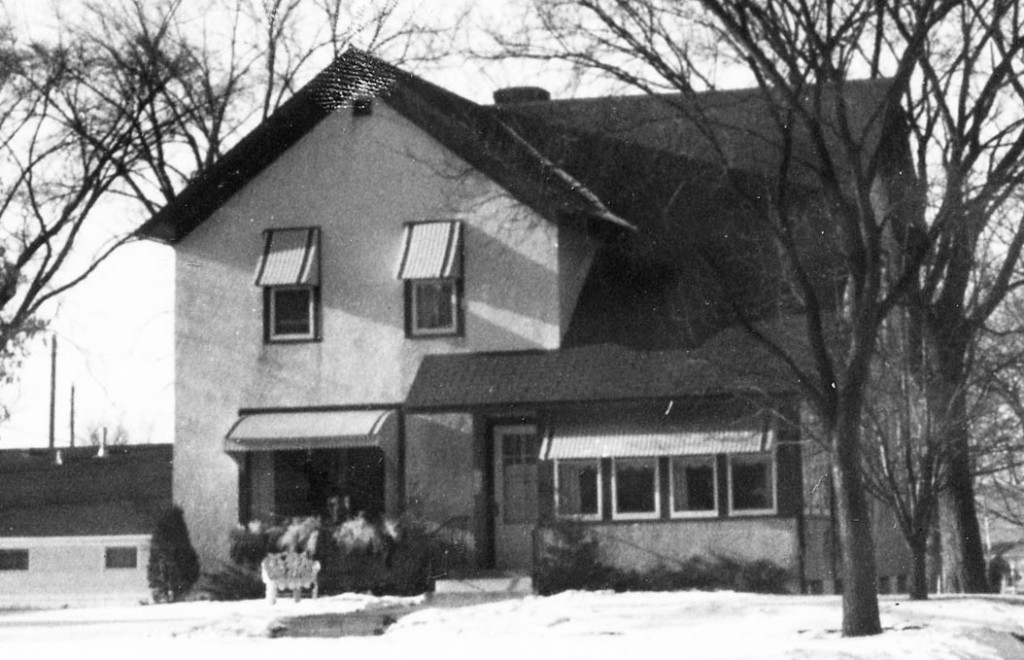 ---
Next door was the home of their daughter Margaret and son-in-law, David Charletaine, which was built in 1949 and is still standing at 4120 Excelsior. (In 1945 the Chatelaines lived at 4150 Xenwood.) Margaret Chatelaine (born December 16, 1913) worked with her mother at the Colonial Inn, and David E. Chatelaine (born August 16, 1897) was known for the Faberge-like eggs he decorated.
---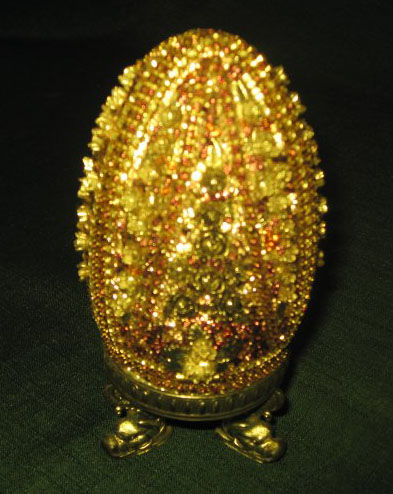 There was a long article about David in the June 25, 1953 edition of the Dispatch. They all participated in the hunt for antiques for the Inn and in their homes. The Chatelaines moved to West Palm Beach after wintering there for 25 years. They had a daughter Cathryn June who married Kenneth G. Thompson on December 10, 1955. Margaret died in March 1973. David died on April 16, 1992.