The Exchange Elevator was built in 1908 near Bass Lake. It was owned by the H. Poehler Co., which also had an Exchange Elevator in Duluth.  The photo below is from about 1908 and comes from the Minnesota Historical Society.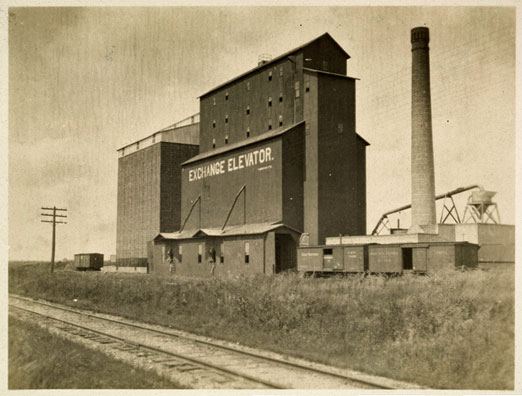 On September 16, 1909, a fire caused about $50,000 damage to the elevator and its contents.  The Minneapolis Tribune reported:
The fire had gained such headway by the time that the department arrived that it was impossible to save the building.  The side of the elevator caved in and the [Hastings and Dakota] tracks were inundated with grain to such an extent that traffic was stopped for several hours.
An article in the Tribune dated August 18, 1910, described the trend toward building concrete grain elevators and noted:
The Exchange Grain company at St. Louis Park has installed a 300,000 bushel concrete elevator when a few years ago a wooden structure would have been erected.
On August 3, 1912, the Tribune reported,
The Exchange Grain company sold its 500,000 bushel elevator in St. Louis Park to the Pacific Elevator company.  Both concerns are departments of H. Poehler & Co.  The company is preparing for the fall rush of grain, and is "clearing the decks for action."
The Exchange elevator was perhaps a target of sabotage during World War I.  On April 14, 1917, the Tribune reported,
Sentries on duty at the Exchange elevator in St. Louis Park saw two men prowling about near the Minneapolis and St. Louis tracks.  The men refused to halt when challenged and disappeared in the darkness as the guardsmen opened fire on them.