Russell Clarence Fernstrom was born on December 1, 1912.  His parents were born in Sweden.  Brothers were Wallace and Clifford, and he had twin sisters Eleanor and Ida. 
Ted Meland found a piece of sheet music from 1925 called "Love's Living Emblem," a touching song about a boy praising his mother.  The cover says "As Sung by Vernon Wick and His Quartet," with pictures of the four boys.  Russel (sic) Fernstrom is pictured as the Second Soprano.  The song was written and published by George C. Joslyn in Minneapolis, which is where Fernstrom grew up. 
He and his wife Vivian had two sons Gerald (Jerry) and Jim (Class of 1959).
Fernstrom served as Mayor of St. Louis Park from 1954 to 1957. He was Mayor when the Village became a City in January 1955.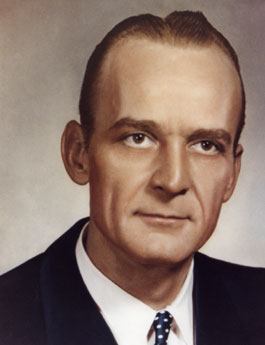 He died on December 9, 1988 in Long Lake, Minnesota.