Gary Gears, Class of 1964, was a talented performer, appearing in numerous class plays during his tenure at Park High.  He was a member of the folk group the Voyageurs Three, pictured below playing the bass.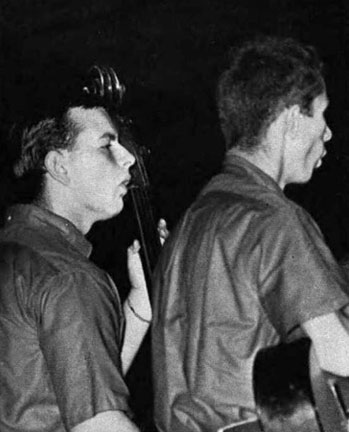 Growing  up in St. Louis Park, Gary lived at 3355 Zarthan Ave.  Starting when he was 14 years old, Gary took an interest in radio, hanging around local radio station KRSI on Excelsior Blvd., watching Ralph Jon Fritz on the air. 
Gary served in the US Armed Services and was a radio announcer and disc jockey on AFVN radio in Vietnam. 
He then went to radio station KQV in Pittsburgh.  He came to Chicago in his early 20s at radio stations WCFL, WLS and many others including WDAI, WIND, WJEZ, WJJD, WKQX, WMAQ and WRQX. He also spent time at CHUM in Toronto.
Gary's voice was on commercials all over the country in the 70s for companies and products such as Sears, Montgomery Ward, Dial soap and Cheer laundry detergent.  He was often hired to play the "voice of God" and did the Ho Ho Ho's of the Jolly Green Giant.
Gary also did  prerecorded announcements and station identifications for Radio Moscow and Radio M, another Soviet station; for the British Broadcasting Corporation (BBC); for Radio Luxemburg`s English language program; for a program from Ireland, Atlantic 101; and for an Italian radio station in Milan.
Gary did announcements in English and in Russian as well as rock music programming for the last year for the show "Vasily`s Weekend" on Radio Moscow for shortwave listeners around the world.
Gary died suddenly of a heart attack at his home on February 17, 1991, at the age of 46.  At the time of his death he had been the off-camera voice of WLS-Ch. 7 and its "Eyewitness News" programs in Chicago since the early 1970s.
Gary is remembered by his classmates at a very talented singer, actor, football player, bass player, and a lot of fun.
See more on Gary Gears and airchecks at http://user.pa.net/~ejjeff/gears.html