The Minnehaha Grange #398 was organized on December 23, 1873, with members coming from Edina Mills, Richfield Mills, St. Louis Park, and Hopkins. The Minnehaha Grange Hall was built on the corner of 50th and Wooddale in Edina on land donated by Bull, and was first used for a Grange meeting on February 27, 1879. Joseph Hamilton of St. Louis Park was elected secretary. The building served as the official Edina Village Hall from its incorporation in 1888 until the first Village Hall was built in 1942.
The National Order of Patrons of Husbandry had been started in 1868 by Oliver Hudson Kelly of Elk River, Minnesota. Soon called the Grange Society, it was the center of social and civic activity for farmers, taking on issues such as railroad prices, serving as a fraternal organization, and providing education for member farmers.  By 1873 there were 538 Grange chapters in Minnesota, mostly concerned with rail freight rates.
Women were welcome in the Grange, perhaps in recognition of the concept of shared work on the farm.  Sarah Baird of Edina served as Master, or President of the Minnehaha Grange from 1894 to 1898.  She also served as Minnesota State Master from 1894 to 1912.
A 1932 article in the Hennepin County Review noted that "members of the Minnehaha Grange would motor to Elk River where National Deputy Ira. E. Shea of Washington will organize a new Pomona Grange.  Minnehaha Grangers are members of Sarah G. Baird Pomona.  The Pomona Grange is the fifth degree of the order."
The lease on the original Grange site ran out in 1934, and in 1935 the building was moved east to Normandale Road to make way for St. Stephen the Martyr Episcopal Church. The new Grange site was owned by a member of the Yancey family, one of the 16 black families that lived in Edina from the end of the Civil War until the late 30s, when they moved to Minneapolis.
---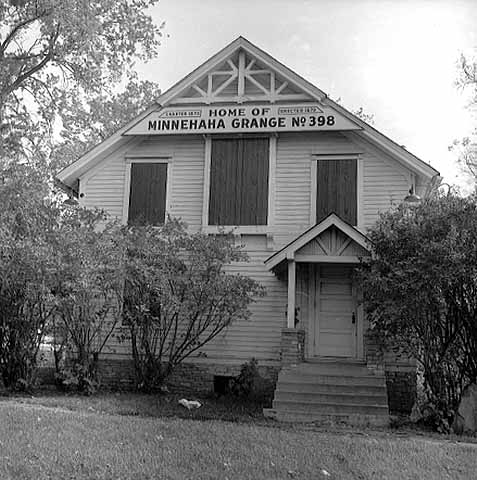 ---
In 1968 the building was moved again to make room for the expansion of Highway 100. It now stands in Tupa Historic Park on the southeast corner of West 50th Street and Highway 100.
A great article about the Grange is in the Edina Historical Society Newsletter Vol. XL, Issue 3 (October) 2009.