We were fortunate to have been contacted by a great-grandson of Joseph Hamilton.  Gary Lundquist is the grandson of Pearl Hamilton, Joseph's youngest child.  He would like to know if there are other descendants of the Hamilton family that he could get in touch with.  Please contact us! 

The Hamiltons were one of the most important families in the early years of St. Louis Park.
---
Joseph Kellog Hamilton was born in Dexter, Maine in July 1836.  On May 20, 1855, he took a claim (Sections 16 and 17) and farmed 160 acres on land just north of present-day Highway 7, south of the High School, and either side of Lake Street. The 1870 census shows that he had cleared and improved 110 acres and an 1881 directory indicates that he had 120 acres.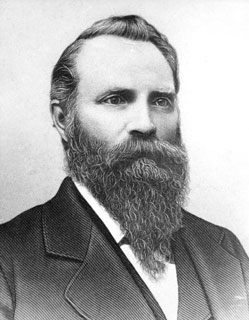 ---
His red brick house was located on the northwest corner of Dakota and Lake Streets.  It was torn down in the early 1930s after laying vacant for years.  You can see the home in the background of the picture below, behind the gas pumps at Christy's corner.  Kids in the photo are Janet Christy and Don Swenson.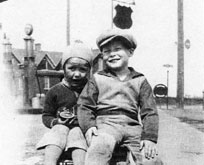 ---
Hamilton was one of the instigators behind the incorporation of the Village.  He was elected President of the Village Council (Mayor) on December 6, 1886 and took office on December 10.  He held that position until 1894, and again in 1895-97 and 1899-1900.
In 1886, Hamilton established the Village's first General Store, about a mile from his farm. Although his prices were higher than those at the Great Northern Market downtown, Hamilton delivered groceries to homes and provided weekly credit.
Hamilton was instrumental in the formation of Union Church, and for three years conducted prayer meetings and Sunday School for the people of Hopkins before they formed their own church.
In 1890, Hamilton sold his land to T.B. Walker and the store to James T. Davis and a Mr. Williams, and became a builder. Monitor Drill contracted with him to build 16-18 large two-story homes which became known as Monitor Houses.  A few of these homes still exist today.  He also built houses on his own, somewhat larger than the Monitor Houses but with the same basic layout.
He also built his own large Victorian house at 5906 Goodrich Ave. – the finest street in the Park. His last wife, Sarah, lived there until the early 1930s. In 1899 Hamilton was said to have installed the first bathtub in the Village, made of zinc. One former resident of the house was Roberta Forsyth Wesley, who has provided a detailed description of it in Something in the Water.
In 1892 Joseph Hamilton built the brick, two-story Hamilton Building on Broadway [6509 Walker Street].
Joseph Hamilton was a member of many civic and fraternal organizations, including the Patrons of Husbandry (the Grange), the Good Templars, and the Patriotic Order Sons of America.
---
Hamilton married three times.  He married first wife was Olivia Pratt (b. Clinton, Maine), daughter of Job and Mary Pratt, in March 1858. Olivia and Joseph's children were:
Lincoln, who shows up in the Census as being born in 1855.  He does not show up again and he may not be a son but another relative of the Hamiltons.
Chesley, born November 24, 1859 – perhaps the first white child born in the area that would become SLP.  Chesley's marriage to Rebecca Hunter (1859-1940) on October 17, 1888 in Union Church was said to be the first in the incorporated village. Their children were Martha (born 1889), Clifford (born 1891), and Ada (born 1893).  Before 1933, when the Park's street names were changed, West 35th Street was known as Chesley Ave.  Chesley served as Sheriff of Hennepin County and died suddenly in 1913.
---
Olivia died in April 1864 and Hamilton married Elizabeth "Eliza" Moore (born 1844) in May 1866. In 1865 the Census shows the Pratts, Hamiltons, and what appear to be Eliza's siblings George, Charles, and Sarah Moore all living together.  Joseph and Eliza had three children:
Alva, born 1867, died 1880
Leona "Minnie" (Mrs. Louis W. Fuller), born 1869
Charles (born 1873). Charles married Della Miller in 1902.  Della was born in 1878 and had come to St. Louis Park in 1892 from Horicon, Wisconsin (with Monitor Drill) at age 13. She attended Lincoln School, then Minneapolis Central High School. At first they living in an apartment above his store in the Hamilton Building.  They moved to 6207 Goodrich in 1912 [his obituary says 6211 but addresses were fluid]. At about the same time, Charles bought out the Trenkley Grocery Store, located in the Hamilton Building, expanded it, and ran a general store.  He was a charter member of the Odd Fellows, Rebekah Park Lodge 110, Paul Revere Lodge 321, and the St. Louis Park Volunteer Fire Department.  He died in September 1938 at age 65. Della moved to Hopkins in 1955. Charles and Della had two children.Ralph J. Hamilton was born 1906 and went into the auto repair business in Minneapolis.

Willard Charles Hamilton was born on June 17, 1911, and he worked in his father's store. He graduated from Park High in 1929, and attended the U of M School of Architecture, returning to the store in 1932 and running it until it closed on November 1,1942. After his service in World War II, he worked for Blumetal Architects as a designer. He and his wife had a daughter, Pamela Sutherland. Pamela's daughters are Jennifer and Katharine.  Willard died on June 8, 1986.
Eliza died on January 6, 1878.
---
Hamilton next married Eliza's sister Sarah Frances Moore (1853-1930) in November 1883. They had three more children:
Alice M. Hamilton – (1885-1946).  In 1938 Alice was unmarried and living in Faribault.
Horace L. Hamilton, born on October 20, 1886, was said to the first child born after Park became a Village and the first graduate of St. Louis Park High School.  He became a pharmacist and had his own drug store in North Minneapolis. In 1920, he and his wife Charlotte (known as "Lottie") had two children: Florence, born in 1912/13 and Leonard, born in 1917.  In 1938 Horace lived in Minneapolis.  Friends who knew them late in live called Horace "Hammy."
Pearl I. (born 1888).  Pearl married L. Richard Lundquist.  In 1938 they lived in Rochester, Minnesota.  Their children were Louis Harold "Hal" Lundquist (10/29/1914- 04/20/2003) and Lucile Hayes.  Hal's children are Gary R. Lundquist and Vicki Ann Lundquist.  Lucile's children are Michael Hayes, Janis Murdock and Patricia Holtan.
---
In 1898 the Hamiltons built their impressive house at 5900 Goodrich Ave.  The house still stands today.  The Flattens have carefully restored the house and have provided this historic photo: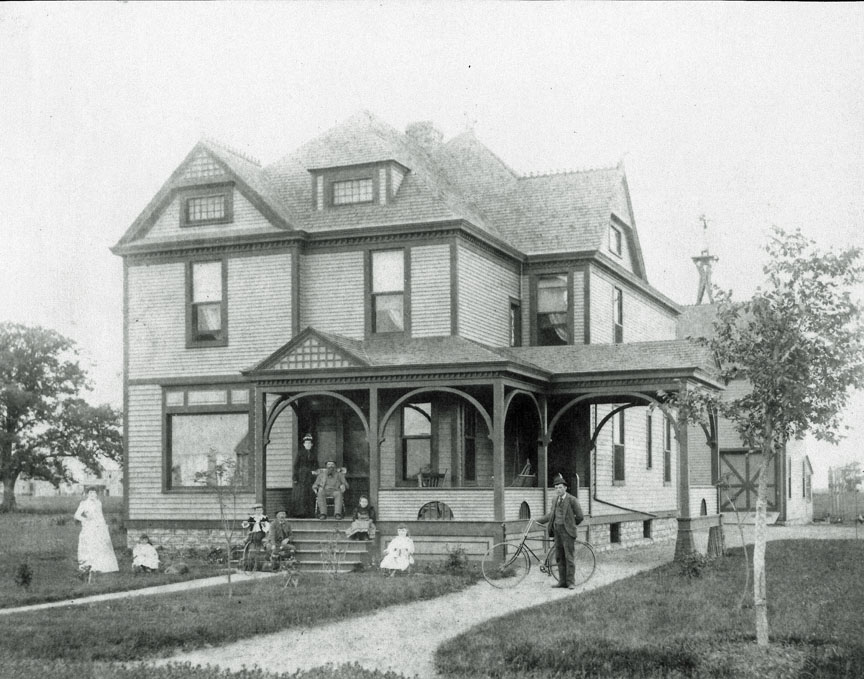 Joseph Hamilton died in 1901 and is buried at Lakewood Cemetery in Minneapolis.
Save
Save
Save