THE HIPPOGRIFF
Attached to the 450 Building in Shelard Park (on the walkway between the 400 Building and the Tower) was the Hippogriff Restaurant, "A Very Important Bar Restaurant." The restaurant was designed by John Neal, Associate Project Corp. of Minneapolis, and won an Institutions/VFM Magazine's Interior Award. Burton Grossman of the Grossman Chevrolet family was the president of the Hippogriff.  The restaurant was at Shelard from 1971 until about 1985.  A Hippogriff is apparently a griffin-headed winged horse.
---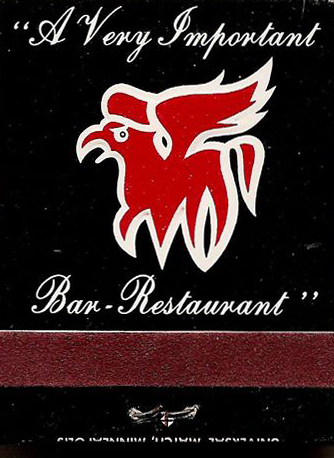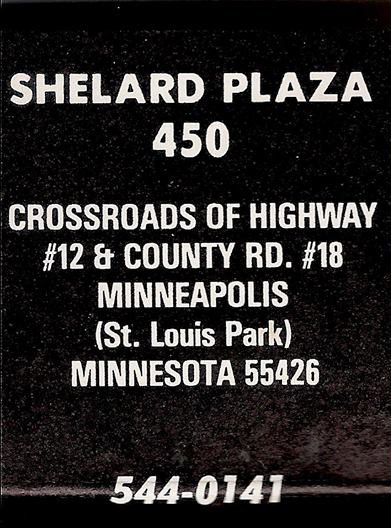 ---
Terry D. had this memory about the Hippogriff:  My wife and I went to this bar/restaurant two separate times, once in 1971 and early 1972 shortly after it opened, to see a young unknown struggling comedian sharpening his trade –  his name was Steve Martin. On both occasions when we arrived at the bar Steve was sitting alone at the bar waiting to perform. He went on to make his first appearance on the "Tonight Show" starring Johnny Carson in October 1972.
---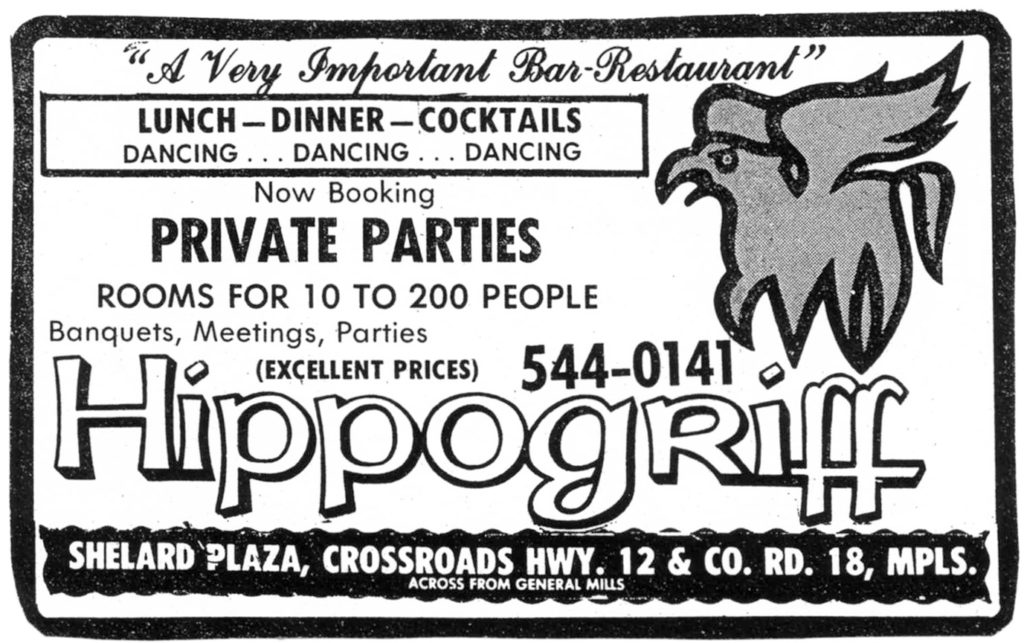 ---
A 1976 ad shows that Martin was still entertaining here, even though by then he had found success as a writer, actor, and comedian. A 1977 article about the place in the Minneapolis Star described it like this:
With its hovering umbrella-dome ceiling, cushy chairs, bloated booth upholstery, inviting copper and earth tones and tasteful Victoriana, the Hippogriff has a familiar singles-den formula.  The Hippogriff is also one of the largest nightclubs in the Midwest.  It's quite comfortable but not highly sensual, much like Maximillian's in Bloomington (they were designed by the same person)… The quality of the bands varies, but they share a format:  jazz and '40s tunes through the dinner hour evolve at about 9:30 each night into slightly thick but danceable renditions of the top 40 disco tunes and soft rock. The incongruity of the Hippogriff is that it looks disco-esque, but it lacks a disco's energized atmosphere.  Consequently, the haute disco dance troops are elsewhere….On the Hippogriff dance floor, for example, a form of post-Woodstock freestyle predominates, and much of the night traffic consists of baby-fat-coated children of the middle class.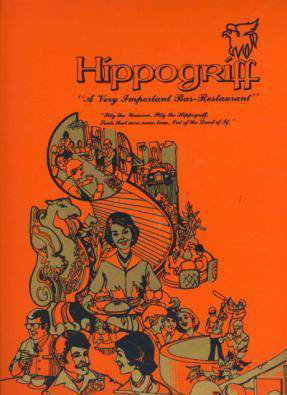 ---
PAULINE'S
The Hippogriff subsequently became Pauline's, which was owned by brothers Richard and Paul Mans, who had a similar restaurant in Brainerd.   A 1981 ad says "Starting July 6, dance to the music of Areca, Oui Four and Visions.  Pauline's:  What a Nice Surprise!"