At one time, the Minneapolis and St. Louis rail line was lined with mammoth grain elevators. If you have additions or clarifications, please contact us.  As a point of reference, the first grain elevators in Minneapolis had been built above St. Anthony Falls in 1867.
Interior Elevator was located north of the railroad tracks between Salem and Princeton. It was the first elevator in the area erected by Frank H. Peavy, who arrived in Minneapolis in 1881.
An article dated April 1, 1893, in the Minneapolis Tribune stated:
The Interior Elevator Company, of the Peavey system, is considering place and grading for an additional elevator at St. Louis Park.  The company has two there now with an aggregate capacity of nearly two million bushels and the proposed elevator will have a capacity of a million bushels.
On October 5, 1893, the Tribune reported that the Interior elevator was nearly finished.  It was described as being located
just outside the city [Minneapolis] limits, between Kenwood and St. Louis Park, on the line of the Minneapolis & St. Louis railroad….  The elevator is 214 feet long by 68 feet wide and the walls 75 feet high, the capacity to be 1,000,000 bushels.  It is for storage only, is being constructed by Tromanhauser Bros., and is to be ready to receive grain by the close of the present month.
Ultimate capacity has been listed at 3.5 million bushels.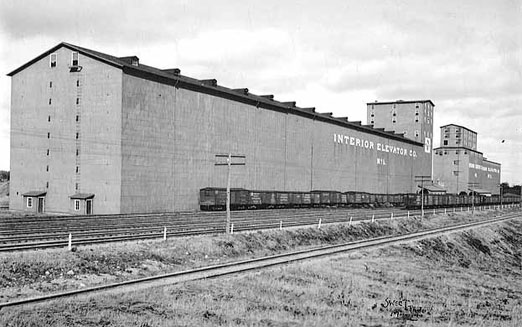 The photo above from the Minnesota Historical Society dates from about 1898.

The photo above is from the Minneapolis Journal, November 1903.  Caption reads:  "Interior Elevator, St. Louis Park, Minneapolis; Built in 1889; Capacity, 3,500,000 Bushels.  These elevators have the Distinction of being the First in the World to Employ Belt Conveyors, Now Universally Used."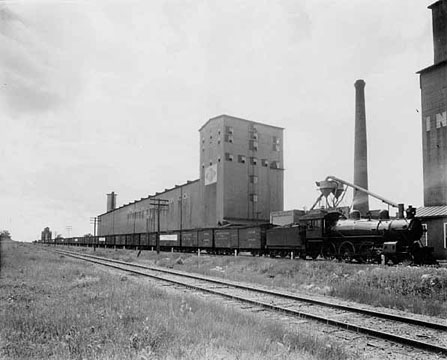 The photo above, from the Minnesota Historical Society, is from 1910.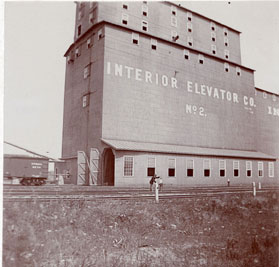 The photo above is from 1914.
The complex was purchased by the McCarthy Brothers in 1923. It was called the Interior Elevator because it was not located at the Port of Duluth.  It was listed as Interior Elevator at 32nd and Salem in 1933.
The McCarthys sold it to International Milling Co. in 1949.  IM changed its name to the Standard Elevator and painted the legendary Robin Hood ad on it.  The Robin Hood sign inspired the Robin Hood Days celebration.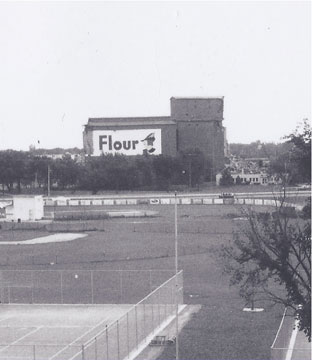 September 24, 1968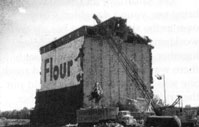 The structure was closed on May 25, 1968 and demolished Sept-Oct, 1968. (IM deliberately waited until the end of the festival to tear it down.) In 1976 plans were proffered for a development that included a 338 unit suite-type condo-hotel, a 550 seat dinner theater, two bars, two restaurants, a sports and health club, and 32,000 sq. ft. of office space. Instead it became part of the Nordic Ware campus.  Nordic Ware founder Dave Dalquist remembers that keeping the rats and mice that escaped from the ancient structure out of his buildings presented quite a challenge.