Many thanks to Mr. Ralph Cornelius, Ernie Jacobsen's nephew, for much of the following information.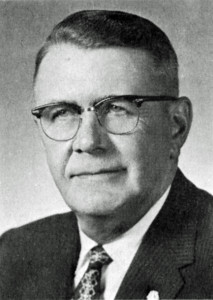 Photo courtesy Lynne Bachschneider
Ernest R. "Ernie" Jacobsen was born on September 2, 1905, in Denmark, the youngest of eight children (two brothers, five sisters). He first came to the U.S. in April 1913, at the age of 9, with his parents and two siblings. His father worked as a church custodian for awhile, but in 1914 he and his wife and Ernie went back to Denmark. (The other siblings had come to the US earlier and started families). When World War I broke out it was not possible to return to the US, and they stayed in Denmark until daughter Dagmar arranged for them to come in 1922.
Ernie married Cecelia in 1930 – she had been born in the US. They moved around a lot within Minneapolis, and at times they sold eggs, worked at gas stations and ran grocery stores (two grocery stores were at 36th Street and 42nd Ave., and another at 38th Street and 41st Ave.) In the 1930s Ernie tried to run for Alderman in Minneapolis, but he was not a citizen. With the coming of World War II he finally decided to become a citizen. Ernie and Cecelia had five children: Earl, Jean, Paul (died at age 8 or 9 of a blood disorder), John (died around 1940), and Ernie. It was a close extended family that got together once a month for 40 years. Ernie became aware of what would be come the Beltline Pay Dump when he worked at the gas station in front of the dump. The dump was put up for sale in 1950 (52), and he bought it for $42,000. He also bought a bulldozer and a magnetic crane. Ernie's nephew Cliff Andreasen was a 1/3 partner. It was a fairly lucrative business, as Ernie was able to buy two fishing cabins on Lake Vermillion. They ran the dump until 1959 when it reached its capacity and closed. Ernie and Cliff tried another dump, but it was not as successful. He had something to do with the building of apartments on Aquila Ave. Ernie "ran against two lawyers" for the Minnesota Legislature, with the campaign promise to get the margarine law changed. Apparently the farmers didn't want margarine to look too much like butter, so they got a law passed that margarine could not be yellow. Instead, it was sold with a color capsule, and if you wanted it to be yellow, you had to knead the package. This was a nuisance, and Ernie worked to get the law changed. He served two terms, from January 8, 1963 to January 2, 1967, representing the 33rd District in the Minnesota House of Representatives. And he never lost his Danish accent. Ernie died at the age of 76 on January 10, 1981; his last Zip Code is listed as 55426.