Jiffy Car Wash, located at 3740 Kipling (just off Excelsior Blvd.) opened on December 29, 1952 and promised a high-tech wash in 3 minutes for $1.50. It was only the second car wash of its kind in the Twin City area. Built for $65,000, it was made of geolite block from the Cambridge Brick Co. in St. Louis Park. At its opening, Minikahda Oaks resident Lewis E. Bender was listed as part owner. Charles Wilson was the Vice President and foreman. After tossing around a number of names for the new business, William Peters, the plumber working for Tom Motzko, came up with the word "Jiffy."  A March 1954 ad in the Park High Echo gave the slogan "Not a minute but a jiffy"
In 1955 a 40×50 ft. addition was constructed, giving it a 150-ft. conveyor chain – said to be the longest in the northwest. In 1961, members of the Bender family made up the board of directors except for James H. Campbell, Vice President and General Manager.
The ad below is from November 1955.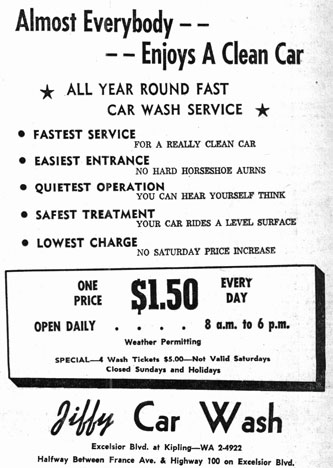 ---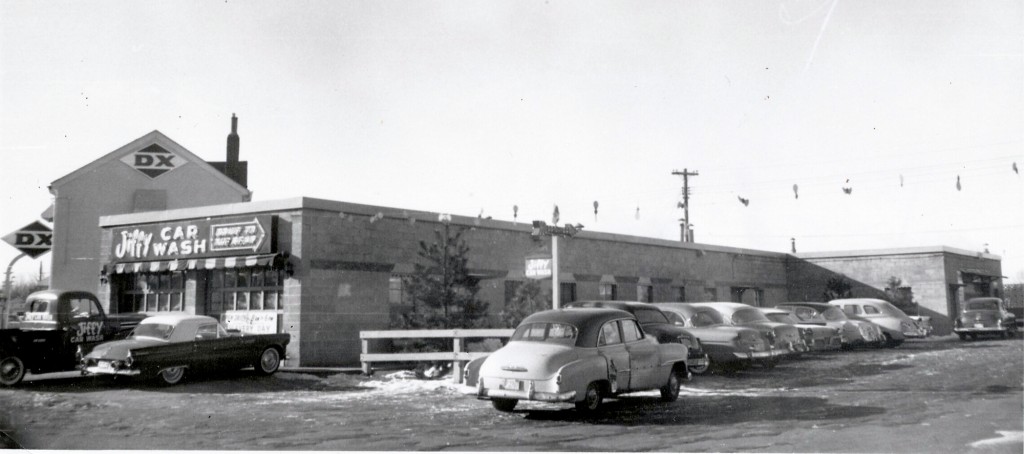 ---
An ad in a July 1971 program said that Gordon Hicks was the owner.
Willford M. Johnson, another local resident, bought it in 1972 and installed new equipment. When Johnson retired to North Carolina in 1994, it was owned by Bill Berg, who took out the Standard (Gordy's) gas pumps.
In 1997 it was owned by Jeff Schweisthal.
David and Joanne Knutson purchased Jiffy Car Wash from Jeff Schweisthal on April 13, 2001.

2002   Photo by Emory Anderson