Torval Jorvig was born in Peterson, Minnesota to Norwegian parents on March 30, 1896.  He grew up as the only son of a single mother, and made his living as a telegraph operator for Western Union.  At age 22 he is listed as the sole support of his mother.  He met his wife Edna, another telegraph operator working in Owatonna, while chatting in Morse Code.  The couple married in 1920 and they had three sons:  Robert, Roland, and David.
The 1930 Census shows the family living in Minneapolis, but shortly after that they moved to St. Louis Park.  The reason they chose the Park was that they wanted to be close to Edna's sister and brother-in-law, George and Jennie Fornell.  The Fornells are shown in the 1935-36 Park directory living 2944 Alabama, built in 1934.  Their children were Margaret and Willard.  The Jorvigs first moved to a house on Natchez in the Fern Hill neighborhood.  In the 1933-34 directory they are shown at 3248 Yosemite, which Bob remembers as being new; records show it was built in 1927.  The  Jorvig and the Fornell children went to Fern Hill Elementary School, Lincoln School, and the new High School (Central).  Bob remembers that some of his classes were at Lincoln and some at the High School, and thought that going through the tunnel under Highway 7 was fun. 
Torval Jorvig was a law-and-order man, and in 1934 he ran for Village Council along with Roy O. Sewall, who ran for Mayor.  Both won that year, with Jorvig heading a field of ten candidates and earning almost twice the number of votes as the next highest candidate.  While Sewall served only one year, Jorvig went on to serve 27 years on the Council.  During that time, the bars on Excelsior Blvd. were getting out of hand – prohibition was over, and beer halls were staying open long after legal closing times.  Bob remembers that his father and Sewall (both of whom had police powers) would go down and make sure the bars closed on time.  Jorvig even had a wooden billy club that he carried for protection, although Bob doesn't think he ever had to use it. 
Jorvig served the Park well until his retirement in 1961, never refusing a phone call, even during dinner.  He died on February 4, 1971.  The City of St. Louis Park has honored him by naming Park's oldest park after him.  Jorvig Park, at 37th St. and Brunswick Ave., is the home of the Historic Milwaukee Road Depot. 
Read more about the Jorvigs in Something in the Water.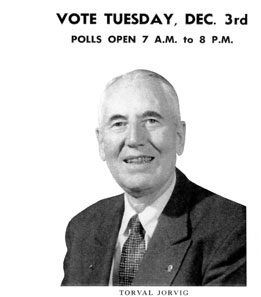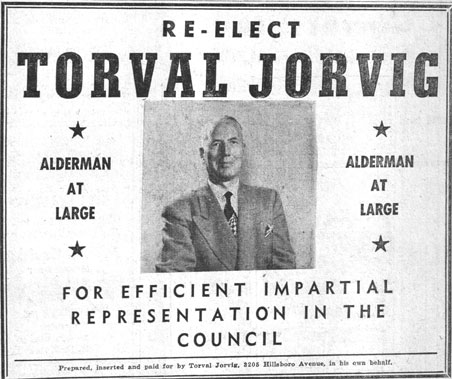 1955