This is the story of Ben Koval and Koval's Appliances at 4317-31 Excelsior Blvd. In December 1945 Ben was released from Walter Reed Hospital in Washington, DC, where he recovered from injuries received during World War II. In 1946 Ben started an appliance business on Plymouth and Logan Avenues in North Minneapolis. He later moved to Plymouth and James Avenues.
On August 3, 1966, a riot broke out in North Minneapolis. Looters broke into their rented store and stole all their televisions, among other things. Koval, who was in the process of moving anyway, hurriedly moved the store to 3887 Wooddale, along the east side of Highway 100. In 1968, in need of more space, Koval moved to 4317-31 Excelsior Blvd.

Ben's wife was Libby (born June 12, 1923, died December 23, 1991). Her sister Harriet Kaplan and Koval's son Jeffrey helped run the business with Ben. Ben Koval died on Feb. 7, 2002, but Jeffrey and Jeffrey's son Ryan carried on the tradition.  And Harriet worked there for over 60 years.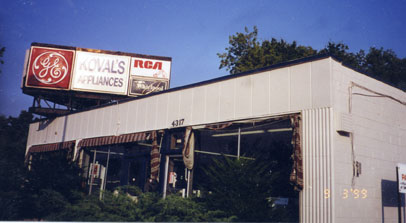 KOVAL'S CLOSES
From the Koval Appliance Facebook page dated October 2, 2014:
We at Koval Appliance would like to take a moment to thank everybody. For more than 65 years, multiple locations, and various product lines. For over 45 years on Excelsior Boulevard. For supporting three generations of employees and ownership. For putting up with about two and a half years of Facebook posts, if memory serves. For all the sharing of the recent "selling our floor models" posts. And most of all, for all your business over the years.

It sounds like "goodbye," admittedly. But it isn't. Not yet. We are closed for business on Excelsior Boulevard, and will soon finalize the sale of the building to a new owner. The future of the business is still being decided. For now, we've taken our open hours off of our page, but the page will remain. It may not be very active, but it is not being shut down. When a decision is made regarding what happens with the business, we will make an announcement here. Also, it's important to note, the "@kovalappliance.com" email addresses still work, so you can reach Ryan or Jeff with any questions you may have.

Again, we would like to thank all of you, and the customers who will never see this post, for everything. It's been a pretty good ride!