The original building was built in 1940 as Carl's Shell Station.  There is an ad in a May 1941 issue of the Echo giving the address as 5535 W. Lake, and the owner as Carl A. Johnson.
In 1943-44 it was (Ove M.) Sjolseth's Super Shell Service, according to ads in the Echo.
Gerald Longabaugh bought the station in [1943] and called it Speed Super Shell.  He moved across the street to 5430 Minnetonka Blvd. in 1950.
In 1950-75 it was Park Standard Service.  In 1952 it was owned by Harold V. Eggan. From at least 1955 to 1975 it was run by Jody Berg-.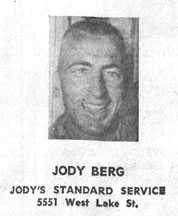 The original building was demolished in 1977.  It is unclear what happened between 1977 and 1982, when the current building was built.
In 1998 it was the Cutting Room, full service salon.
In 2007 it was the home of Caribou Coffee and Pizza Hut.