In the Fall of 1958 six Parkettes were chosen to become the Lakerettes, cheerleaders for the Minneapolis Lakers basketball team.  The girls were Mary Lou Kuhn, Darlene Anderson, Gretchen Grashius, Kay Anderson, Debbie Libby, and Francine Rapp.  Each girl was paid $5.00 per game.  Practices were held four times a week at the Minneapolis Armory and at the home of choreographer Fran Libby.  The full line of the Parkettes performed at halftime of Laker games.  The first performances were during the 1958/1959 season.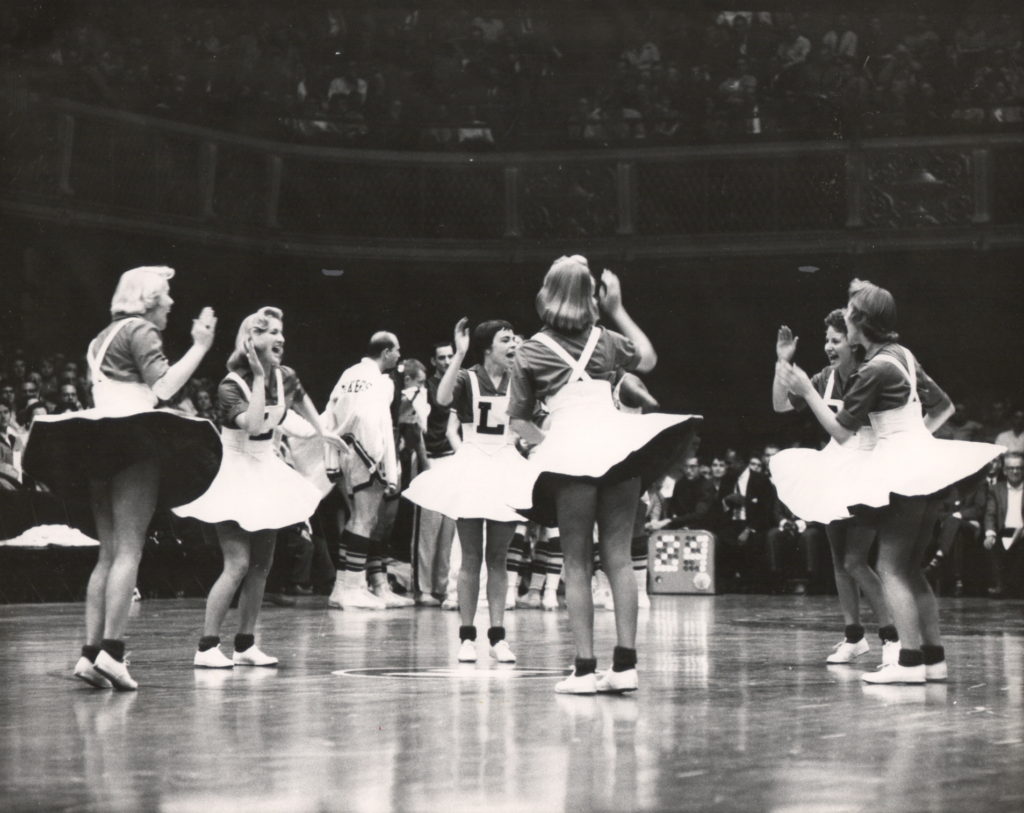 ---
The Lakerettes only lasted for two years, as the Lakers moved to Los Angeles after the 1959-1960 season.  During the 1959/1960 winter break, Lakerettes Debbie Libby, Kay Anderson, Nancy Breckheimer, Darlene Anderson, and Gretchen Grashhuis traveled with the team in their private DC3 airplane to Boston and New York City.  Word has it that Debbie Libby (second from left in the photo below) became a Rockette.
---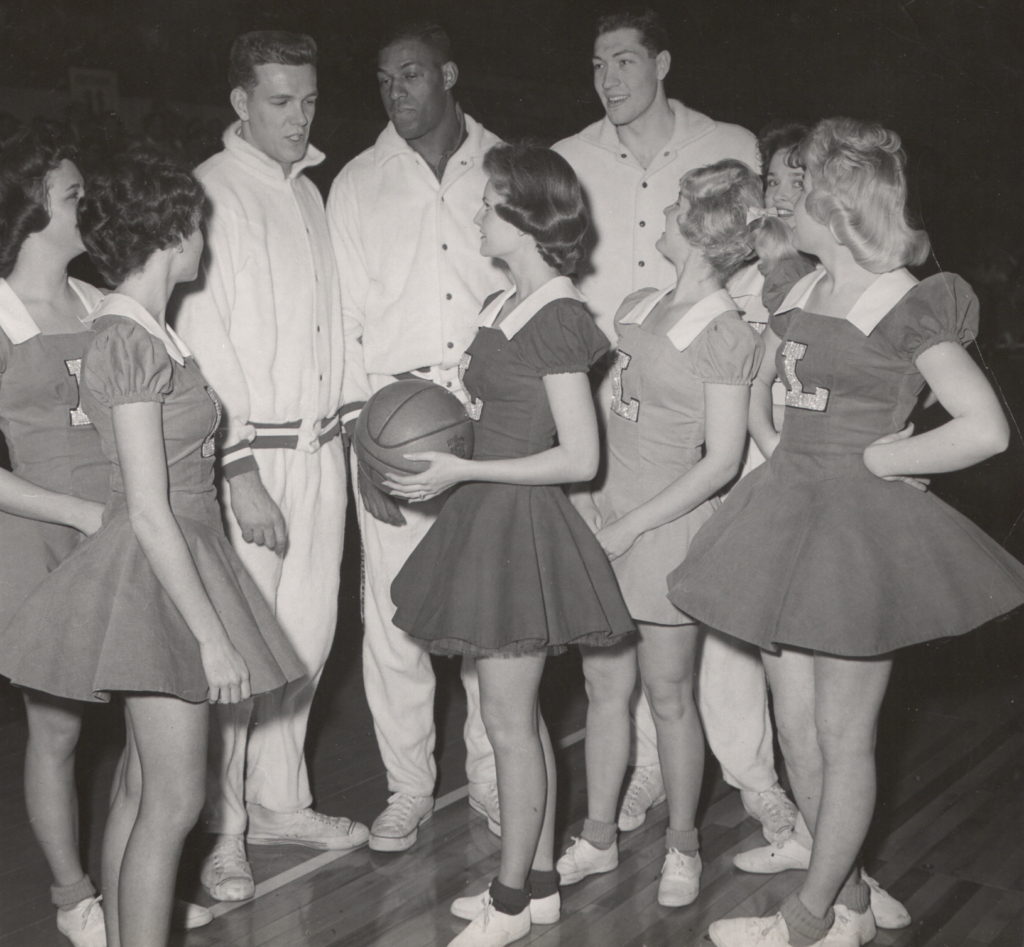 ---
About the Lakers
The Lakers' franchise began in 1947 when the recently disbanded Detroit Gems were purchased for $15,000 and the team (consisting of just equipment) was moved to Minneapolis. Home games were played at the Minneapolis Auditorium and at the Minneapolis Armory. The new owners hired Max Winter as General Manager.  Since the Detroit Gems had the worst record in its league, the Lakers had the first draft pick and selected George Mikan, a phenomenally talented and popular player.  Coach John Kundla recruited former U of M players, and the Lakers won the NBL championship in their first season (1948).
Injuries forced Mikan to retire after the 1954 season, and the Lakers performed so poorly in the 1955 season that Mikan was persuaded to come out of retirement for the 1956 season. His play was not up to his former standards, however, and halfway through the season he retired again, this time for good. After Mikan's retirement, attendance at Lakers games dropped off sharply. In 1957 the team was nearly sold to Kansas City, but a local group headed by businessman Bob Short bought the team and kept it in Minneapolis.  In 1957 the team was still in last place but that again gave the team first pick in the draft, and they chose Elgin Baylor, who won NBA Rookie of the Year. Still doing poorly Short decided to move the team to Los Angeles, following the lead of the Brooklyn Dodgers.  This made the Los Angeles Lakers the NBA's first west coast basketball team.  The team kept the name Lakers, and Minnesota was left without an NBA franchise until the Minnesota Timberwolves arrived in 1989.
Save