William and Mary Ann Laycock are generally believed to be the first husband and wife settlers in the area that would become St. Louis Park.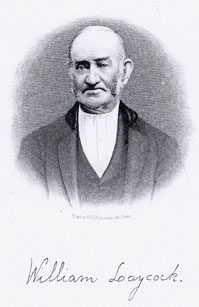 William Laycock (1808-1882), born in Yorkshire, England, married Mary Ann Rye (1830-1917) in 1848. Laycock sailed for America in 1849 and worked digging sand in New York for a time.  Mary Ann (with her brother Charles Rye) followed.  Mary Ann and William lived in Providence, RI, from 1850-53. They came to St. Anthony Falls in the fall of 1853 and spent the winter in a log cabin built by Minneapolis pioneer Franklin Steele. In March 1854 they moved to their shanty on the 40 acres of land (that he preempted the following year) in the area of present-day Lake Street and Pennsylvania Ave. The St. Louis Park Historical Society has a painting of the shanty/cottage. Entitled "On a High Hill," the painting was done by Estelle Clough, who identified it as the first home in St. Louis Park.
The Laycock's only child, Emma Tyler Laycock, thought to be the first white female child born in the area that would become St. Louis Park, was born in that shanty on January 2, 1858. They later bought a second 40-acre adjoining tract. Emma married O.K. Earle on January 2, 1879 at the Centenary Methodist Episcopal Church (not in St. Louis Park).
William Laycock had suffered an injury from a falling rock back in New York and was confined to crutches for much of the 20 years before he died. After an operation and an 11-week stay at the College Hospital, he died of "blood poisoning" on April 15, 1882. Mary Ann married John Ludlum in 1884 and survived him as well, living to the age of 87 in 1917.