This 2.7 acre park is located at the southeastern corner of the intersection of Highways 100 and 7, by the Nordic Ware tower.  It is accessed by a service that runs off of Belt Line Blvd. in front of the Nordic Ware campus.  It was originally designated as "St. Louis Park Roadside Park" when it was built in 1939.  The picture below, taken in 1953, is the closest we have to an archival photo.  In the background is what is now the Nordic Ware Tower.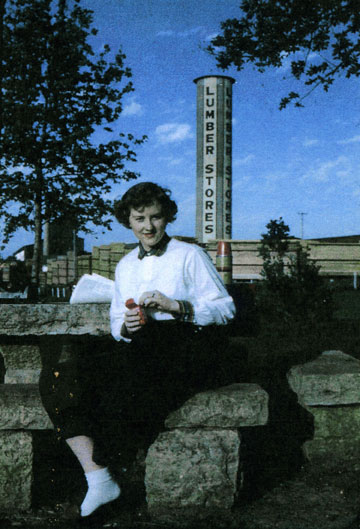 Mn/DOT prepared an Environmental Impact Statement (EIS) in the 1990s which described the structures.  A private tour conducted in 1999 showed that the was overgrown with weeds and the structures were crumbling.  (Soon afterwards, Nordic Ware took on the task of mowing the area, which still belonged to Mn/DOT.)
The EIS and the tour revealed:
A walking/bike path surrounds the tables; it was originally a roadway but has been closed to cars and narrowed.

Structures [were]:

1. Council Ring, made of mortared stones, about 20 ft. in diameter, about 18 inches thick and 6 inches high. A 5 ft. fire ring is in the middle, with an opening on the southwestern side. Stone is also located in the center of the ring.  [National Parks featured special fire circles for after-dinner story-telling and marshmallow roasting.]

2. Four picnic tables with benches; there may have originally been five. They are built out of limestone, and sit on a platform of flagstone.

3. Stone fireplace, about 5 ft. by 9 ft. at the base, mostly deteriorated. Plans called for more than one.

4. Stone trash receptacle.

5. Stone well, probably with a hand pump.  (Once source says that the well is in the center of the park, covered by a rock, next to a concrete step.  "It used to have the best water in the area.")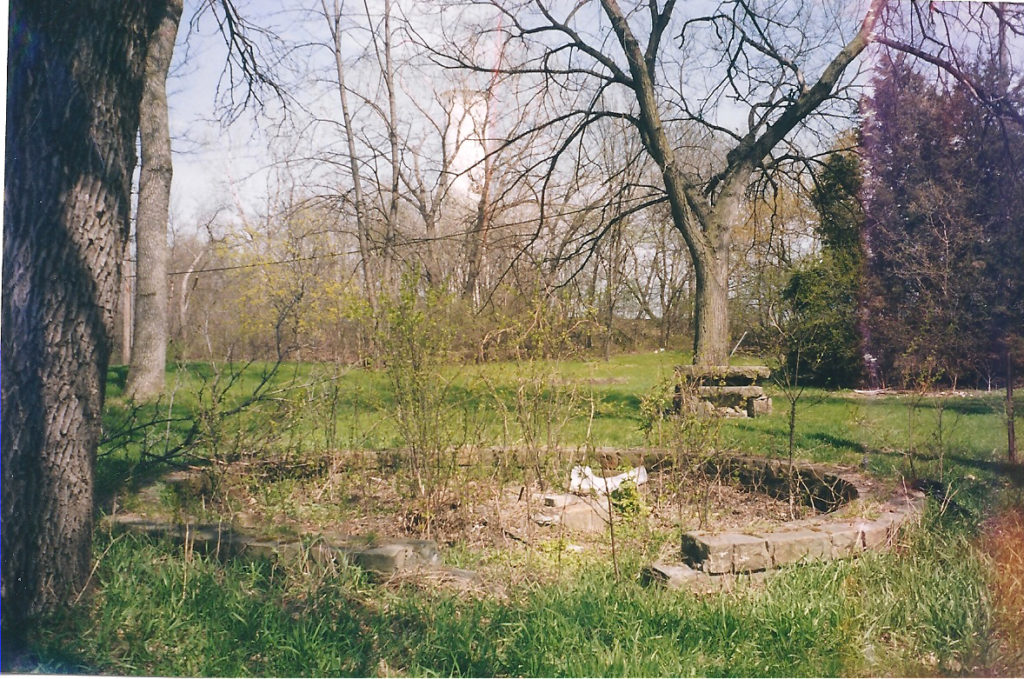 ---
In the early 2000s, the St. Louis Park Historical Society, the City of St. Louis Park, Three Rivers Parks District, and Nordic Ware formed a committee to move the Beehive fireplace from the "old" Lilac Park to "Roadside" Park and to restore the stone structures of the Roadside site.  In 2008-2009 the Beehive was moved, the park's structures restored, and the bike trail extended to reach the restored park.  The new park was dedicated on July 13, 2009.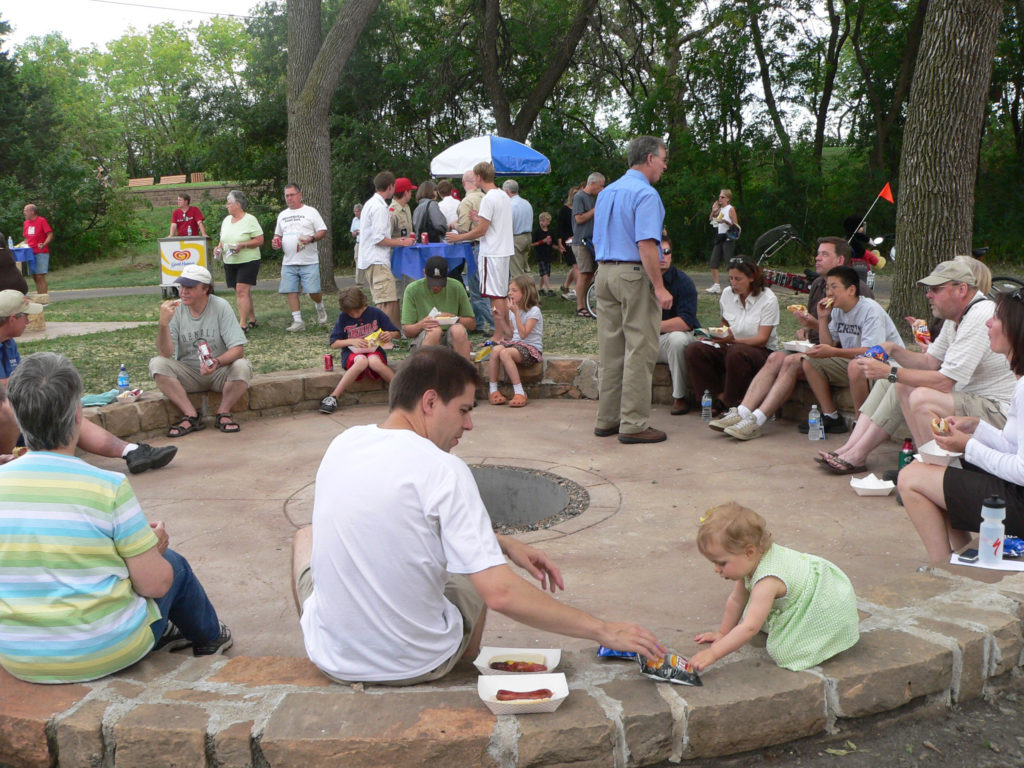 ---
Beside the Beehive, new features include bike racks and pads for toilet facilities, trash receptacles, and an informational kiosk.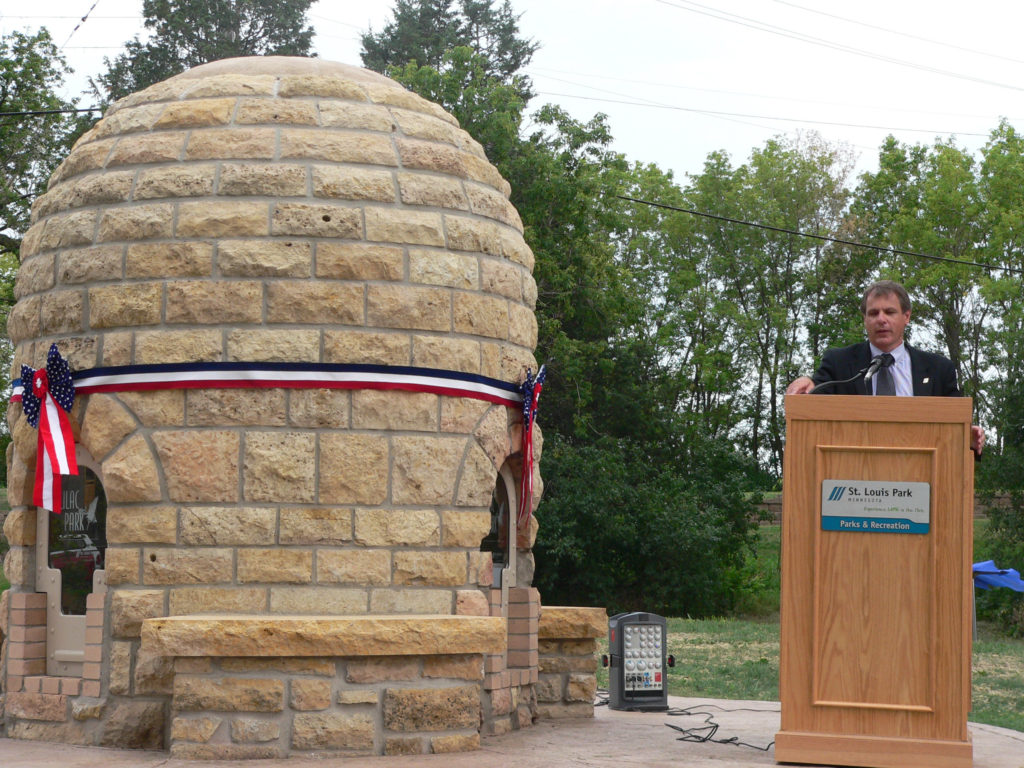 Click here for many more resources and information about the Beehive.