Great news!  Wendi Rosenstein, Morrie Berenberg's eldest grandchild, is working on a Lincoln Del Cookbook!  When it's ready we'll let you know how to get one.  To request recipes to be included or provide Wendi with other items, you can contact her at wendi66@hotmail.com
It all started with Frank Berenberg, who came to America from Romania in 1900. The story goes that he was so enamored of the freedom of America, and of Abraham Lincoln in particular, that he named his first son Abraham and his business Lincoln.
Frank opened a bakery on Lyndale Ave. in Minneapolis in 1933, and brought sons Irving, Abraham, and Morris into the business in about 1935. As of 1951, there were two locations and goods were also available at Snyder Drug Stores.  Below left is an ad from the Minneapolis Spokesman, the city's black newspaper, from June 8, 1951: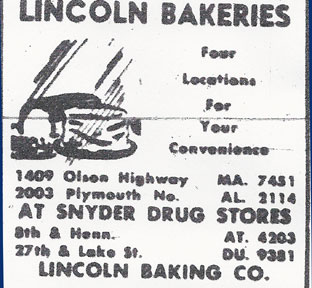 The store on Olson Memorial Highway (Highway 55) was a "cold shop" where baked goods were sold but not made. That location was displaced in 1957 with the improvement of Highway 55, and the operation was moved to St. Louis Park.
---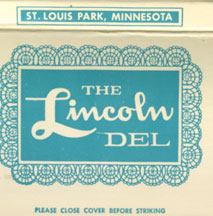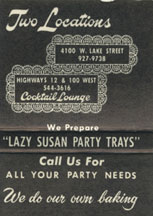 ---
There were at various times three Lincoln Del locations: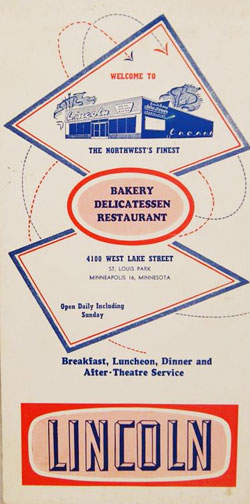 ---
The Lincoln Del West at Highways 100 and 12 (5201 Wayzata Blvd.). Opened in September 1965, closed in 1994. Click on the address for more pictures.
---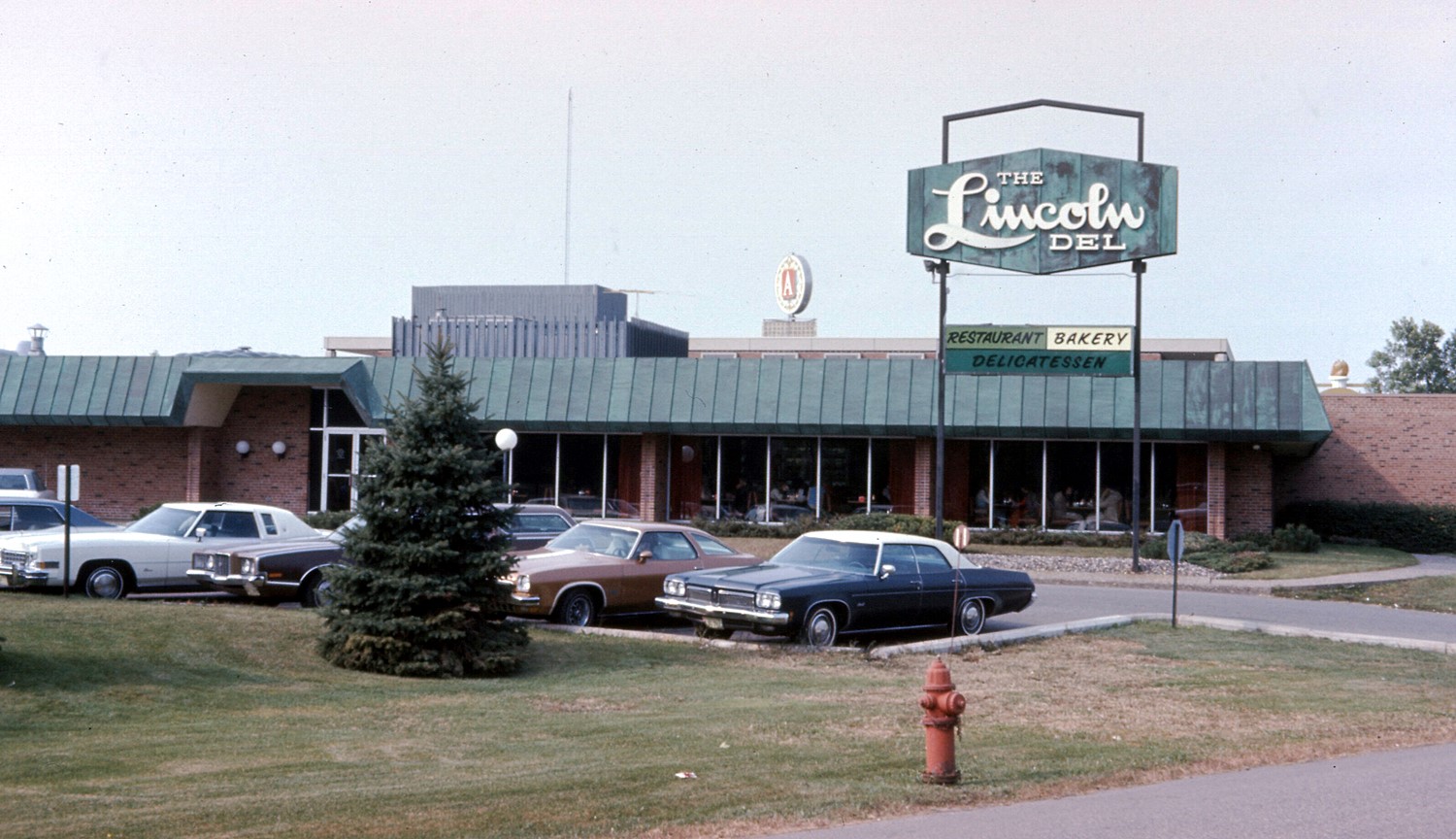 The Wayzata Blvd. store apparently got its liquor license in July 1967; the ad below appeared in the Minneapolis Tribune.

---
In October 1970 workers picketed the Wayzata Blvd. store protesting the firing of two cooks who reportedly were fired because of union activities.  Owner Morris Berenberg denied the accusation, even though the two had recently joined the otherwise non-union shop.  At the same time, the Lincoln Del was slapped with a sex-discrimination complaint brought by the State Human Rights Commission on behalf of Mrs. Nancy Juhl.  Mrs. Juhl claimed she was being paid less than men in the same job, and that she was fired in retaliation when she filed her claim.
---
The third location was the Lincoln Del South, at 4401 W. 80th Street in Bloomington, near the intersection of Highway 494 and France Ave. It opened in 1975, closed in 2000.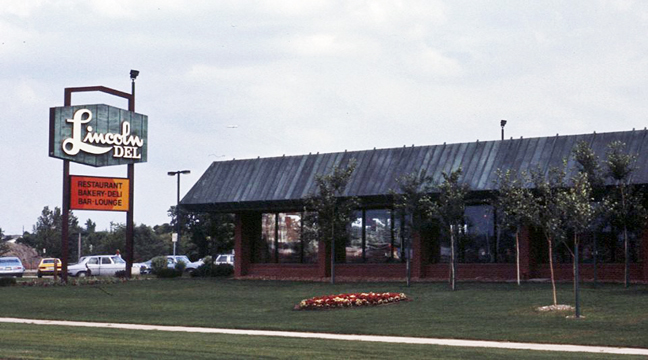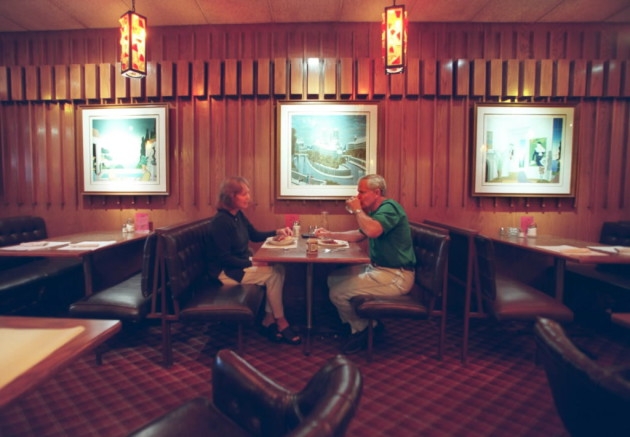 ---
But what people remember the most was the food – perfect for the Jewish community that had settled into St. Louis Park, but enjoyed by just about everyone for miles around.  In a city where there were several delis to choose from, the Lincoln Del was at the top.
A couple of vintage menus reveal some interesting items – and a sense of humor.  Items include:
Jewish Hogie (For Fressers Only)
Minnesota Twins – Two char-broiled miniature hamburgers  (early sliders)
Triple Tootsie – Three separate tasty sandwiches on delicious French rolls, chopped liver, corned beef and pastrami, French fries
Scandinavian Treat Platter – freshly opened tin of finest oil-packed King Oscar sardines, potato salad, Bermuda onion,
Peanut butter and bacon sandwich (.80)
Chocolate phosphate made with fresh cream
Lincoln (shrimp) and Washington (chicken salad) Salads
Pump Twins – Two Over-stuffed corned beef on two Pumpernickle rolls
Fried corned beef hash
Diet Suggestion:  two large hamburger patties, Melba toast, cottage cheese or jello
Country Club Sandwiches:Club House (turkey)Meadowbrook (chicken salad)Lincoln (corned beef and chopped chicken liver)Rolling Green (grilled albacore tuna)Oak Ridge (chopped chicken liver)Golden Valley (roast beef)

Brookview (corned beef)
Interesting note at the top of the menu:  "At the price we have to charge to serve LOX, we suggest you make a different choice from our menu."
One particular goody people may remember was the The C. Everett Koop cake.  A blogger describes it:  "[The cake] was a towering monstrosity of chocolate layer cake and whipped cream and cherries and chocolate shavings. It was displayed, tantalizingly, right alongside the roped-off line to get to the hostess's station, bedecked with a faux "Surgeon General's Warning" as to its bad health effects. Those were the days when Koop was everywhere letting everyone in on the secret evils of smoking, and it made the cake seem even more decadent and forbidden and hilarious."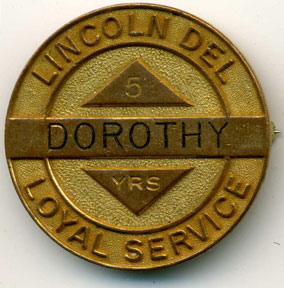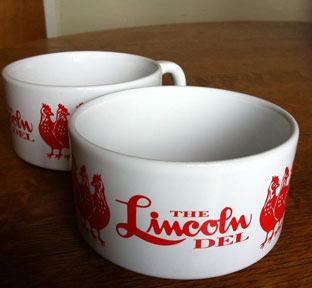 The Lincoln Del story ends when grandson Danny Berenberg decided to sell his 6.8 acre tract on the Bloomington strip to Walser Automotive for $6.4 million. Since the Bloomington store was also supporting the Park store and the Park location was too antiquated to run by itself, both had to go. The St. Louis Park store was closed in June 2000 and a liquidation sale started on July 17. Berenberg retained the rights to the name and all the recipes.  Many of the recipes came with family members who immigrated from Russia and Romania, Berenberg said in a Dispatch article.  At the time of closing, the borscht chefs moved to Zaroff's Deli in Minnetonka, which has now closed.
Save
Save