Wayne Pavey Martin was elected Mayor of St. Louis Park on March 8, 1921 and served for the term of one year.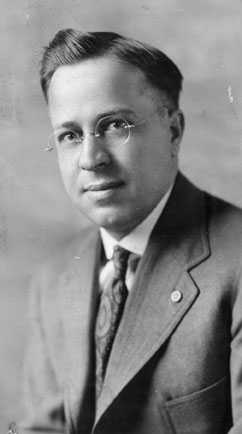 He was the son of Myron Rufus Martin, president of Martin Manufacturing Co., which operated in the Park from 1902 to 1925.
Wayne was born on December 4, 1890 in Humboldt, Iowa.
When he registered for the draft during World War I he was living in St. Louis Park.  He requested a deferment, stating that his father was not well and his duties rested on the son.
The 1920 census shows him living in St. Louis Park with his parents, Myron R. and Emma P. Martin.  Wayne was listed as a manager at the plant.
The 1930 census shows that he and his brother Dwight were lodgers living in a house in Brooklyn Center.  Wayne was listed as Secretary of the company and Dwight was President.
He and his wife, Clara Wuest Martin, had a son, Myron Charles Martin, born on September 7, 1939, in Anoka.
In 1955 Wayne successfully petitioned to become a member of the Minnesota Society of the National Society, Sons of the American Revolution, based on his ancestor, Ebenezer Martin.
Wayne died on September 22, 1959, in Hennepin County.
Save
Save