The McBee Building is located at 4300 36 1/2 Street at Excelsior Blvd..  It sits on former Hanke land, and indeed in 1926 the map shows that Lydia Hanke owned the 1.25 acres where the building sits.  The 1958 directory lists it at 4300 Excelsior Blvd.
The Building was built in 1954, named after the company it was built for. Royal Typewriter merged with the McBee Company, which made early computers.  The company shows up in the 1956 and '58 directories on Excelsior Blvd.  It does not show up at all in 1961 to 1965.  In 1966 the company moved out/expanded in 1958 to 6415 Wayzata Blvd. Nevertheless, the building on Excelsior continued to be known as the McBee Building, and indeed in 1984 it was owned by the McBee Building Limited Partnership.
The 3,000 sf office building was built by Ohme and Rutledge for $23,000. From about 1956 to 1978 it was owned by Samuel S. Clyman of Clyman Investments in Hopkins. Since about 1985 it has been owned by Ronald E. Clark, North Coast Partners, Edina.
There was a serious fire at the building in February 1983; see Fires and Firefighting.
---
There have been many tenants in the building over the years:
B&R Drapery and Home Furnishings (1983)  B&R stood for Boyd and Ruth
Farmer's Insurance (1959)
D.D. Glick Chiropractic (1968)
Jeanne Nadal Cosmetics (1959)
International School of Bartending (1983)
Kimiko's Sauna. The predominantly Vietnamese masseuses had a bad habit of getting arrested for prostitution, and the City wanted them – and others like them – out of town. The Council discussed the issue at length and finally passed an ordinance in 1981.
King Rogers, Inc. Custom Built Kitchens (1959 – 1960)
Lakes Employment Service
Park Salon of Beauty, run by Jackie Morehouse
Sealomatic Aluminum Cookware (1959-60)
Styletrend Carpets (1973-74) 4304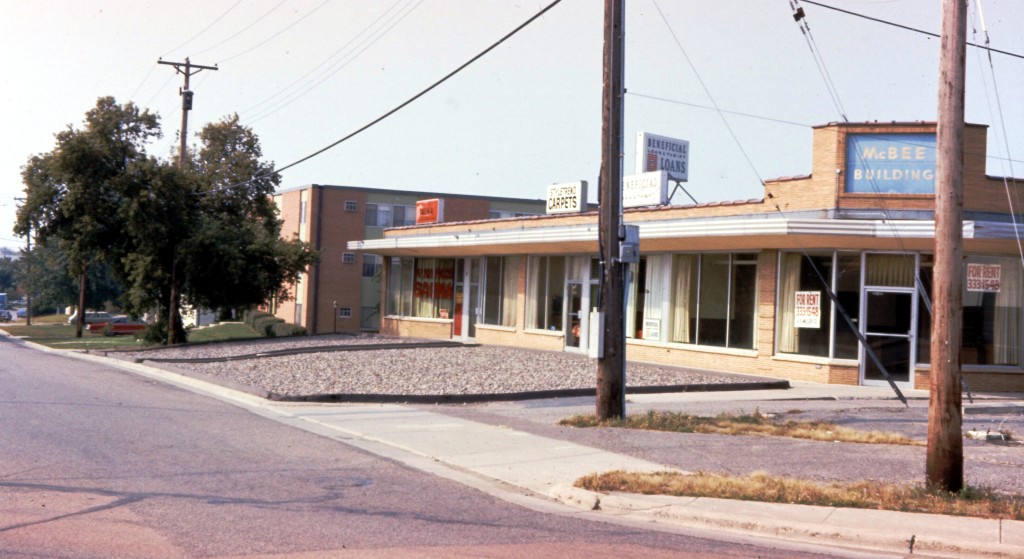 Save
Save