On November 29, 1941, the St. Louis Park Methodist Meeting House, 2940 Salem, began services in a colonial-style house purchased with a gift from the T.B. Walker Foundation. Rev. John W. Knoble and his wife had an apartment upstairs, and the downstairs rooms were made into a chapel. The Dispatch reported that "Young couples" from the immediate community near Minnetonka Blvd. from Fern Hill School to Highway 100 worked to remodel the building.
Photo from Aldersgate Advance, April 30, 1950
Eventually those facilities were too small, and they were meeting at Park Theater.
In 1946 the congregation voted to merge with Brookside Methodist Church to form Aldersgate Methodist Church. Beginning in June, both congregations met at the Brookside church until the new building was ready in 1951.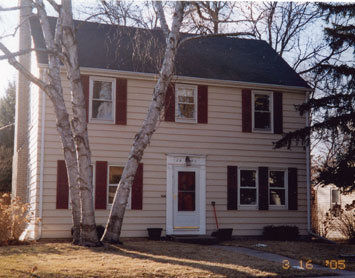 This house, built in 1938, has long been a private residence.