Many oldtimers remembered the Moldestad farm, one of the last working farms in the Park. The family also ran a prominent and successful grocery store on Minnetonka Blvd.
John Jakobsen "JJ" Moldestad and his sister came to the US from Norway in 1879, and came to Minneapolis in 1880 or 1881. He started a dairy farm with Peter Homes on Minnetonka Blvd. at Texas Ave., across from what is now Texa-Tonka Shopping Center.
JJ and Peter Homes both married in 1892 and their partnership ended. J.J. married Marie, who was Danish. They rented a dairy farm from a Mr. Suchaneck and lived in a house on 26th and Alabama.
In 1896 he moved to 300 acres across from Cobble Crest Lake. His pasture (for 75 head of cattle) became the Bellgrove Addition in Hopkins.
Land prices went down after the Depression of 1893 and JJ bought 30 acres from Mr. Suchanich. He rented more acreage adjacent to his land.
In about 1902, JJ went to the Village Council and asked them to build a public road to Minnetonka Blvd., as there was no route from their farm at what is now 26th Street.  The council agreed as long as JJ would "grub the trees" out of it.  JJ hired 2-3 men to do the grubbing, and the Village graded the road, which was known as Moldestad Road and in 1933 became Xenwood.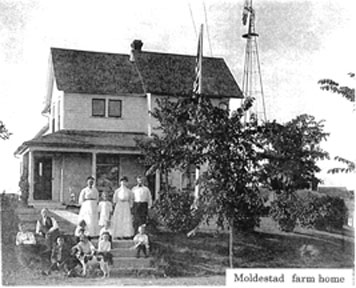 JJ died on December 22, 1939.
J.J. and Marie's children were:
Norman M., born on May 15, 1893 in St. Louis Park.
Harold, born @ 1897, died on Nov. 2, 1918 while serving in World War I.
Marie M. (Mrs. Byron Smith) born May 11, 1900
Virginia Brown Parks:
Norman Moldestad's father had a farm north of Minnetonka Blvd. in the vicinity of what is now Yosemite and Zarthan Ave. [26th & Xenwood til 1932]. Norm worked at the Ford Motor Plant. Work was not always steady, so Agnes opened a grocery store in an old building on a site which later became the Park Theater. The store showed promise and became a cornerstone of the neighborhood when Agnes Moldestad's father, Peter Rodin, and Norman's father financed an up to date brick building at the corner of Minnetonka Blvd. and Ottawa. Norman quit his Ford employment and he and Aggie worked together in their grocery business for 33 years. The Moldestads with their two children, Maurine and Richard (Bud), moved to a nice large apartment on the second floor of the building. Moldestad tenants included a pharmacy, a barber shop and a beauty shop, Dr. Westerdahl, the dentist, and Dr. Cranston, a medical doctor. Later Dr. Archie Smith rented from the Moldestads.
Norman and Agnes's children were:
Maurine (Mrs. Arne Peterson)
Richard "Bud" Moldestad.  Bud died in December 1999 at the age of 78.
Norman was a member of the Odd Fellows for 52 years, the American Legion, and the Theosaphical Society. Norman died on August 29, 1975, in Longview, Washington.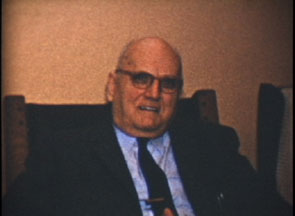 Norman Moldestad, April 8, 1961.     Photo courtesy Al Hartman, captured from a home movie.  Al noted, "He was a generous man at the church picnics bringing many things from his store. Ice cream novelties wrapped in dry ice, soda pop and watermelon are among the things he supplied."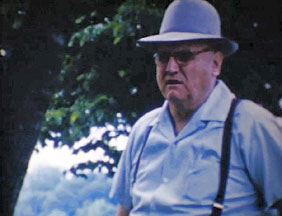 Another picture of Norman at a church picnic June 14, 1959.  He was playing horseshoes. Also courtesy Al Hartman.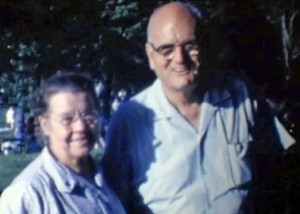 Aggie and Norman Moldestad – Image courtesy Al Hartman