Bernie Horovitz operated the Park Delicatessen in late 1947.  The 1949 directory listed it as the Park Delicatessen Lunch Bakery, at 4210 W. Lake St.
In March 1958 Bernie apparently had big plans for a new building.  The Minneapolis Star reported plans for a new $350,000 restaurant and 16-lane bowling alley.  The article says:  "To be located just south of the intersection of W. Lake Street and Highway No. 7, between Glenhurst and France Avenues S., the building will house a delicatessen shop, restaurant steak house, private dining rooms, rumpus room, kitchen and bakery on the first floor.  The bowling lanes will be in the basement.  They will feature under-floor ball returns, spectator seating and a carpeted concourse."  Plans called for 27,000 square feet, engineered for a future second floor.  The bowling alley never materialized, despite the fact that Bernie had leagues already signed up.
In 1959 a considerably scaled-down, L-shaped building was built on the site between Inglewood and Joppa with Bernie's Deli as the anchor.
At one point, probably in the early 1970s, Bernie decided to run for mayor.  Here is his campaign button: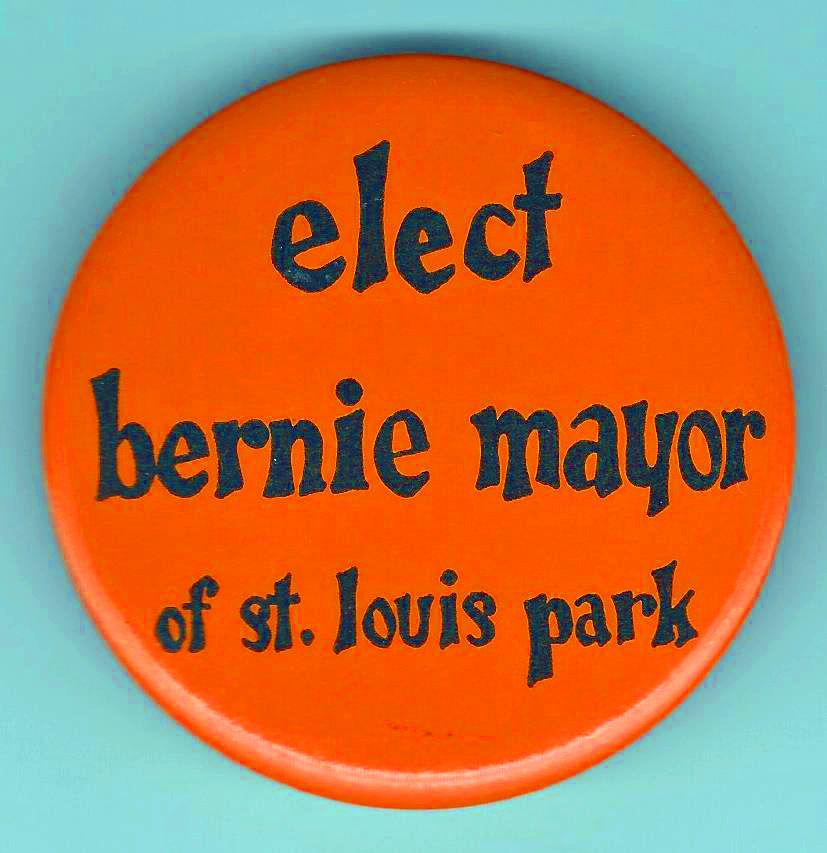 Former employee Bob Woods remembers that "in 1977, when 'Star Wars' came out, there were three dinner rushes, based on the start times at the Park Theater that was right up the street. They would have 20 Rubens working on the sandwich side, and two fryers pushing handmade onion rings on the hot side. Bernie's actually made the corned beef on site, starting with beef briskets, and then pumping the briskets full of brine and letting them sit for two weeks to cure. Most places back then (and now) just buy the corned beef from a supplier, so they all taste about the same."
Photo and ad below from 1966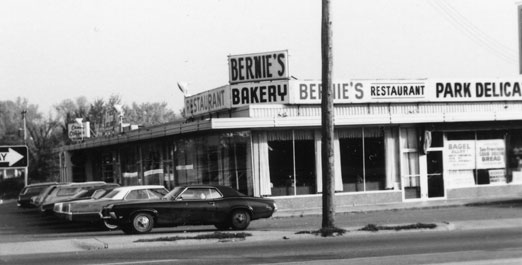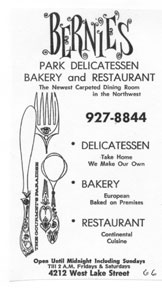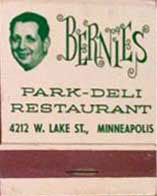 Matchbook above right from the collection of Scott Bottolene as posted on Facebook.
---
Dave Bjork shares this special story about Bernie's:
I started going to Bernie's in 1954. Well, my Dad took me. Back when it was just a little hole in the wall. Back when they still made Bernie's Pickles. I vividly remember the day they stopped.

They had moved and recently expanded their operation. I think they had just opened up the longer deli counter. We bought a jar of pickles. When we got home we all gagged horribly. My Mother went rushing back to Bernie's with the jar to find out what was wrong. He apologized and said that with the increased business, the relative who was making them could no longer meet the demand so they turned everything over to a local commercial operation. Obviously they were only capable of making garbage, inedible pickles. As any grocer's jar today will tell you. The whole family was heart sick.

I have not had a dill pickle since 1958 or '59. A real Kosher Dill Pickle, fermented in brine, not embalmed in vinegar. One with effervescence. One that is crisp. A pickle that fizzes when you bite into it. Food that is Alive. Not Dead. That is why embalming is the correct term to use with grocery store pickles.

One day by an absolute miracle we were able to find out that Bernie's relative was using a recipe from a Ruth Bernstein. And even obtained a copy. But the instructions and ingredients were vague. I have never been able to come close to making a proper dill pickle. One year I even went to the trouble of growing "Chicago Pickling Dills" as she had specified.

I have no hope of ever tasting a dill pickle again, unless a relative of Ruth Bernstein should somehow invite me over for a meal. But does anyone know? Is any place in town corning their own beef? Is it possible to get a good corned beef sandwich in the Twin Cities? Something on Dark Rye. Something with more than 3 oz. of beef. Something from a point cut brisket with some fat on it?

Once in the late '60's some unaware friends dragged me into a larger, nearby, competing delicatessen. The food was bad. I went back to Bernie's even without the pickles. I can still see him sitting between the Deli and Restaurant, greeting each customer as they came in. Back then there were two kinds of people. Those who knew about Bernie's and those who didn't. Because once you found out, you'd never go anywhere else.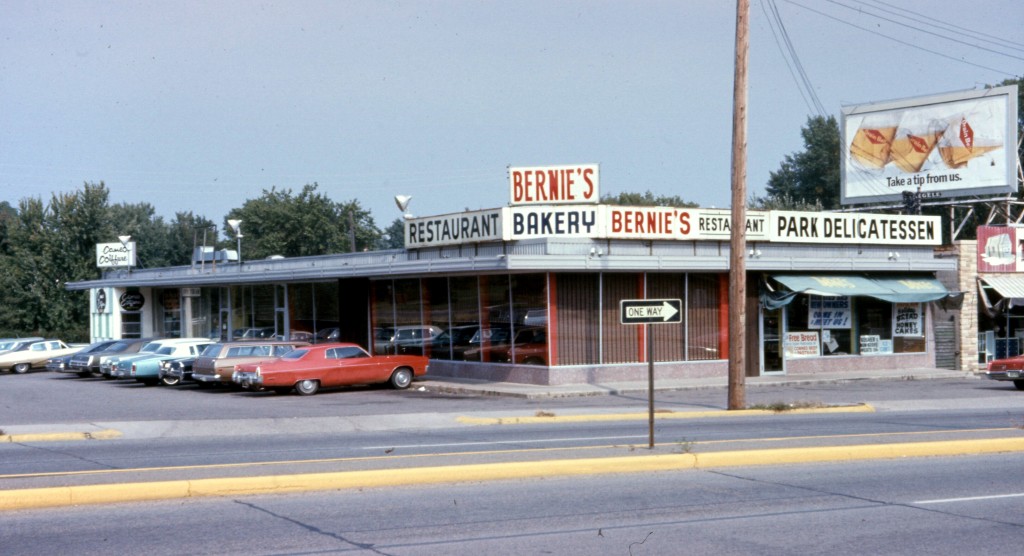 ---
Bernie's son Allan Myron "Sir" Horovitz died on October 9, 2015, and his obituary said that he had a long association with the food industry, including running Bernie's Deli.  He was famous for his homemade pickles, and was known as a gregarious chef, host and raconteur.
Bernie's Restaurant-Deli-Bakery operated until sometime after May 1980, when it closed suddenly leaving workers unpaid.  The building is now home to many businesses as Calhoun Plaza.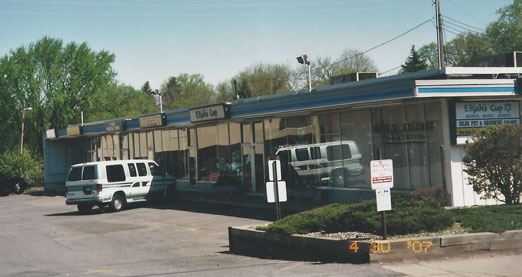 2007
---
Other businesses in the building included:
Cameo Coiffure, owned by Wayne and Esther, 1966-70
Elijah's Cup, owned by Toots Vodovoz, 2007 (4212)
Goody's Subs, Salads, Pizza, and More,  1991-92  (4214)
Goody's You Bake Pizza and Subs, 1990  (4214)
Lisa Forrette's Modeling and Charm School, 1964
Nino Coiffure, 1962 (4218)
Park Liquor Warehouse, 1987
Park Music Center, 1976
U.S.S. Subs (Formerly Goody's), July 1991 (4214)
Save