(MINNE) TONKA BOULEVARD SHOPPING CENTER
 The commercial building at the northeast corner of Minnetonka Blvd. and Dakota was called the (Minne) Tonka Boulevard Shopping Center.  An article in the Dispatch on October 28, 1949 announced that it was being built by Meyer A. Fingerman.  The architect was Armstrong & Schlichting, and it was constructed by Bruce Construction.  It would have a drug store, hardware store, super market with meat and bakery, and three professional offices.
On March 19, 1951, a fire caused $250,000 damage to the building. It started when a 16-year-old Brink's employee burned waste paper in an incinerator. Firefighters from Golden Valley, Hopkins, and Richfield responded to the call – the largest fire call met by the SW Fire League – a group of suburban firefighters.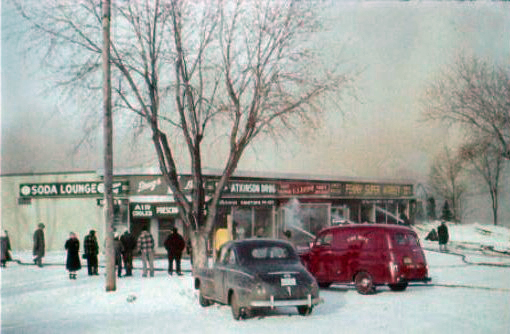 ---
BUSINESSES OF TONKA SHOPPING CENTER
 The businesses changed and the building was reconfigured, so this list will be in alphabetical order.
Atkinson Drug Store had its Grand Opening from June 29 to July 1, 1950. It was located at the western end of the building.  Customers were invited to come and meet Lady Kemp, who would be handing out free Lady Kemp ice cream.  The ad featured something called Mead's Oleum Percomorphum.  In 1949 there were other Atkinson Drug Stores at 54th and Nicollet and at the Calhoun Beach Club.
---
Bigelow Video was at the west end by 1980, owned by Bob Bigelow and Roger Owens.  The store had been on Library Lane two years prior.  In November 1980 there was a controversy over X rated movies.
Bob's daughter Michelle Bigelow shared this on Facebook:
My dad and his brother opened the Park store and sold everything off when the Blockbusters came to town in 1991. In addition to the Park store, we had stores in Wayzata, Bloomington, Minnetonka and New Hope. We were one of the first video rental stores in the country, started with BETA and moved to VHS. I worked in the Park store my junior and senior years of high school and during my first years of college. We knew all our regulars well, many felt like dear old friends. It was a fun time and it was the right time to be in the business. Thanks for remembering us.
---
E.L. Brink Hardware opened on August 17-19, 1950.  It quickly became Brink's Variety Store.
---
DESNICK'S BLVD. PHARMACY
From at least 1954-60, the drug store was Desnick's Boulevard Pharmacy.  (In 1962, Stillman had a liquor license.)  Desnick had previously been located at Penn and Plymouth Ave. on Minneapolis's North Side.
 Al Hartman:
Desnick's Drug Store, at the front west end of the building, seemed to have a bit of everything. They had a tube tester for old radio and TV tube diagnosis and replacement. A magazine rack in the front of the store with a comic book stand to its left as you faced it. I read many a comic I should have bought because they are worth enough today. I hardly ever was told to move on as they were not a library. In the Northwest corner there was a grill and soda fountain with seating at the fountain counter on bolted down pedestal stools. They served food such as burgers, fries, etc. They had a roasted-nut hutch that kept the nuts warm to be scooped out into a bag for sale and lots of candy. Desnick was the Pharmacist and also was associated with an old folks home around Joppa Ave S and Mtka. Blvd for a while.
On June 20, 1960, an interesting ad appeared in the St. Louis Park Dispatch, with the quotation, "Panic is the Stampede of Self Possession."  It cautions against imaginary illnesses, and says that worrying about being sick can actually make you sick.  "Never believe you are seriously sick unless your physician tells you so."  Was there an epidemic of hypochondria about?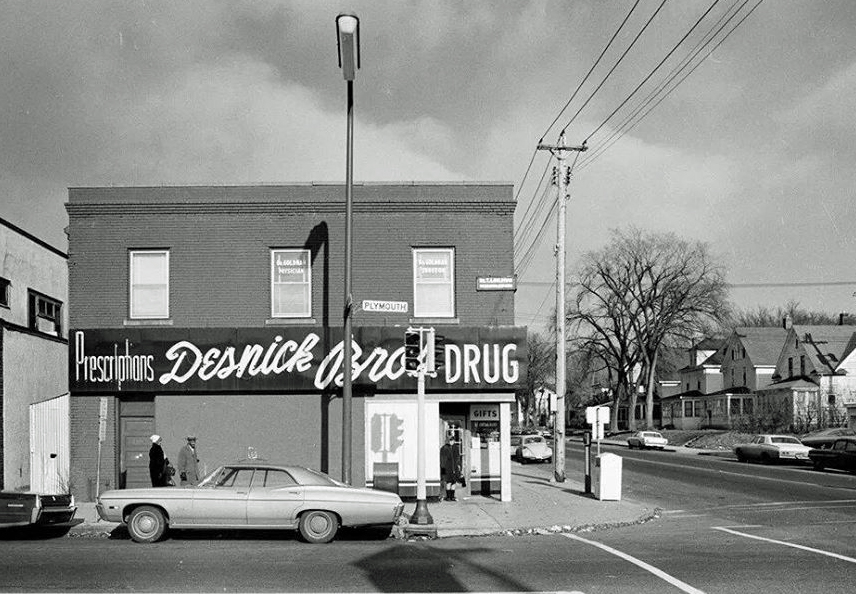 ---

---
Metro Auto Stores held their grand opening at 6320 on September 12 and 13, 1975.
---
KLEIN'S SUPERMARKET
Klein's Supermarket moved in and opened on February 21, 1952.  This was the 17th in the chain, which was established in 1921 by Jacob Klein of St. Paul and was owned by his four sons, Harry Klein in this case.  The Dispatch indicated that the store had formerly been the Crystal Market – was that an interim store?  Manager Frank J. DeMay was kept on from the previous store.  Al Hartman:  "I remember as a kid in the '50s a cute blonde cashier working there. The store must have had a western motif as I always recall her wearing a cowgirl hat although most of the time she had it hung from the neck-cord down her back."
Klein's took over not only the space that Penny's had occupied, but also expanded west into the middle store, which had been occupied by Brink's Variety Store.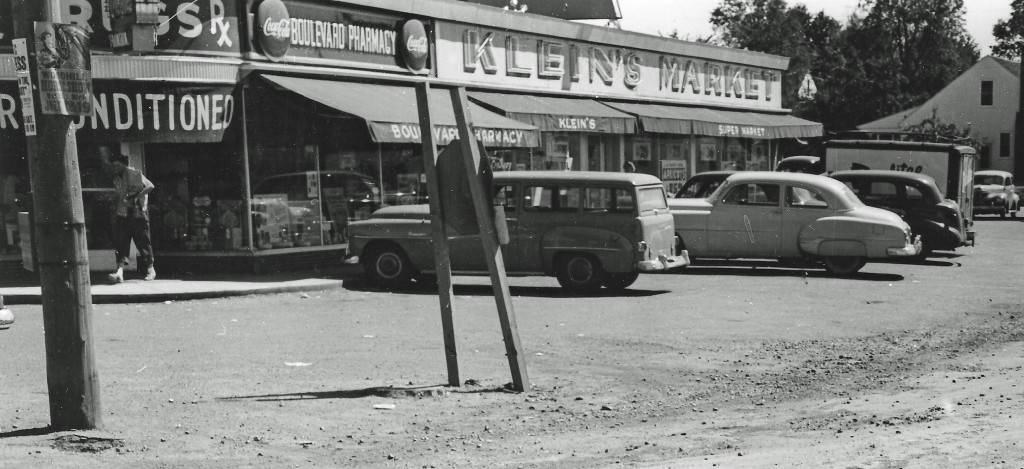 ---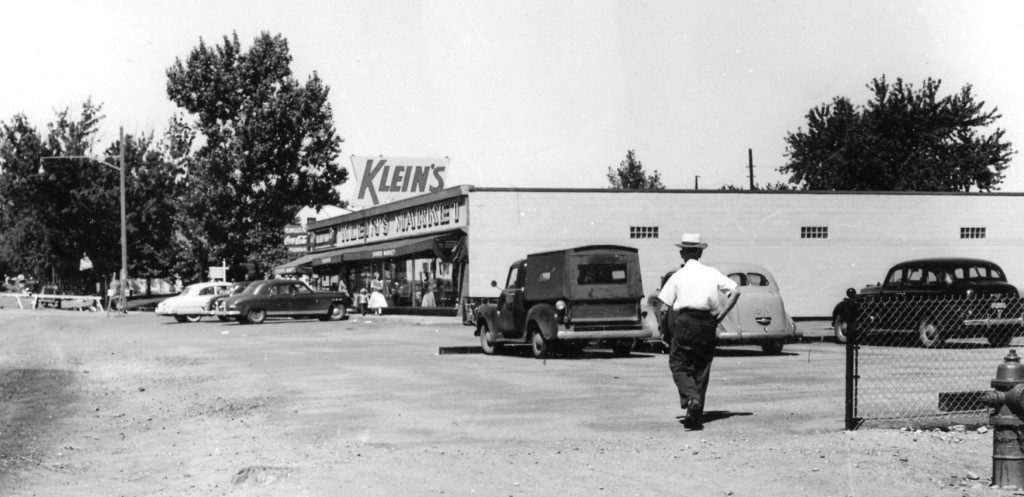 ---
 PARK MARKET
 In 1963, after Piggly Wiggly, the store became a Mini-Max with the names Mini and Max on the hats on the faces. Donald A. Swanson and his wife Tillie then bought it and it changed to Don's Mini-Max.  Don then decided to drop the Mini-Max franchise, and he changed the names on the hats to Tillie and Don.  Gil was the manager and Thelma "ruled the roost."  In February 1965 the name changed to Don's Park Market, which it remained until at least 1990.  Kids remember that they would hand out ticket stubs and customers could win money. At some point it may have been called Tony's Park Market.
---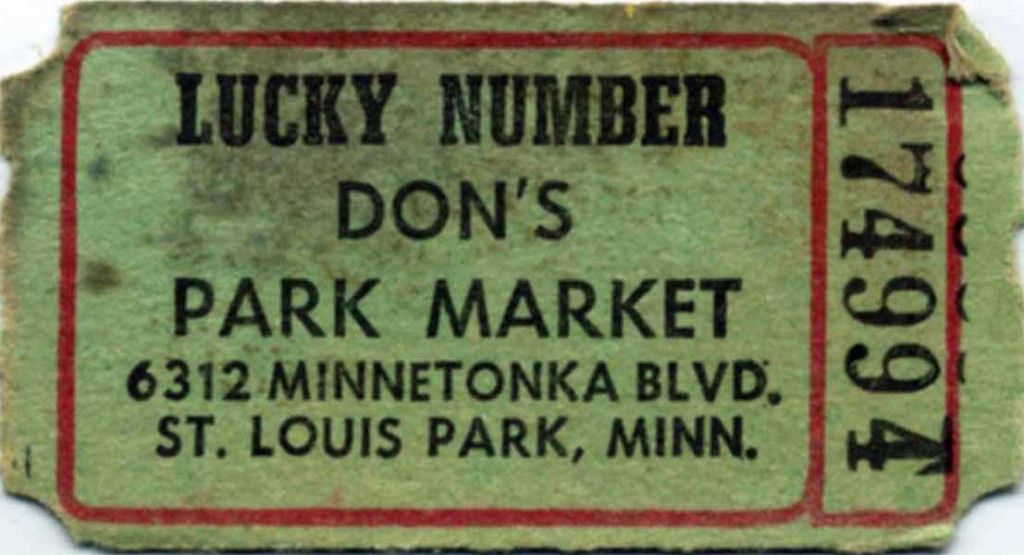 ---

---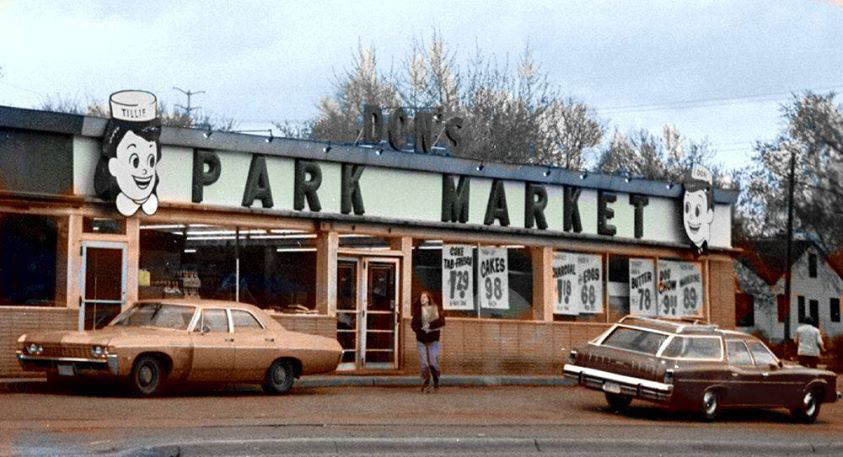 ---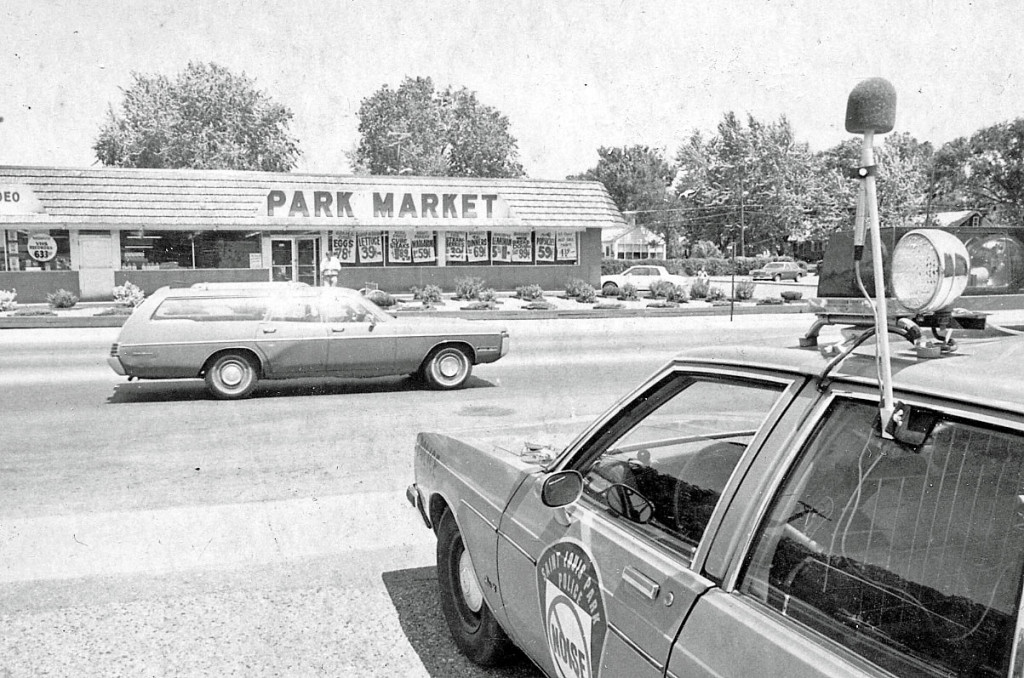 ---
Penny's Super Market occupied the east end of the building from June 29, 1950 to March 19, 1951.  After the 1951 fire, Adolph Fine built Levine a new Penny's Super Market in what was to become the Texa-Tonka Shopping Center.
---
PIGGLY WIGGLY
 In 1960 the grocery store on the east end was a Piggly Wiggly, pictured below.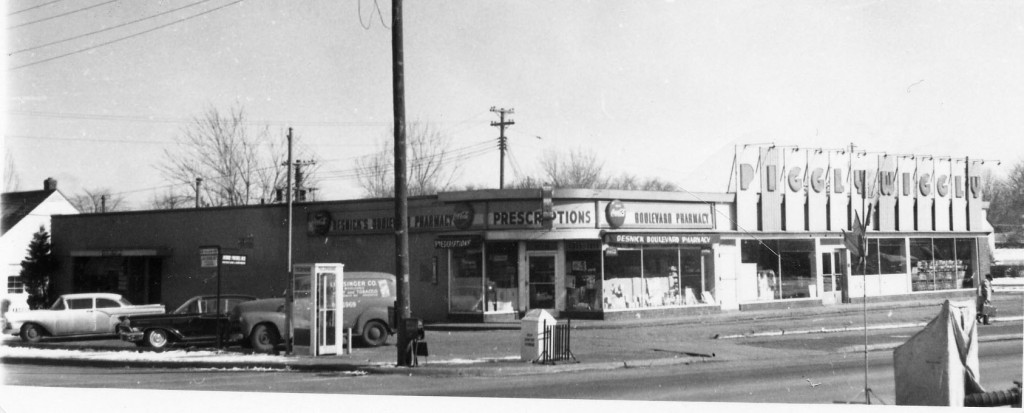 ---
Pilgrim Cleaners was at the drug store site in 1970.
---
 PROFESSIONAL OFFICES
 Al Hartman fills us in:
In the West Northwest corner of the building there was a separate entrance for the Doctor and Dentist offices. One would go down a corridor to a shared waiting room. Dr. George Friedel MD was on the left (south) and Dr. Robert Nelson DDS was on the right (north). It was a bit cramped and each had a receptionist/assistant. As I recall, Dr. Nelson did all work including cleaning and I only remember one chair which must have limited his practice making him want to move all the more. [He moved his office to 3645 Rhode Island Ave. in the late '60s.]
Dr. Friedel was a family practice doctor and I remember him making a house call to visit me while I was sick with the flu in the late '50s. The last I remember being treated by him was in the mid '70s and I think he was dead with his doctor brother closing his practice by 1980.
After Nelson moved Dr. Norman Taiko Kushino DDS rented his office space. Nelson took his patients with him as he did not move too far away and Kushino started fresh. During the Kushino period I remember Sue Sutherland, local young woman, just graduating from dental hygenist school in the later '60s, working for him. Kushino had been in a Japanese Relocation Camp with his family during WWII.  In the '70s sometime, I believe, he moved his practice to Golden Valley. After Kushino and Friedel were gone I don't think anyone rented their spaces anymore and building was eventually remodeled.
---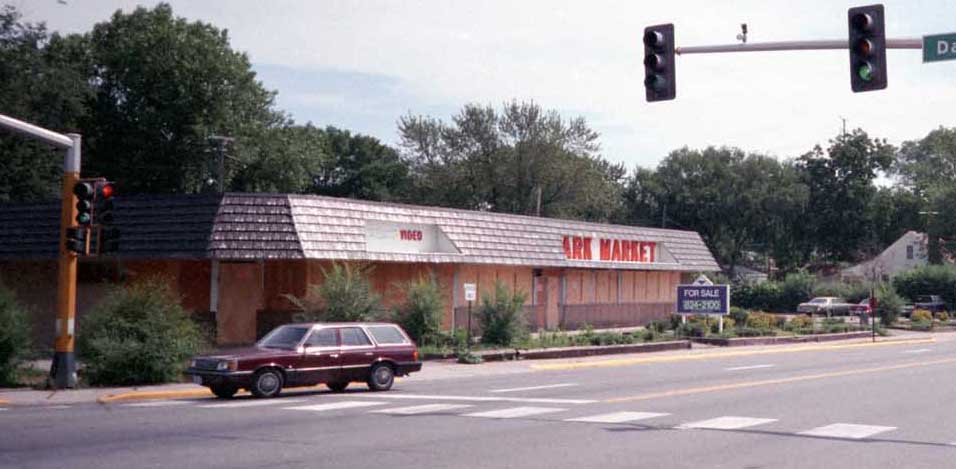 ---
 In November 1993 another fire burned out Ty's New Park Market and Bigelow Video.
---
MINNETONKA PARK MALL
After the 1993 fire the building was removed and a new structure called the Minnetonka Park Mall was built in 1996.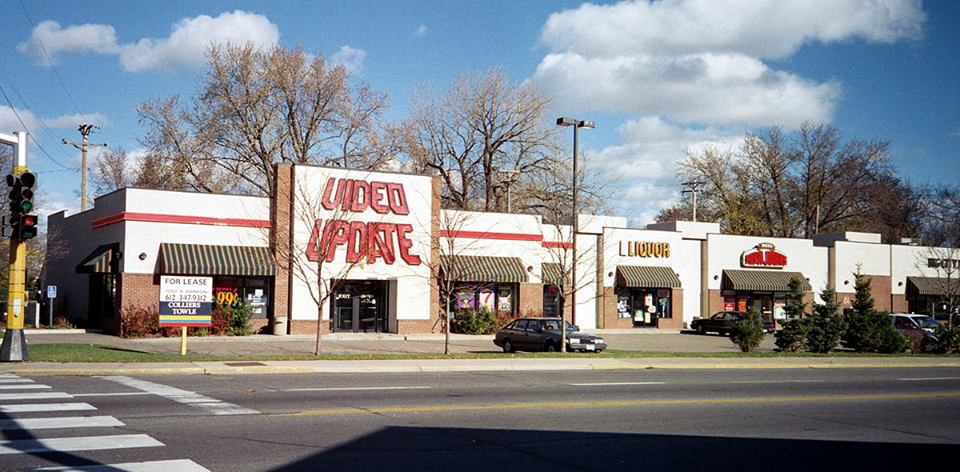 ---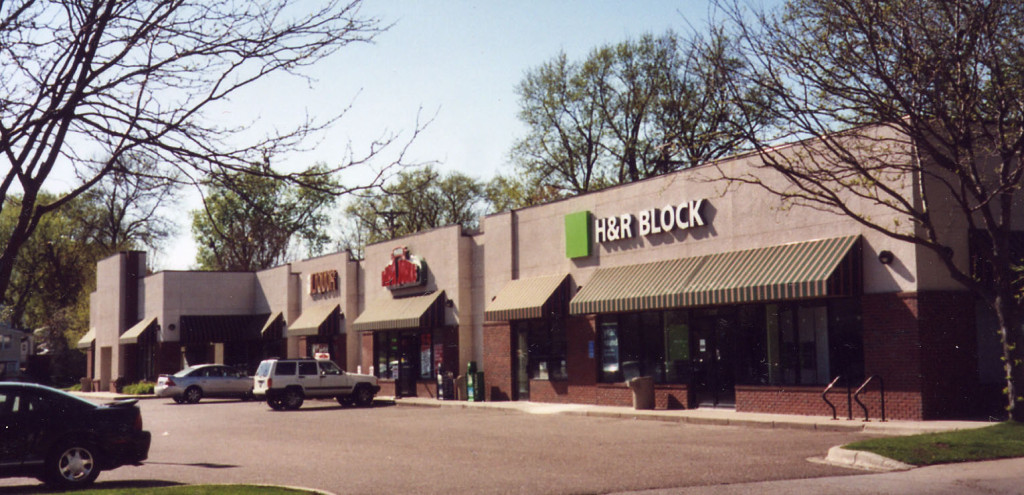 ---
Big City Bagels occupied 6312 in 1998.  There were stores in Downtown Minneapolis and at Snelling and Grand in St. Paul.
---
H&R Block
---
Just Sew Studio opened at 6312 on July 17-19, 2014.  Other stores were located in St. Cloud and Roseville.
---
Nelson's, a full-service butcher shop, bakery and catering service, with a 60-year history in Hopkins, opened at 6318 Minnetonka Blvd. on November 8, 2013. Leonard Nelson started Nelson's Meat Market in Hopkins in 1965. When he died in 1979 Rick Nelson found himself as the owner at just 24 years old.  "I always felt a bakery would be a good idea, but I didn't know a thing about the bakery business," Nelson told Hopkins Patch in 2011. In the 34 years since, Nelson's has opened a bakery and a deli, but not much else has changed.  "We have loyal customers, and our people are available to answer questions about meats and preparation," he said. "The diversity of our business has worked well for us. Meats are still the biggest seller, but our catering business has really grown." The move was necessitated by a reconstruction project on Shady Oak Road removing essential parking.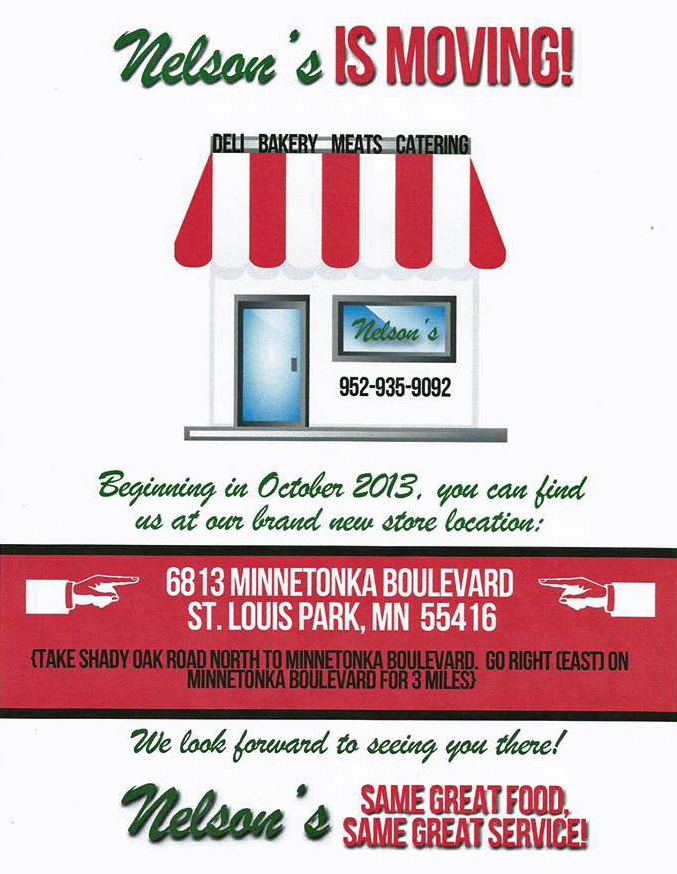 ---
Papa John's