This property had at least four iterations.  The site originally had a two room stucco house of unknown age.  It was removed in or before 1940.
---
In 1940 the first of a series of gas stations was built.
From about 1947 to 1952 it was Marvin's Skelly, run by Marvin Ruden.
---
SOL'S SKELLY
From 1952 to 1968 it was Sol's Skelly Station, run by Sol Shapiro.  Al Hartman remembers:
Sol was quite the stickler for not allowing underage kids to buy cigarettes out of his cigarette machine. He could hear somebody trying even if he was working on a car. He would come out, give you back the money and tell you to leave. I know, it happened to me.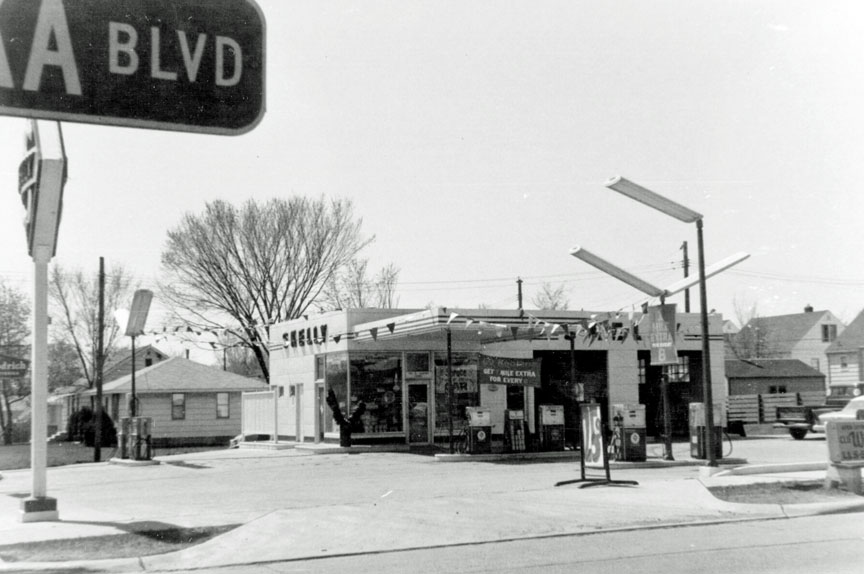 ---
WARD'S CHOW MEIN
The first we see of Ward's Chow Mein at this address is in 1952.  The business was owned by Don and Myrtle Ward.
Information in the old phone books are not always accurate, but this is what they say:
In 1949 Ward lived at 1601 Alabama (now condos) and worked for Honeywell.
In 1951 he was listed at 5906 Minnetonka Blvd. (no such number) and was a partner at Wong's Chow Mein.
In 1952 their residence is listed as 2837 Pennsylvania Ave.
The 1954 phone book described Ward's as being at 6515 Minnetonka (no such number), and the 1954 ad below gives the address 6415 (also no such number).
By 1956 Ward's Chow Mein was back to 6405 Minnetonka, where it was listed through 1960.
In 1960 the proprietor of Ward's Chow Mein was listed as Julius Salita.
In 1960 Donald W. Ward was an electronic technician, and then does not appear in any subsequent phone books.
There was another Donald Ward who lived at 2637 or 2638 Alabama from 1969 to 1971.
In 1972-1975 that Ward family was listed at 6412 Minnetonka.
The ad at bottom right seems to indicate that it was re-opened in 1971 under new management, but it does not appear in any phone books after 1960.
Al Hartman:
When Marvin's Skelly closed, Ward's Chow Mein must have taken over the garage part and the station itself was just selling gas. I remember getting chow mein with my mom there a few times. Ward must have turned the garage into a little kitchen and with a bit or remodeling made it so you just came up to a Dutch door kind of situation to buy the chow mein. Lots of celery. I remember them still being there around 1958 or so at least.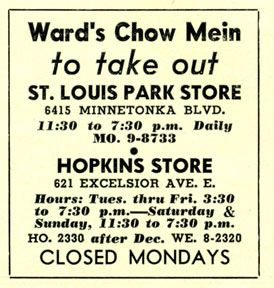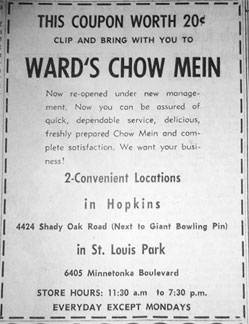 1954                                                                   1971
---
In 1961 a new service station was built for $20,000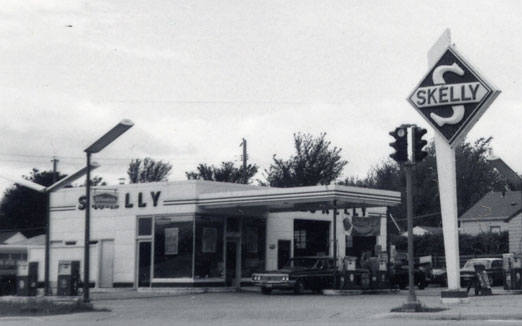 For a short while in 1968 the sign in the Skelly station said "Lessor: Maurice Reuben" and his son Tom was running the place. Their ownership only lasted a few years.
---
JOE HAYANO
Joe Hayano operated the station from about 1970 to 1987.  Joe was born in America in 1920.  In 1942 his family lived in Washington state was was relocated to an internment camp in California.  In 1943 he was allowed to work on a potato farm in Illinois, where an accident resulted in the loss of his right leg below the knee.  After the war he moved to Minneapolis, where he started his own service station.  After 20 years he moved his business to St. Louis Park.  Parkites remember his black lab dog.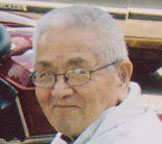 ---
A new fiberglass tank was installed in 1972.
From 1975 to 1981 it was Minnetonka Skelly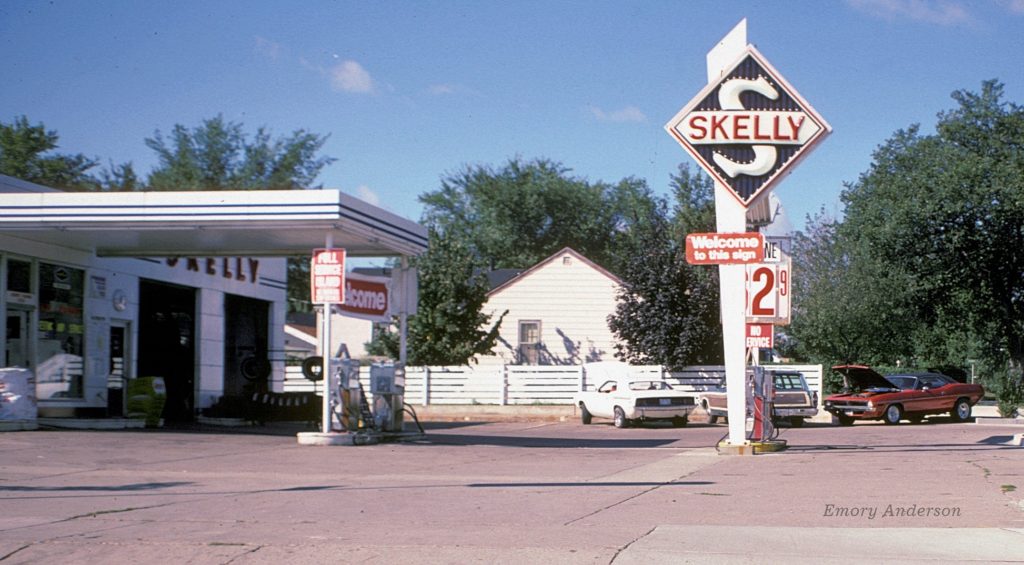 ---
In about November of 1982 it became Surfco; an ad features Skelly motor oil.
An ad in 1987 says it was owned by Finaserve, Inc.
In 1994 it was purchased by Twin Cities Stores, Inc.
In 2005 the station was rebuilt and became the Tonka Mart.  The chain went under and the site sat vacant for several years
In December 2010 it was purchased by Yousef Abumayaleh of Champlin.
---
After many years of inactivity, the site was reborn as a SuperAmerica Express (being smaller than the typical SA).  It opened on January 16, 2017.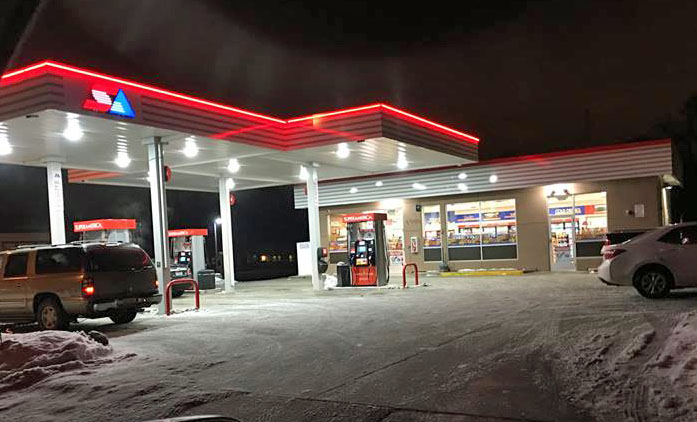 Save
Save
Save
Save