Either there was another building at this location before the present one was built in 1954, or the city's records are incorrect.
Boulevard Beauty Salon was mentioned in the Dispatch on June 17, 1949.
 
Also on June 17, 1949, the "new, modern" Boulevard Barbers was advertised in the Dispatch, Curtis S. Weland, proprietor.  An October 1949 Echo ad placed the Boulevard Barber Shop at 6404 Minnetonka Blvd.  The 1951 Echowan advertised the Boulevard Barber Shop at 6406 Minnetonka Blvd.  Al Hartman remembers:  "The barber shop was on the East side and there was a beauty salon on the West side. The most I ever remember paying was the $1.25 my mom would give me. I went to him during the 50s until the mid '60s when I wanted a more up to date haircut. Curt would always do a buzz cut on the sides which I hated but parents loved. He had two plaques on the wall "Enjoy yoursef, it's later than you think" and "We appreciate your patronage." Curt was known to have a cigaret burning in the ashtray most of the time. He would buy used comics from kids to have as reading material for 1 cent each."
 
The west side had an enclosed covered stairway leading down to the sublevel ladies hair salon.
Pilgrim Cleaners ("We Do Mighty Fine Cleaning") has a picture in the Dispatch on November 6, 1952.  In 1956 there were also Pilgrim Cleaners at Knollwood and at Westwood Shopping Center.  They were still at this location in 1970.
Hark Realty (est. 1954) was there in 1970.
 Boulevard Hair Stylists was there from 1980-81.
According to tax records, Good News For Israel bought the building in 1998.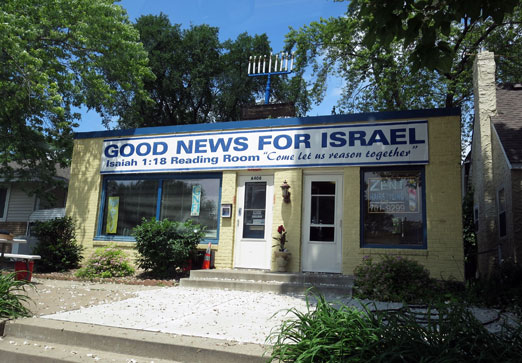 2014 photo by Emory Anderson