Many thanks to Mr. John and Mrs. Norma Westman for providing us with the information for this page!
John A. Westman was born in Minneapolis in 1927.  His father was a dentist and his mother was from a farm in Cambridge, Minnesota.  John would spend his summers on the farm and grew to love farming and horticulture.  After serving as a medic in World War II, he attended the U of M where he studied horticulture for one year, but was advised that the best way to learn was to work for a florist.  He was fortunate to have a friend who knew the Bachmans, and ended up working for them for five years, getting his real education in design and buying.  He was offered a position as manager of a new Bachman's store, but decided that he wanted a shop of his own.
John chose the West Metro primarily because he knew the area – his uncle had property on Lake Minnetonka.  He chose the corner of Minnetonka Blvd. and Texas Ave.  In 1893 this property belonged to Margaret Cain.  When Westman bought it it had been part of the 15-acre Holasek Farm.  A vegetable stand had stood on the corner.  John and Norma designed the building based on a shop they had seen in California.  The building was built by Adolph Larson, the uncle of a friend.  There were no other businesses around – cows grazed on the land that would become the Texa-Tonka Shopping Center, and across Texas Ave. there were tons of sand that Adolph Fine had taken out.  The Westmans set their building at the side of the lot, using the other side to grow gladiolas and vegetables.  In the early days they had to haul in their own water.  
Westman says that Adolph Fine very much wanted to own all four corners of the intersection, and was frustrated when Westman wouldn't sell.  Although Fine had gas stations on the northeast and southwest corners, he wanted to put another one on the northwest corner.  Westman finally did relent and sell, but not to Fine – he sold the western portion of his property to Pure Oil in 1948. 
Westman's Floral Shop opened on April 4, 1952; total sales:  $7.25.  Westman still has his hand-written account book.

Photos above and below from 1952 courtesy John A. Westman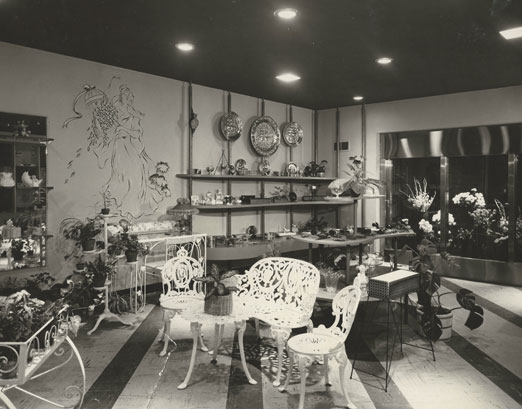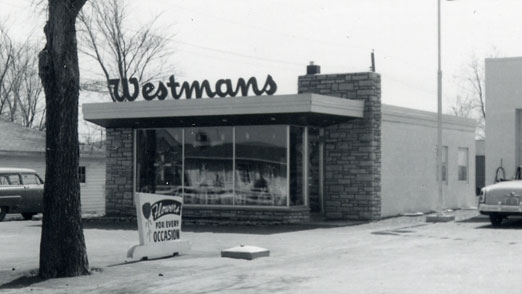 1954 Photo (Tax Assessor)
The Westman family lived close to the shop, at 3024 Sumter, from about 1954 until they moved to larger quarters in Minnetonka in the mid 1960s.  They opened a second shop in Minnetonka on a bigger site where they could maintain greenhouses and grown some of their own flowers.  Most of their flowers came from a growers' coop.  The family also owned an A&W in New Brighton until it became just too much work.
STORIES
 
Ted Meland tells this fun story:  "Both my mother, Phyllis Meland, and my aunt Elaine Smith lived in this neighborhood. They were close friends but always like to play pranks on each other. One year my mother decided to get my aunt flowers for her 40th birthday. She went to Westman's and placed her rather odd order. She wanted a dozen black carnations. Westman used dye to color the flowers. He decided to deliver them in person. Didn't want any of the employees to be embarrassed being seen carrying such an odd bouquet. My mother sent a sympathy card with the order.
 
"Did my aunt get revenge? Oh yes. For my mother's birthday she ordered and had delivered a bouquet of a dozen rose STEMS. Thorns only, no flowers.
 
"It got so anytime Westman saw either of them come in, he would kind of cringe."
The shop was robbed only once, but it was a serious situation, where the robber tied up the staff and made terrifying threats.  Westman finally convinced the man to take $500 and leave; he was never caught. 
The movie "Slaughterhouse-Five" was filmed at several locations in the Twin Cities (as well as the Czech Republic) and Westman provided some flowers for some local scenes.  He was invited to be an extra, with the condition that he had a striped suit.  It was a scene at a men's group luncheon, and Westman ended up at the head table.  He remembers that the premiere was on Wayzata Blvd. Imdb shows that the release date was March 15, 1972, and our spreadsheet of screenings at the Cooper Theater tells us that it was shown there starting on September 1, 1972.
The Westmans got along great with the other florists in town, particularly Wallace Plantikow at the St. Louis Park Greenhouse on Excelsior Blvd.  In fact, when the Westmans went on vacation they would refer their customers to Plantikow without worrying about the Greenhouse stealing their customers. 
The Westmans always treated their employees like family, and encouraged them to open their own shops, which many did.  The shop also sponsored a bowling team at Texa-Tonka Lanes for 25 years.
AFTER WESTMAN'S
Westman retired and sold the business (but not the building).  The first new owner renamed it Riverside, but only lasted about a year. 
 
In June 2005 the business had been sold again and renamed Dandelions Fine Floral, a name that Westman hated.  "Who would buy weeds?" 
Westman finally sold the building in 2005, and beginning in January 2006 it was home to KidCapers children's photography studio. Vik Orenstein founded KidCapers Portraits (then called KidShooters) in 1988.  In August 2012 the building was purchased by Telly. A Pappas DDS.
There was also briefly a business called Carolyn's Westman Florists on Lake Street. The name was used with Westman's permission but the shop went out of business in about 2010.
In 2014 the building was purchased by the dentist next door, but couldn't be used for commercial purposes because of the lack of parking.